Righteous goals that fire your imagination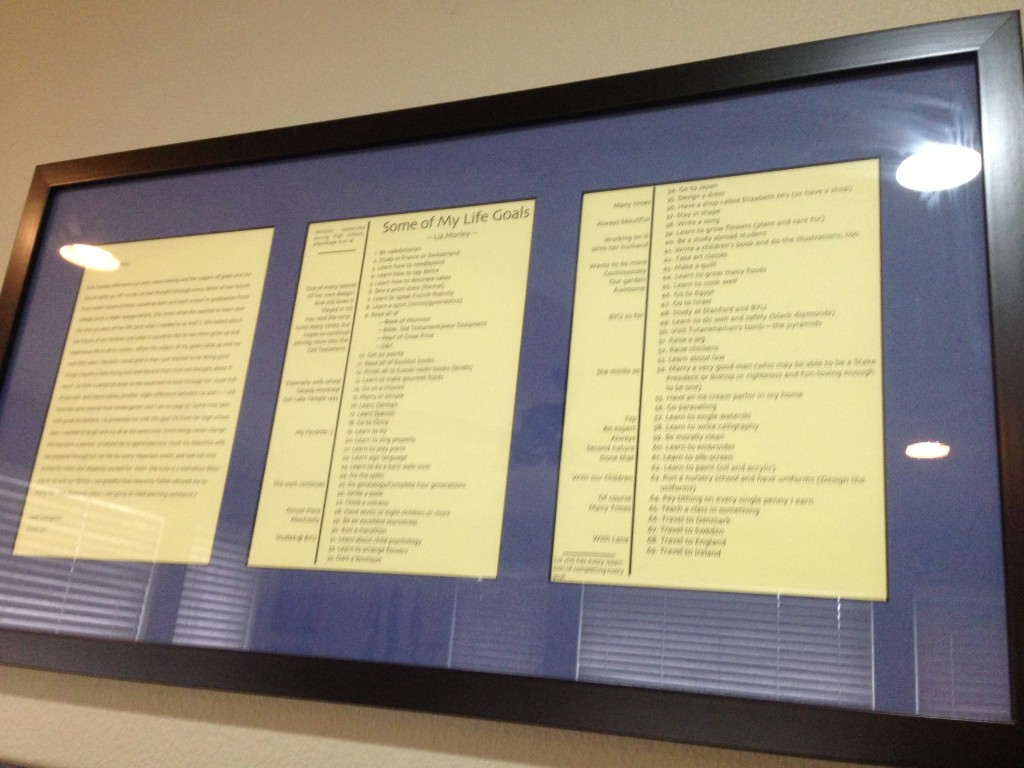 I couldn't sleep last night from about 2:11 am to nearly 6 am. During that time, I listened to an interview on the Mormon Channel with the "Iron Cowboy," an extremely determined member of my church from Utah who recently finished 50 Iron Man triathlons in 50 consecutive days in 50 states.
Talk about crazy!
I would never have a desire to do that, but I love that he set such an incredibly challenging goal and accomplished it. With the purpose of bringing awareness to the problem of childhood obesity, he mentioned  how parents can set the example for their children of eating healthily and exercising.
I know what he's talking about. Yesterday I started praying to eat less, because it is so easy to slip into the habit of overeating and eating foods that aren't the best fuel for my body. That's what I have been doing lately–overeating. And I haven't done as well exercising in the last 2 weeks, and I haven't been feeling as well because of it. So I wanted to get back on track yesterday. It felt good to exercise more self-control yesterday. I am grateful to be able to pray for help. I need that help!
The commentator of the radio show shared a quote at the end that inspired me. She read,
"I urge you to examine your life. Determine where you are and what you need to do to be the kind of person you want to be. Create inspiring, noble, and righteous goals that fire your imagination and create excitement in your heart. And then keep your eye on them. Work consistently towards achieving them" (Elder Joseph B. Wirthlin, "Life's Lessons Learned" April 2007 general conference).
I love that phrase "righteous goals that fire your imagination."
Yesterday when I was driving home from dropping the children off at school, I had such a huge desire to write. It'd been such a hard morning, with overly tired children having melt-downs ("reentry" after late-night vacation nights). So I came home and wrote, and it felt so good! I haven't been writing regularly because this year's family schedule has been so full, and I have felt that writing is just not as much of a priority as other things, like exercise, preparing meals, laundry, working on finances, and other preparations for the day. But yesterday as I wrote, I had such a desire to write every day. And that was the first thing I thought about when I was thinking about the Iron Cowboy's goal. Writing everyday would be a challenge akin in some ways to what he did–at least for me!–because of how it would require me to make big extra efforts other places to have that time and still accomplish the work that I need to accomplish at home. But it is a goal that "fires my imagination." I love to write, to share! I don't know how much good it is doing for anyone else, but I love it! So I'm contemplating if the timing for that goal  is now or later.
I also have to say that I LOVED Elder Wirthlin's talk. His football stories were both hilarious and inspiring! Talk about mothers as leaders! He also mentioned the power of other leaders he had in his youth–his football coach and a Bishop (I'm guessing it was his Bishop)–and how that leader inspired the young men that he was leading, and how those young men then became leaders:
"Each week during priesthood meeting, Bishop Perschon had the Aaronic Priesthood bearers recite the following phrase: 'Priesthood means service; bearing the priesthood, I will serve.'
"It wasn't merely a slogan. When widows needed assistance, Bishop Perschon and the Aaronic Priesthood were there to help. When a chapel was being built, Bishop Perschon and the Aaronic Priesthood were there. When the sugar beets and potatoes at the welfare farm needed weeding or harvesting, Bishop Perschon and the Aaronic Priesthood were there.
"Later, William Perschon served in the stake presidency, where he influenced a young bishop by the name of Thomas S. Monson. In the 1950s, Bishop Perschon was called to preside over the Swiss-Austrian Mission and played an instrumental role in building the first "overseas" temple, located in Bern, Switzerland.
"You could scarcely think of Bishop Perschon without thinking of his concern and compassion for others and his untiring commitment to teach that same quality to others. Of the young men in the Aaronic Priesthood over whom he presided as bishop, 29 went on to become bishops themselves. Ten served in stake presidencies. Five became mission presidents, three accepted calls as temple presidents, and two served as General Authorities.2
"That is the power of a great leader, brethren. That is the power of service."
The photo above shows 3 framed pages, 2 of which contain "some of my life goals." Lane found these papers once a long time ago, and he thought they were so indicative of my personality and loved them so much that he framed them for me, to match the framing that I had done of the project that brought us together in the first place.  I was kind of embarrassed at first, but really it's just kind of fun (and funny!) to read some of the dreams I had when I made this list back in high school.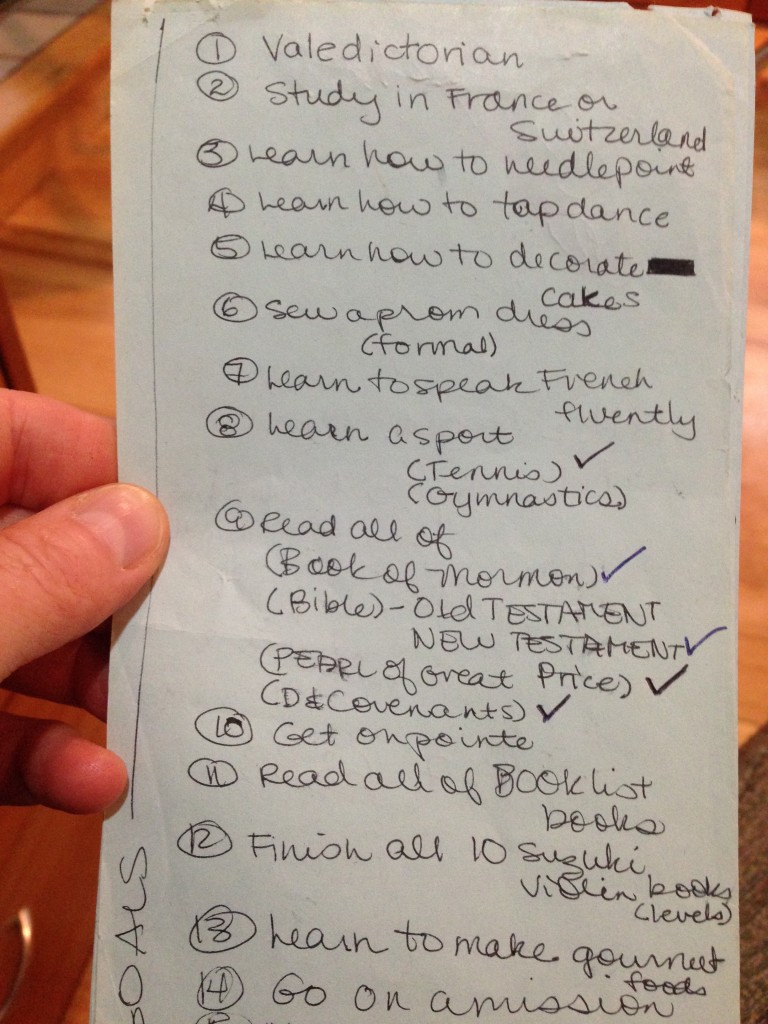 There are a lot of goals that I didn't achieve or won't ever achieve, and I'm good with that. I notice that my goals can change over time. For example, I stopped taking ballet after my freshman year in high school, which means that I must have written this list when I was about 14, I'm guessing (even though on the framed page, Lane wrote that I was 15 or 16). I wanted to do other things, and ballet was tipping the scale. Plus, I didn't want to be seen in a leotard by anyone I knew. (I was very self-conscious of my appearance as a teenager.)
And I wasn't valedictorian or even salutatorian, and that's OK, too. I really admired those who were! I had a reasonable GPA and went to college with an academic scholarship, so I was grateful for that.
But I DID serve a mission, which was a life-changing goal. I have learned to make gourmet foods, thanks to my dad and my children. I have sewn a prom dress. I have read all the books of scripture (and even some of other religions, such as the Baghavad gita, parts of the Koran, and Confucius' analects). I would love to use my French to study in France someday, or simply visit there for a prolonged period of time. I have taught a class or two.
I have 69 on the list. Ha! My life's not over yet!
Goals make a difference! Talk about teaching youth to lead: the Young Women leaders and Personal Progress program of the Church of Jesus Christ of Latter-Day Saints was what got all this going for me in the first place!
So we'll see if that daily writing goal can really work in my life right now.
Or if I just need to keep working on getting back to sleep in the middle of the night…
---
---