Routines and creating a house of order (first slice)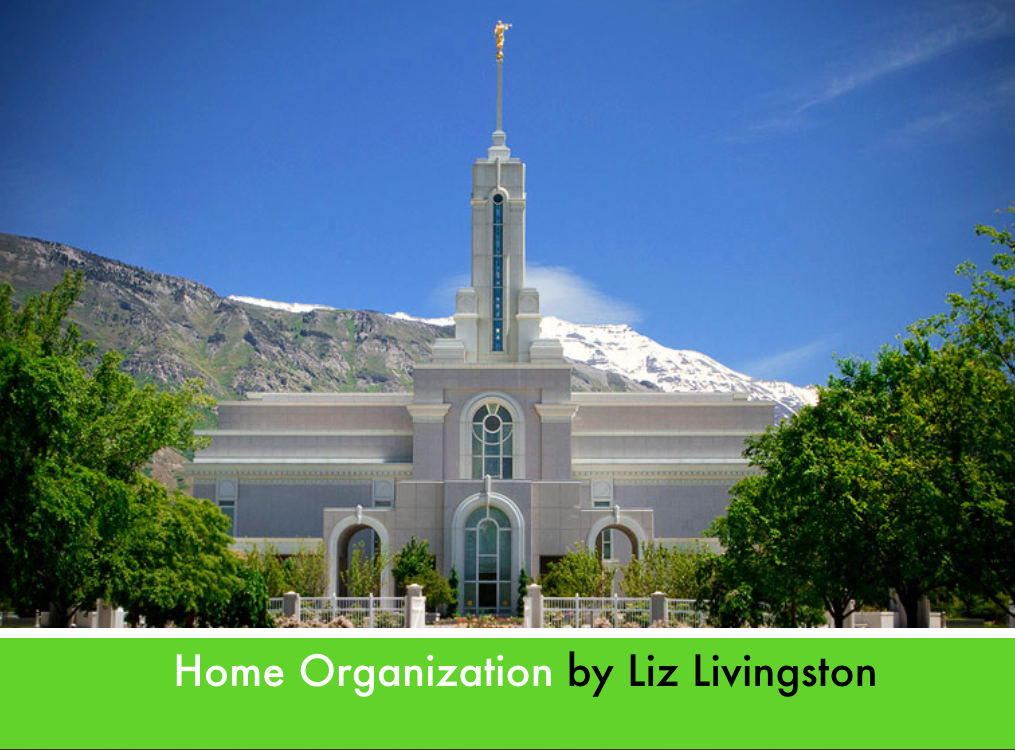 I'm preparing to teach a lesson on home organization this month, and so I've been thinking about all things related to that topic.
I decided that while I'm brainstorming every day, I'll write some posts on the topic.
WHAT WE CHOOSE AFFECTS OUR EVERY DAY LIFE.
I know: that's not news. 
But what might be news is that we are constantly acting on choices whether or not we realize it. Sometimes we aren't awake to what our choices are and how we are organizing our entire lives around those choices. When we deliberately (or not so deliberately) set and pursue a goal, it can have really far-reaching consequences! So we want to choose wisely, because whether we recognize it or not, we build our life around those choices. And those choices affect not only us, but all those around us!
FOR EXAMPLE, when I was young, my mom was a single mom, for about 5 years. I often watched TV as she taught piano lessons. While I was a fairly good reader, being on my own with time on my hands meant I chose TV more than reading. That is, until I started babysitting for a family (Candace's) who adored reading. They had this wonderful wall of books that I had access to (and no TV) after I put the children to bed. I also spend a ton of time at another friend's (Pargie's) home, who also had a room full of books, and I saw what her family was reading. Our home teacher's family were great also readers (no TV), and his wife (Sue) taught us using the scriptures and other great books in Sunday School. (I always wanted to read Adam Bede because of her quoting from it.) Another friend of mine (Charlotte's) mother purchased great books to share with those who didn't have the means to get them for themselves. I walked into her home one day and saw their kitchen table covered in piles of books. I was so inspired by all of these women's examples and starting reading their books. Over the years, because of them, I have read and purchased some really fabulous books!
When I got to college, I realized that I hadn't really read enough to be well-prepared for the classes I was taking. I decided that I would help my children be well-read before they got to college. So I started collecting good books. I bought books for my children's birthdays, Christmas, Easter and any other special occasion. I read all the time to our children. Our library grew and so did their ability to read. One day, when I was organizing our library to fit my needs as a weekly reader in our elementary school, I found my own kitchen table covered in piles of good books.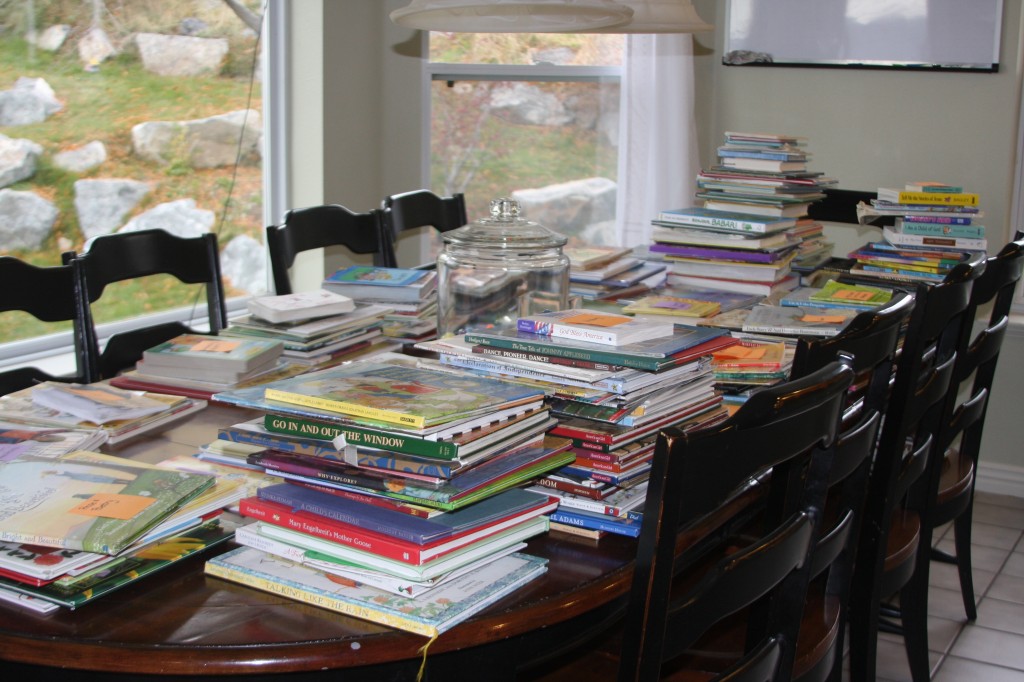 Now our children are all good readers. I believe that they are capable of choosing wisely what to read and that they have or will have a solid reading ability and background before they head to college. My dream, over several decades, is being realized.
Achieving dreams all starts with a thought, a feeling, a desire. It can be such a small desire! Then you seek after that desire. You organize your life around it. And all of a sudden–maybe after years–you realize: hey! I am doing it! My dream is coming true!
(Just had to insert this song here, because we really like this song in our family. Not all the lyrics are meaningful or relevant, but it's sure a cool song. And it's somewhat related appropriately because it's from the movie "Narnia," and the family I babysat for adored The Chronicles of Narnia. 🙂 Tee hee.)
When your desires are centered on God's desires for you, things eventually turn out awesome! God's priorities are the ones that lead to happiness!
When we're talking about creating a house of order, there is so much more to ORDER than simply organizing a cupboard. We're talking about first choosing priorities that lead to wise choices and goals that you build your life and time and space around. God's order means prioritizing our lives the way he recommends. It includes wisdom, pacing, and carefully choosing. Acting on these choices produces routines that we create in our daily, weekly, and monthly lives.
And see that all these things are done in wisdom and order; for it is not requisite that a man should run faster than he has strength. And again, it is expedient that he should be diligent, that thereby he might win the prize; therefore, all things must be done in order. (Mosiah 4:27)
FOR EXAMPLE, because we want Christ to be at the center of our lives and home, Lane and I pick a family theme for the year. Then we go to our children in family council and share this theme. Then we set goals afor the new year. The theme and goals are Christ-centered, because we hope they will help us to feel closer to him and become more like him.
Because of this first goal-setting family council, we hold a family council each week on Sunday and review our goals. We talk about how we're doing. I create a bulletin board each January so we can be reminded visually of our goals.
We plan activities during the week or FHE lessons or adjust our schedules so that we can accomplish our goals.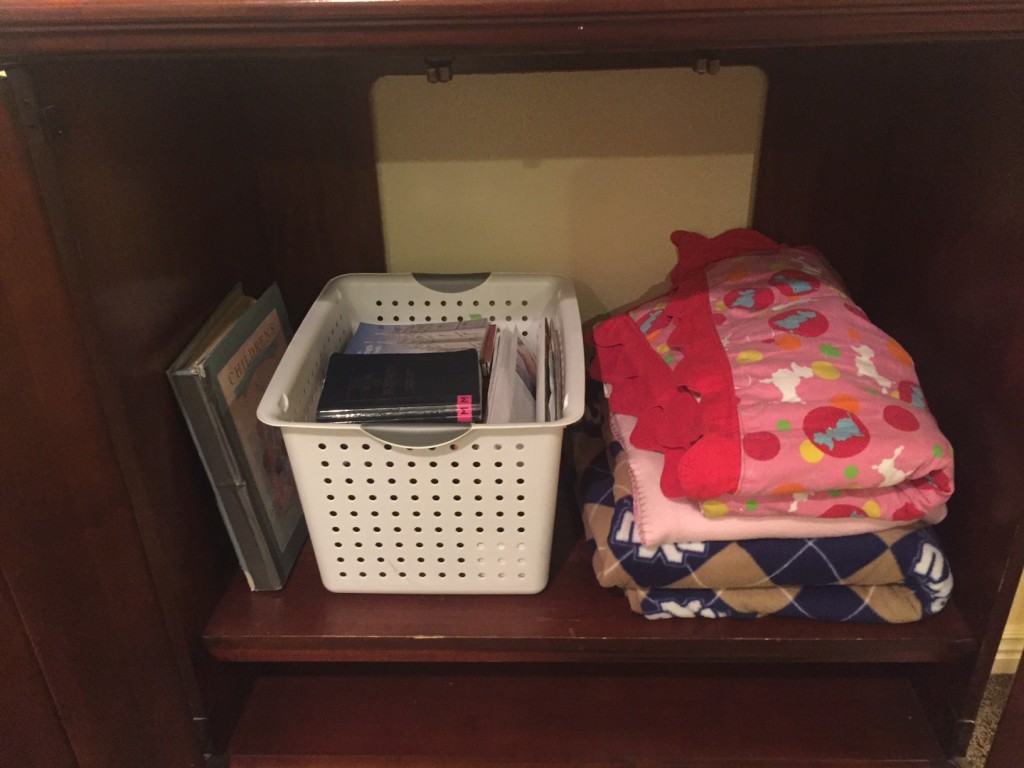 ANOTHER EXAMPLE: One of our goals has been to have family scripture study. We talk about what time we should be going to bed and waking up in order to all be together. We arranged the furniture so that there is a place where we can all sit together and read and discuss. I found a basket and put the scriptures, hymnbooks and other supplies in there so that we can have everything easily accessible in that room each morning and don't have to go searching for our books. We have blankets nearby so that when it is cold, we can snuggle and wrap ourselves in blankets and be warm. The morning routine includes getting up and holding scriptures at the same time.
You can see that we ended up planning a time, our space, other resources, and a routine all around that one goal that we set as a family.
This habit that we have had for the last 22 years has had a major impact on our family's development, intellectually, spiritually, emotionally, and even physically. (Learning to get up early and go to bed at a reasonable hour are important habits in maintaining lifelong health!)
That's one slice of order for you. Put your priorities in order, and you will be able to figure out how to put the rest of your life in order!
Your goals will determine your time, space, and resource management, and you'll be able to have more peace in your life. The stuff that won't matter to you or to God will fall away like dead leaves that don't get any water.
"When we put God first, all other things fall into their proper place or drop out of our lives. Our love of the Lord will govern the claims for our affection, the demands on our time, the interests we pursue, and the order of our priorities." (Ezra Taft Benson, "The Great Commandment–Love the Lord," April 1988 general conference).
---
---