RTW: Boden catalog woes and fashion dreams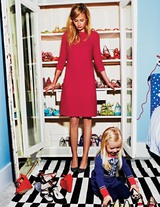 The Boden catalog arrived this week, and it was on my floor as I walked around my bed to make it this morning. So I picked it up and flipped through it. There was a page with a very fit, young "mother" (at least she is supposed to be a mother) standing in a very cute sheath dress with about 40 pairs of shoes behind her in some kind of a shoe closet. (A whole closet for shoes!) Her "child" is on the floor near her feet, checking out some of those very hip heels.
Well. The dress is darling. But very out of my budget.
And a closet full of shoes? Not reality for me. (Not that I wouldn't like that…)
The tagline of being a "sexy mommy" sure puts a lot of pressure on moms to try to please everyone on the planet: a perfect mom, a working mom, and forever 21. (Hmm. That sounds like a place in our mall….)
No wonder we get depressed looking for clothes!
Sometimes when I'm shopping for my girls at Gymboree or Hanna Andersson or anywhere that I find something darling and affordable*, my teens and I think aloud, "Why can't they make this in a woman's size?"  Where is the disconnect between children's and women's design?
I sewed a lot growing up (starting learning when I was 7 when my mom gave me full reign of her machine–can you imagine?!) because I was tiny and there weren't a lot of clothing options for me. They didn't make a lot of women's clothing to fit petite young women. (I've got to find this photo of me at age 16 wearing a linen dress I sewed for a sewing contest. I won a serger with this dress! It was worth the effort!) Sewing and designing for myself made me want to be a clothing designer, from the time I was about 12 until college (hence why I worked at Nordstrom in San Francisco the summer after my freshmen year).
If I could dream up my ideal store, it would not be your normal store. Here's my dream:
Cute, classic, fun, modest clothing (with personality) that is attractive without shouting SEXY. (Think: the best of Boden, Hanna Andersson, April Cornell, Anthropologie and Shabby Apple, as well as favorites from yesteryear: Talbots, Laura Ashley, Bennetton). By modest, I mean EFY standards (see the poster, too).
Focus group: young women/women ages 12 and up
Price points that average Americans can afford (including the teens who are earning their own money for clothes)
Fabrics that are well-made, aren't so sheer that they get holes in them after 2 washes (no joke!) and can be worn lots and still be in good enough shape to be passed on to another woman (and look equally good on her) (Think Hanna Andersson quality)
Fabrics that are bright and colorful and soft and calm and patterned beautifully from around the world but don't require dry cleaning to be kept that way
Fits that vary, but none that are skin-tight or show undergarments easily
Shoes that are cute AND well-made in ballet flats, fun heels, comfy everyday stuff with good arch support like European makers but don't break the bank
Shirts that have necklines and sleeves and thick enough fabric that you don't need to wear an "under tee" shirt (!!!)
Normal people in a variety of sizes and shapes as models
Clothing that represents what being a mom is REALLY like–including with all the changes that mothers' bodies go through, and how women still want to look beautiful now matter what age or stage they are in, and celebrating that age. And celebrating motherhood and modesty without trying to look like a pioneer (all due respect to my pioneer ancestors that I honor and adore)
Patterns and fabulous, affordable fabric by the yard for those who enjoy making their own clothes to fit them the way they like
A sale twice a year, before Christmas and before Easter
And last, but not least, beautiful music in the background at a peaceful volume level with non-pressuring, helpful employees who treat you kindly and respectfully, no matter who you are (Nordstrom used to be like that sometimes)
I feel like I used to be able to have more fun shopping because I used to be able to find clothes like this. But things have really changed. A lot. Everything is geared towards being sexy, from underwear to shoes to stockings to accessories. I believe there are millions of decent women who want to be seen as attractive and decent, not "sexy." And when I find something great, most of the time it is more than I can afford. Moms my age know because they remember. Our daughters don't, because they only know what they see now.
Well, there you go.  My dream store.
I certainly don't have the budget to dress the way I'd love to everyday. But that's OK. Looking at that Boden catalog reminded me that shoes and dresses come and go, but I do have what is most important: my eternal family.
Happy Dreaming,
Liz 🙂
P.S. In college, I couldn't do three things at once–go into business/fashion design, teaching French and teaching special education, so I dropped the former. I'm keeping my eyes out for young designers who share my dreams. I haven't found anyone quite with the same dream yet. If you're a young designer with dreams like mine, email me so I can find out more. I'd like to support your efforts the best I can.
*Gymboree can be very affordable when the clothes are on sale and I have coupons to go with them. They last better and can be passed on from child to child, meaning I get more bang for my buck, and the child who follows like to wear them. Same with Hanna Andersson clothing in terms of wear but not in terms of pricing. I love their clothing but buy only a little, mostly when it is on sale.
---
---