RTW: How can I save money on haircuts for my family?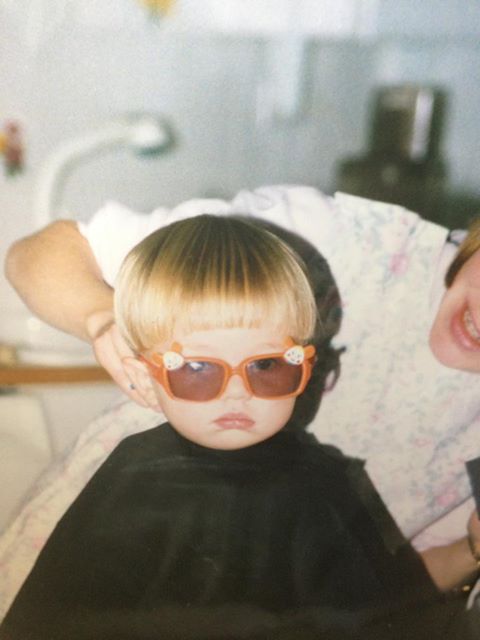 I cracked up when my son posted this to his Facebook page recently because it tells a story in itself about how I've tried to save money by giving my family haircuts. (And it reminds me of how darling he was as a child. No more chunky cheeks anymore. Don't you love the pout? I wonder if those glasses came from a Happy Meal or birthday party treat bag?)
When Lane and I got married, we gave each other presents. He gave me a beautiful ring, and I gave him…get ready…a barber kit! I know, before you think I was a total goof, it came with the promise to cut his hair so that it would save us money. We were poor according to our standards, and every dollar helped.
The promised lasted a short while, until I (or Lane?) decided it was scarier to have me cut hair than it was to save money. Or I got pregnant and really sick and promised to pick back up on my promise when I felt better. Or both. Which brings us to our 20th anniversary, just about.
Okay, I've felt better for a long time! But I didn't start cutting his hair again until a couple days ago, when he asked me if I would try it again and then walked me through the process. Rebecca stood at my side as my assistant, handing me the clippers or the trimmer or holding the comb and encouraging/correcting me the whole time. How did we do it? I used the #2 clipper comb to cut the bottom 2/3 of his head, then the #4 for the top, then the #3 for blending the ridge between the two, and then the trimmer to go around the ears and fix the back.
His haircut actually looked good! Even with all those handsome grey hairs our family is giving him! I felt so triumphant.
With the purchase of the barber kit and some great haircutting shears back in the day, we have literally saved hundreds of dollars on family hair cuts over the years. Cutting little boys' and little girls' hair is not very hard–especially with YouTube to help out–and gets easier with practice. (I didn't have YouTube back then–just library books and watching at a salon cut). I of course go to a salon for my hair (except when I get too impatient and cut it myself) as well as for my children's hair when we really want someone who has better skills. But it looks like I'll be picking back up on that promise made to Lane all those years ago…
Happy Haircutting,
Liz 🙂
---
---