RWM: Code Word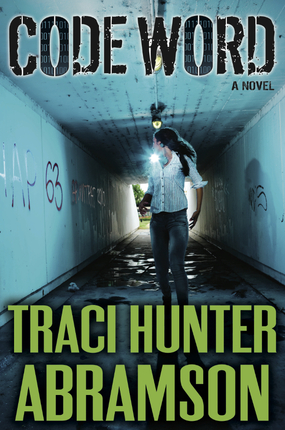 Every once in a while, I want an escape from the routine. I am really choosy about how I escape. I can go for a book that has a little adventure, action, and romance all wrapped up together but that won't offend me while it transports me into that world.
Traci Hunter Abramson's books do that for me.
It all started when Julia brought home a book she got at Grandma's–or was it from a friend? I wanted to see what she was reading, and I was hooked. I read until I had to stop, and then I kept reading as soon as I had another opportunity. Lane, Sarah, Rebecca–we all took turns reading it.
It was great fun!
I can't escape very often, or rather, I don't choose to do that very often, because I do things (like blog) and community service on a regular basis that give me a change from my routine. And my family life can't handle too many breaks or it falls apart. But maybe twice a year, I love curling up with one of her books to simply enjoy a break.
I wouldn't really recommend her series if you are younger than 12. Too much smooching! (All virtuous and appropriate in my mind, but still.) And maybe too scary depending on what you've been exposed to media-wise as a child. (That's not many children these days.)
But if you're simply looking for a fun romp without a guilty conscience (unless you stay up too late reading it…), there you go.
Happy Escaping,
Liz 🙂
P.S. If you think you'd like to try one, I'd actually recommend starting with her first book, Undercurrents, because it's the beginning of one of the series, the series I like best.
---
---