RWM: What are Some Creative Ways to Preserve Family History?
Tonight I read the story, The Keeping Quilt by Patricia Polacco, to my children at bedtime. I LOVE this beautiful autobiographical story which tells several creative ways to preserve family history: 1) make a quilt out of clothing; 2) tell who the clothing belonged to and the stories that go along with each piece; 3) write a story for children about a part of your family history.
We have a Christmas tradition of getting new pajamas on Christmas Eve, and I have been holding on to some because someday when my daughters and daughters-in-law start having babies of their own, I'd like to make a keeping quilt to cover my daughter's laps when they are up at night nursing and it's cold. Or something like that. Something to remind them of happy Christmases and a mother who will always love them.
I love Patricia Polacco's books. If you haven't read her works, you will want to head to your library to find some.
Happy Preserving,
Liz 🙂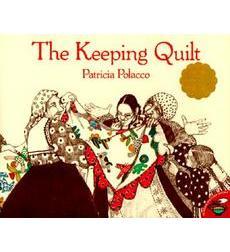 ---
---