Santa's Favorite Story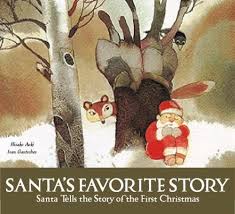 I love looking for a new Christmas story each year to share with my family. It's one way we welcome the season in. I had such a lovely hour at the BYU Store looking through Christmas books!
Santa's Favorite Story: Santa Tells the Story of the First Christmas is not a new story, just new to me. I love the illustrations in soft watercolors as well as the message shared. I don't have many books about Santa, because I love focusing on the Savior more, but this was a nice balance, and I could imagine myself reading this with grandchildren someday. So that was the clincher.
You can hear the whole story read here.
---
---