School lunches: feast or famine?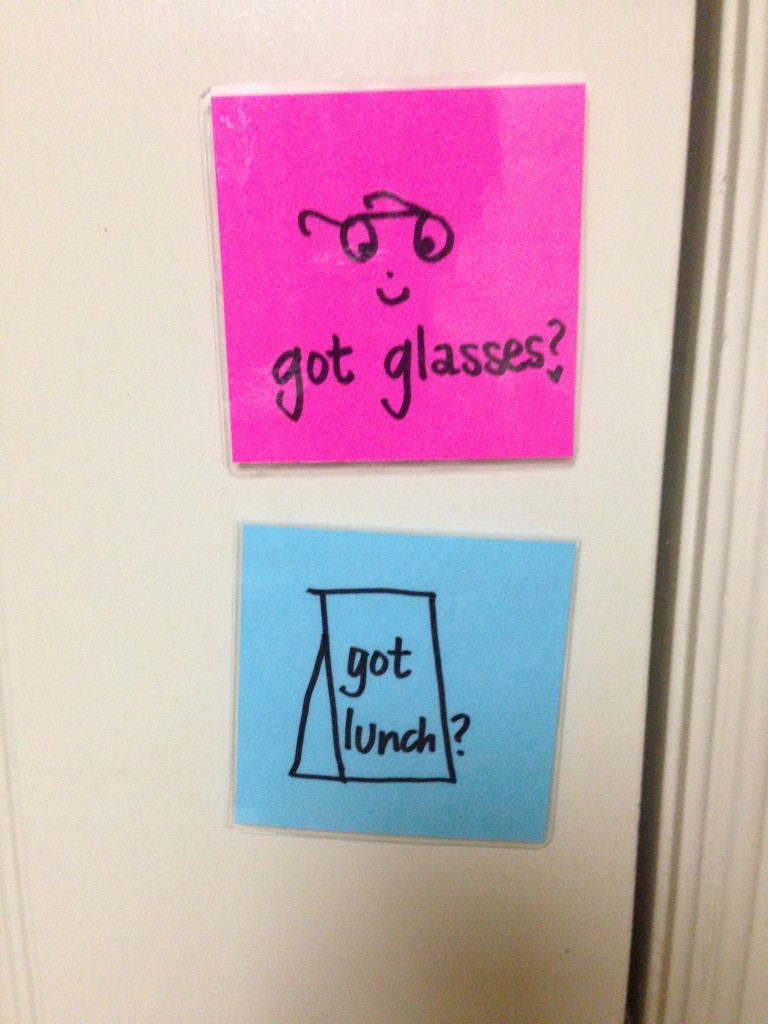 I laminated little sticky notes and put a self-adhesive magnet on the back to help my family remember to get lunches out of the fridge before they run out the door, on the days when there are lunches in the fridge or on the counter.
While I wish that I could have lunches in the fridge or on the counter every day, it isn't reality (…yet). While I wish I could make "Frances" lunches at least once a week, it isn't reality (and may not be, ever).
Here is reality: I am awake in the middle of the night at least once a week for 2-3 hours, and I go back to sleep around 4:30 or 5:00 and try to get another hour or so in before scriptures at 6:30 am. Or Lane encourages me to sleep through family scriptures–he will take care of it. If I get up at 7 am, I'm too late to make lunches, so the children throw together what they can before they hurry out the door for school. Or some other situation that makes it so that I am throwing carrots and a frozen yogurt tube and a bagel into a bag and practically throwing it to a child as she is running out the house.
Or I tell them to go and I will make lunches and drive them to the different schools where they are. (That is not my favorite way to do lunches.)
Or I tell them to buy a school lunch, which some of them refuse to do because they dislike the school food so much.
But some of them will eat, because they are hungrier than they are picky. (No condemning here: I get why the others choose not to eat!) And because the norm is that I make lunches, I haven't kept up on the school lunch accounts. I got an email this last week saying that one child was overdrawn more than $10. Oops! Guess I better put some money in that account and get more home lunches made!
One of my goals is to be sure to share reality in our home! Blogs can be danger zones for painting a picture that is inaccurate. I want my blog to be a reflection of things as they really are.
And I hope it makes you smile, 'cause it makes me laugh!
---
---