Silent Souls Weeping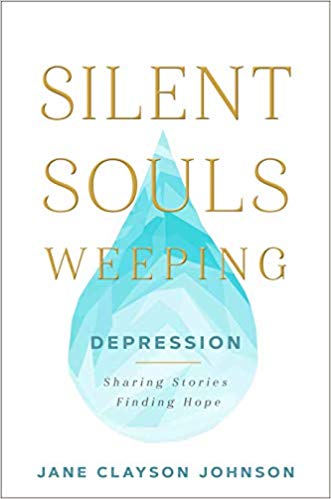 "Depression thrives in secrecy but shrinks in empathy." (Seth, as quoted in Silent Souls Weeping)
I finished listening to Jane Clayson Johnson's Silent Souls Weeping: Depression–Sharing stories, Finding Hope. I LOVED IT. At first, it felt a little heavy, since I could relate to it so much, and I was looking for lighter reading. It wasn't light reading! But as I went along, I felt comforted hearing other people's stories. I especially was interested to read those of some people I really admired!
I actually didn't finish reading the book after starting it, because I felt (hopefully!) inspired to give it away. Then last week when I was asked to speak to a group of adults in a church congregation about depression, the memory of this book came to my mind, and I remembered that I owned an audio version of it. I started listening right away! I really loved the audio version read by the author, who has suffered from clinical depression.
I think one of the most important messages from this book is how important it is that we share our stories. We need to know that we are not alone, and by sharing our stories, we can give hope to others who feel like they are struggling in darkness, feeling too weak to reach out or too embarrassed. We empower others when we ask for help or admit that we struggle with mental illness, just as anyone who is physically ill and needs help can only used get it if they ask for help.
I was visiting with a friend this week and mentioned how I have struggled with anxiety at times. She looked so surprised and mentioned how she had similarly struggled. We are both cheerful people, and I recognized how easy it is to assume that people who look happy on the outside are possibly fighting a real inner battle to be cheerful in that moment or to have showed up at a church meeting or social event.
I'm excited to be preparing to discuss depression and anxiety with this church group. I am eager to learn more, to hear other people's stories, to gather stories from those I know and love already who suffer from mental illness. Together, we are stronger and can float back up to the top like corks as we strengthen and comfort one another.
Have you read this book? What was your favorite quote? Which story helped you? Do you have a story that you feel could help someone else?
Note: This book is part of our Raising Amazing Children Friendship Library Project. To learn more about this project, click here.
---
---