Conversion Stories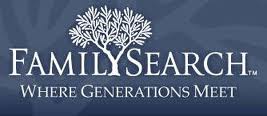 Before you serve a mission for our church, you are encouraged to know the conversion stories of your family members. What a great invitation!
Conversion stories strengthen me because they remind me of how brave my ancestors were. That reminds me that if they can be brave and stand for Christ and their religious beliefs, so can I.
Take a look at this list! As I go through this, and see where they lived, I realize that not all of these people were the first people baptized as member of the Church of Jesus Christ of Latter-Day Saints in their family. Some of these are children of the first baptized members, which means that this list is even longer than it shows! That's a lot of missionaries who sacrificed much to leave their families to share the gospel and to whom I feel deep gratitude.
Another thing I noticed in making this list was how many people lived long lives. From what I can find in a very brief search online, average life expectancy in the 1830's was about 40 years. Today, for North Americans, it's 77. Look at how old our great-great-grandparents lived to be!
Here are links to their conversion stories in our family on my and Lane's sides (I will add links as I find the stories and enter them):
My side of the family:
William Wallace Boyle (1858-1931)(73)
Eliza Priscilla Dana (1859-1940)(81)
Samuel James Hooper Pingree (1862-1924)(65)
Cynthia Stowell (1865-1930)(65)
James Michael Andersen (1855-1919)(64)
Margaret Mariah White (1857-1951)(94)
Kaspar Hoffman (1845-1924)(79)
Anna Frankhauser (1862-1889) (Died so young! 27!)
Jens Jorgen Sorensen (1852-1944)(92)
Hannah Marie Christensen (1852-1913)(61)
Robert J. Blain (1843-1926)
Melissa Veresta Barney (1857-1945)
Charles F. Kemp (1831-1905)
Sarah Blackham (1840-1899)
Isaac Morley, Jr. (1829-1908)
Cynthia Abiah Bradley (1833-1926)
Lane's side:
Charles Livingston (1835-1908)(73)
Ellen Harrocks (1848-1924)(76)
Joseph Smith (1849-1930)(81) (Not to be confused with Joseph Smith, Jr.)
Eliza Bean (1851-1921)(70)
Lycurgus Wilson (1828-1911)(83)
Lois Ann Stevens (1833-1905)(72)
Thomas Jefferson Patten (1828-1909)(81)
Johanna Hollister (1833-1916)(83)
Mads Nielsen (1838-1914)(76)
Mette Marie Christensen (1845-1905)(60)
Richard Pilling (1833-1906)(73)
Catherine Adams (1838-1935)(97)
William Wood (1837-1916)(79)
Elizabeth Annice Gentry (1845-1887)(42)
Alfred Solomon (1836-1921)(85)
Ellen Gyde (1837-1871)(34)
---
---