"Family Time is Sacred Time," or "Merry Christmas to All, and to All, a Good [December]!"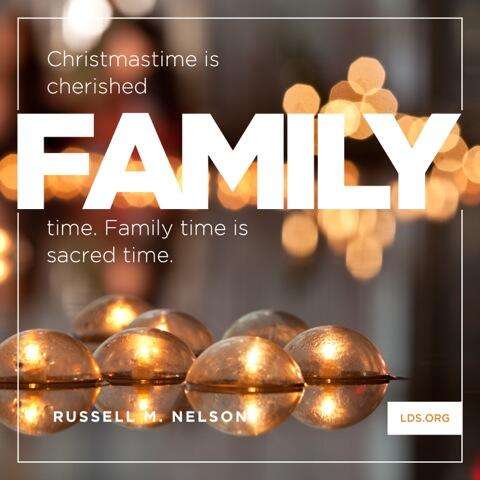 For Sunday's Christmas Devotional, we dragged (not literally) the children together to sit down on the couch, cozy under blankets in the chilly basement, to watch and be inspired by President Monson, Sister Wixom, Elder Rasband, and Elder Nelson. It took some persuasion, but by the end, we were all feeling the Spirit and grateful to be watching together.
Anna wanted to know if President Monson was going to tell a story. The children love his stories! (We ALL do.) He surprised us with a change of program and his short message. But Anna was intrigued with Sister Wixom's story about her mother sewing the dress. "What happened next?" really got her attention–as well as the rest of ours!–as we waited to see if Sister Wixom peeked while her mother was answering the phone.
My children probably all know the lesson I learned as a child: peeking is not as fun as surprises! My mother would hide our gifts in her closet, and one year I took the opportunity to avail myself of that discovery, delving in to her treasure trove. After peeking, I didn't feel so excited; I realized that Christmas is about surprises and much more fun that way. I had no desire to peek after that.
Something that Elder Nelson said during the devotional resonated with me and Lane: "Christmastime is cherished family time. Family time is sacred time."
That Sunday night devotional, as well as several concerts already in the first week from Thanksgiving to December 5, along with the ensuing Christmas preparations, have brought me to the realization that something in my time-spending is going to have to go. I don't have enough time in my budget! For now that means that after I write today's posts, I'm closing shop on my blog  until the New Year. I've got a lot of fun (and stressful!) work ahead of me!
You know, December can be such a mixed bag of emotions: stress from gift preparations and overcommitment, joy from added service and sacrifice, pressure to spend more than we have saved (or neglected to save), worry about whether someone is going to feel happy or sad over a gift or a family gathering, happy memory-making with laughter and singing and delicious meals.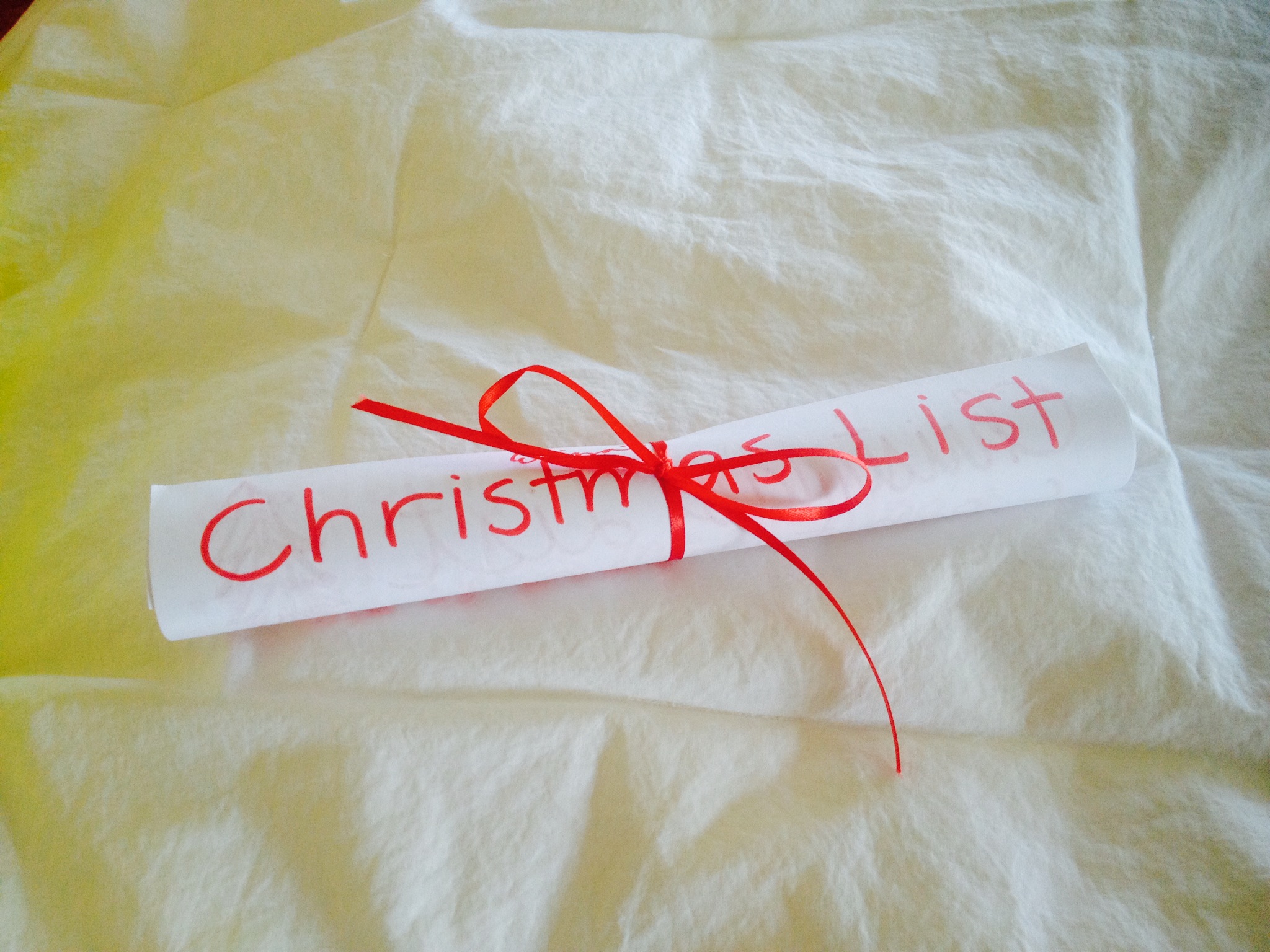 (A child's wish list appeared on my bed yesterday.)
December's a micro-life in and of itself, all bundled up with a ribbon around it! Life can be so hard. Marriage can be hard. Parenting can be hard. Finances can be so difficult. Extended family relationships can be strained. But the silver lining comes in moments like Sunday night, when we stop and refocus on what matters most: Christ, family, those who need our love and help. Lane commented to the children, after the devotional, that sitting together to what that special broadcast is one of those "sacred" family times Elder Nelson mentioned. We're grateful for those special times, simple as they are.
My short night of sleep last night reminded me that I needed to let go of something to manage the stress load for this month. So, after writing the next few posts I'll write today, I want to say, along with Clement C. Moore, (or Major Henry Livingston or whoever wrote it!), "Merry Christmas to All, and to All a Good Night!" May we all have the Spirit of the Lord with us day and night (to sleep well!) this month!
Happy Christmastime,
Liz 🙂
P.S. One of my favorite Christmas songs is called "Christmastime" by Hillary Weeks. I still remember singing it as we drove up to Midway for Thanksgiving one year. Love it. Hope you enjoy it, too!
---
---