SOS: How do you eat your sugar cereal?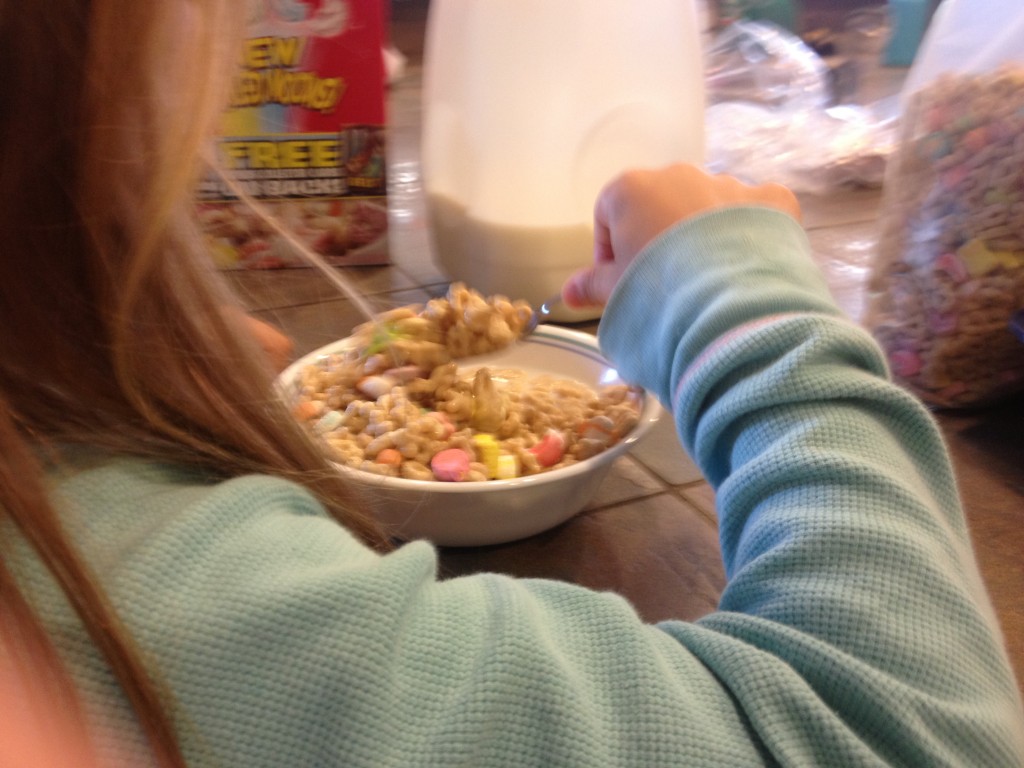 We've tried a lot of different ways to motivate our children to get up on time on Sunday mornings so we can make it to church on time.
The most effective way, now that we have teenagers who like to stay up and sleep in whenever possible, is to offer marshmallow cereal (or other favorite sugar cereal) for breakfast to those who are up and downstairs within 5 minutes of us calling them to breakfast. Today every child except one was downstairs within 5 minutes.
Amazing what sugar can do.
We don't eat sugar cereal every day–only Sundays–so that makes it a treat. And you know that if you don't come, with our size family, the box will be gone after breakfast!
Anna was the first one up, and I ate my bowl next to her. We had a conversation about how to eat marshmallow cereal.
Anna: "I like to save all the charms for the end. Then I organize them [the marshmallow charms] so they're all in their groups, so like shooting stars are in a group, and…and stuff. And them I eat them all in a group. [Pause]. Sarah does it, too."
Me: "Did you learn it from Sarah?"
A: "Uh huh."
Lane: "Shoulda guessed."
Oh, all the important things you learn from your big sister, including how to organize your marshmallow charms.
So I had to ask the rest of the children how they like to eat their sugar cereal.
Eliza: "Usually I try and save all the charms for last."
Rebecca: "I eat them 'till I get to the bottom layer, and I eat the grain [cereal bits], and then I eat the charms."
Julia: (No comment, since she was in her bed sleeping.)
Pete: "I just get a huge bowl, and I fill it up like a mountain, and then I eat it all up."
Nate: "With a spoon."
Nothing like the boys to keep you grounded in practicality.
My favorite part was Anna's excuse about how she couldn't drink her milk (in the bowl) at the end because "I ate too much! My tummy hurts." Uh huh.
Happy Motivating,
Liz 🙂
---
---