SOS: Slowing Down and Getting Some Sleep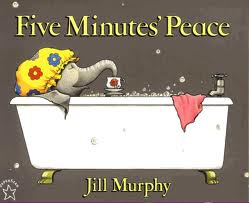 Getting a break as a young mother can be laughable at times; Jill Murphy's book Five Minutes' Peace illustrates that. I loved reading this book to my children because it always helped me laugh at the dilemma! I love reading books that make me laugh! They helped keep me awake when I was reading aloud after lunch. (I didn't even know you could fall asleep while reading aloud to a child until I did it.)
Getting enough sleep as a mother can is also an ongoing challenge–one I've worked on for the last two decades! This weekend has been our school's "fall break," and I have LOVED slowing down and getting some added sleep.
Slowing down and getting sleep are critical to mental, emotional, and spiritual health. Not getting enough sleep and being out-of-balance with stress and pace of life was part of what led to my getting really sick seven years ago. It was a great "wake-up call" (no pun intended) to my need to prioritize exercise, sleep, and family pace. "Sometimes we need a personal crisis to reinforce in our minds what we really value and cherish." (M. Russell Ballard)
I do things differently than I did before my illness, and it has, over these last 7 years, made a major difference in my life. First, I healed. Second, I feel more peace. Third, I work harder to pace our family life, limiting or dropping activities in order to slow down. Fourth, I try to enjoy my family more and stress a little less. It's a constant work in progress, with a no "arrival" moments. I have found no magic formula for balance, other than a constant effort to simply do what I can, remembering that God doesn't want me to do more than I can realistically do. And that ability can change day to day, depending on my health, hormones, and family needs.
I will say one thing about working towards balance: parenting and women's magazine articles often contain advice that is not affordable or realistic for young (or older!) mothers. Reading those articles can be a source of frustration more than relief! I find that suggestions that are based on true principles, such as living within my means, for example, is far more helpful than one that suggests spending a lot of money. One place for some really good articles on balancing can be found here.
Today I found this page for youth about balance. It's a great summary of the things that help me work towards balance.
Happy Balancing,
Liz 🙂
---
---