The Spirit Catches You and You Fall Down: A Hmong Child, Her American Doctors, and the Collision of Two Cultures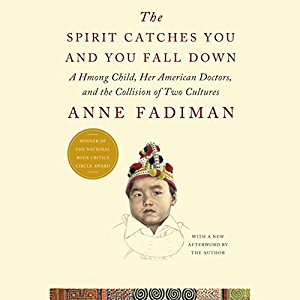 Sarah texted me one day this week to share a sample of a book she had started to listen to on her commute each day to and from grad school. I listened and thought, "I have to listen to this book!" It's not that I didn't have two other books I'm reading this month…😗
This book is primarily focused on the life of a young Hmong refugee girl who is born with epilepsy. The family lives in Merced, California, and the cultural/linguistic barriers that exist for them create very challenging barriers for good medical care to her that is frustrating to both sides: the medical providers and the family.
But there is much more than Lia Lee. It is about the challenges of being a refugee, of working in cross-cultural settings, of social and ethical dilemmas, and of cultural effects upon childbirth and nurturing children.
I will first say that this book (I am only over two hours into it) would be fabulous reading for ANY medical, anthropology, or social work student. I have learned so much about Hmong refugees. (It is particularly fascintating when read by Anne Fadiman, who must be a native speaker?)
I need to come back and write more about this book later. I will say that I would label this book with a RED FLAG for language and mature topics as it is medically, anatomically, culturally and religiously very descriptive–some of which is absolutely not appropriate for children.  There is also quite a bit of language when the author is quoting doctors or some other individuals. Not very pleasant to hear (read)!
I would recommend this book to 18 years or older who are interested in medicine, social issues of refugees/immigrants, and sociology/native cultures. It is a long and sometimes a little informational–but absolutley interesting if you want to learn about these topics! As always, I recommend judging for yourself. 
---
---