Psst!: How can I teach my child to be safe?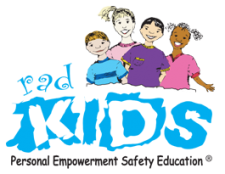 Upon seeing a news report of Elizabeth Smart's book release, My Story. I was reminded of how much I want to protect my children and help them learn how to defend themselves against evil people. I remembered that I had seen on her website some time ago a link to a program she recommends. I went there today to see what that was, and if we could have that at our school.
I found out that there is an upcoming training in our area. It is quite expensive and requires an entire week of time. I don't know that I can do it right now, but I am on the watch for someone in our area who is interested and able. I definitely WANT to do it!
Click on the radKIDS logo above to go to their website. I hope that we will see more radKIDS safety education programs in more and more schools around the country.
Of course, home is the first place of defense. We teach our children in our home at Family Home Evening about being smart, not participating in chat rooms online or becoming friends with people they don't personally know on Facebook, as well as avoiding pornography like the plague. We've also taught them about "stranger danger" and how to be safe or fight back in a number of settings. It's time to do that again. Still, I would love to give them more than that, and I feel concerned about all children in my community–especially those who are being hurt in their own homes.
I noted from one interview (I'm not sure which one) with Elizabeth Smart that the thing that kept her going and surviving during her hellish ordeal was the memory/knowledge that she knew God loves her and that her mother loves her, and that what helped her begin healing as soon as the day after she was returned home was what her mother said to her. Mothers can be such powerful nurturers. Elizabeth is an incredible survivor!
---
---