The Boys in the Boat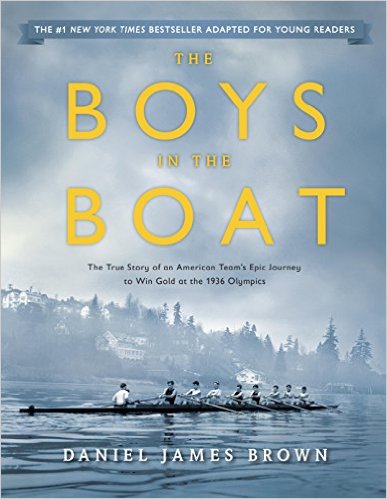 When was the last time you cheered while listening to a book?
Today I did while listening to The Boys in the Boat: The True Story of an American Team's Epic Journey to Win Gold at the 1936 Olympics (by Daniel James Brown; adapted for young readers by Gregory Mone). The best of biographies don't get much better than this!
Brown tells the story not only of the 9 members of the 1936 USA Olympic Rowing Team but also the painful-to-triumphant personal journey of Joe Rantz. If you find yourself facing challenges and need an inspiring story to help motivate you (besides the scriptures, of course!), I recommend this story without reservation!
Here is a part that I want to remember that has so much relevance to family life. One of the coaches, George Pocock, approaches Joe at a definitive point of his rowing career. (SPOILER ALERT: Don't read if you are planning to read or listen to the book!) He says that he has been observing him and noticed that Joe "was a fine oarsman. He'd noted a few technical faults, but that wasn't what he wanted to talk about. He said that there were times when Joe seemed to think he was the only one in the boat. He rowed as if it was up to him to row the boat across the finish line all by himself. When a man rowed like that, Pocock said, he was bound to attack the water rather than to work with it. Worse, he would not be able to let his crew help him now.
"The Englishman suggested that Joe think of a well-rowed race as a symphony; and himself as just one player in the orchestra. If one fellow in the orchestra was playing out of tune, or playing at a different tempo, the whole piece would naturally be ruined. That's the way it was with rowing. What mattered more than how hard a man rowed was how well everything he did in the boat harmonized with what the other fellows were doing. And a man couldn't harmonize with his crewmates unless he opened his heart to them. He had to care about everyone on his crew. He had to bive himself up to the rowing, but he had to do even more. He had to give himself up to his crewmates too. 'If you don't like some fellow in the boat, Joe, you have to learn to like him,' Pocock said. 'It has to matter to you whether he wins the race, not just whether you do.'
"Pocock paused and looked up. 'Joe, when you really start trusting those other boys,' Pocock said, you will feel a power at work within you that is far beyond anything you've ever imagined. Sometimes, you will feel as if you have rowed right off the planet and are rowing among the stars.'

I would recommend this book to illustrate the power of hard work, unity, team work, goal setting, perseverence, grit, poverty, unkindness, loyalty, forgiveness, patience, believing in yourself and others, human potential, overcoming obstacles, the Olympic dream, frugality, the Word of Wisdom, determination, hope, and love. And Matthew 22:39.
(Note: I diverted from my media-break-to-do-family-history because my blog is a place where I keep quotes that I refer back to, kind of like my memory! I needed to write this down for future reference before I forgot!)
I would recommend this book for anyone who is old enough to read it. There is some sad material but has been adapted for young readers. I have not read the original book written for adults, so I cannot make a recommendation for readership accordingly.
This book is part of the Raising Amazing Children Friendship Library Project (RACFLP). Please comment below to share your favorite part or quote from the book.
---
---