The changing of the books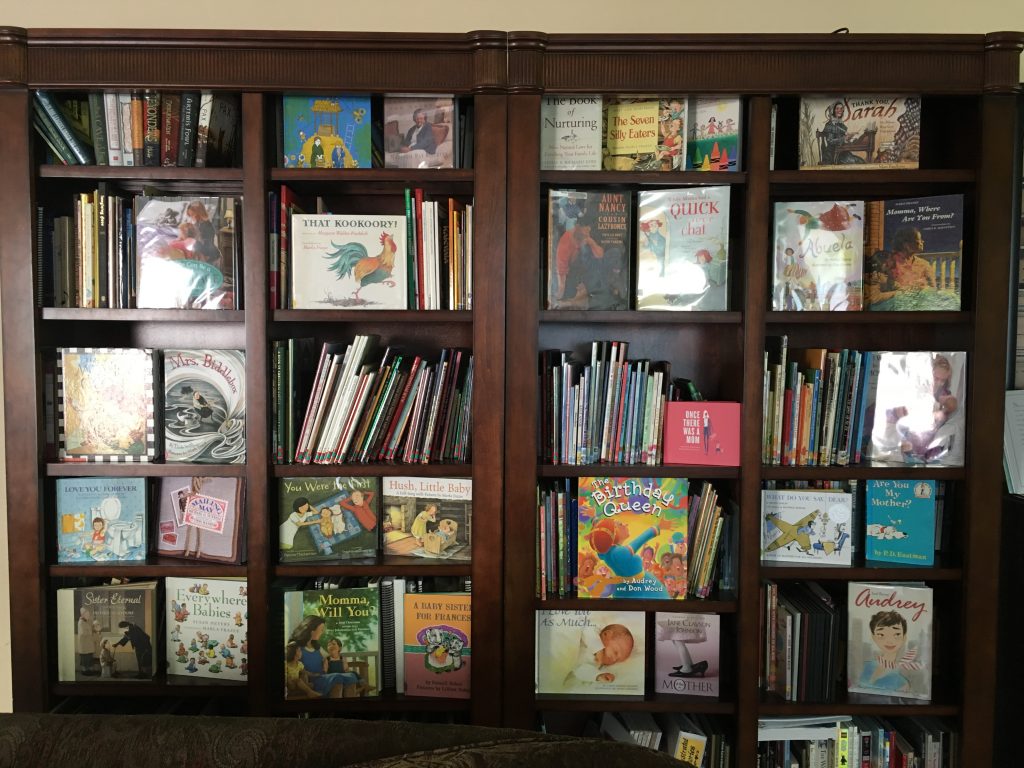 At the beginning of a new month, I change out the books I have on display to match what we are celebrating that month.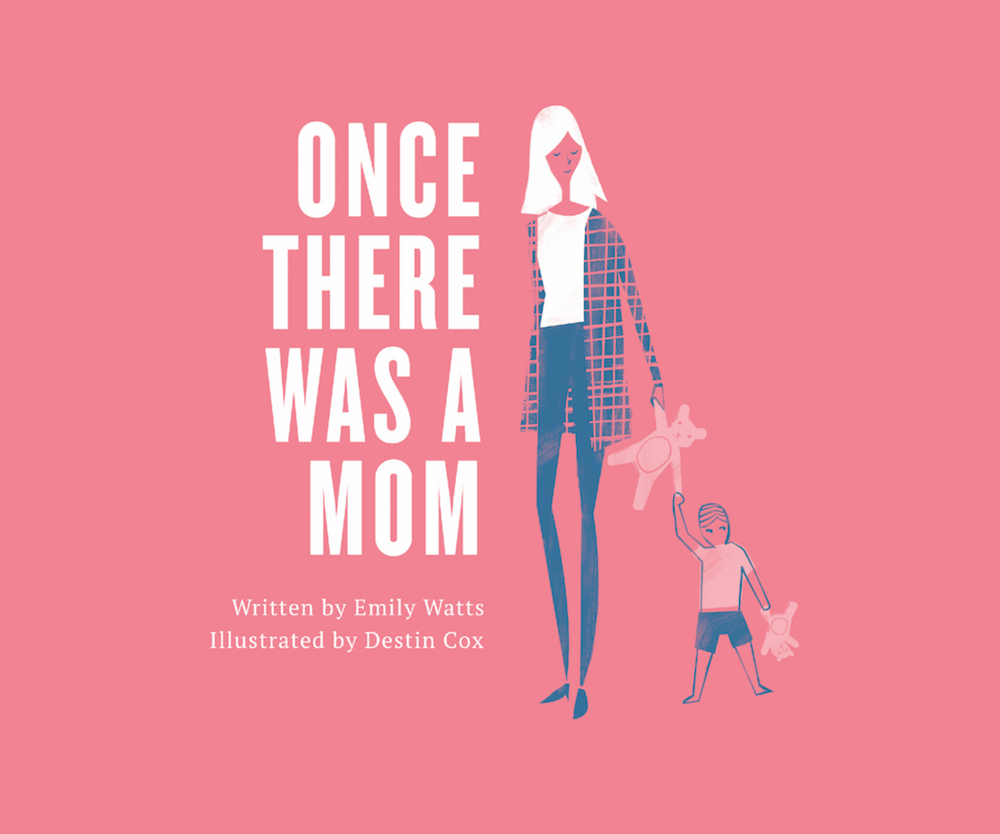 The arrival of this surprise book in the mail sparked the book-changing. I have yet to discover who sent it to me!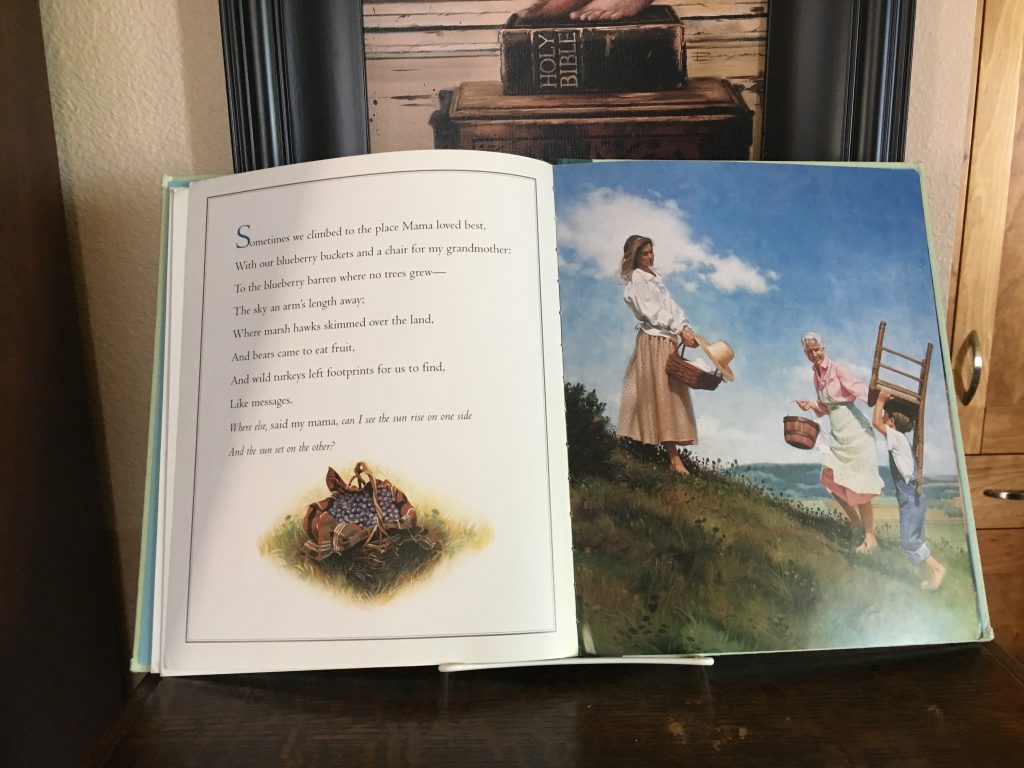 I had so much fun pulling out children's books (plus a few other books for older folks) and recalling the happy times reading aloud to children for years. The book open on display, All the Places to Love, was one we got early on in our marriage. The binding is almost broken and the dust cover long since gone. It's story has a treasured place in my heart, and many times I have thought of all the places we love because of the special events that have taken place there: Provo, Salt Lake, Midway, Riverton, the temple, church, school, Orem, LaJolla, Palm Desert, Cody, Palo Alto, Menlo Park, Montreal, Prince Edward Island, Paris, Lake Windemere. Home is my favorite spot for the best memories.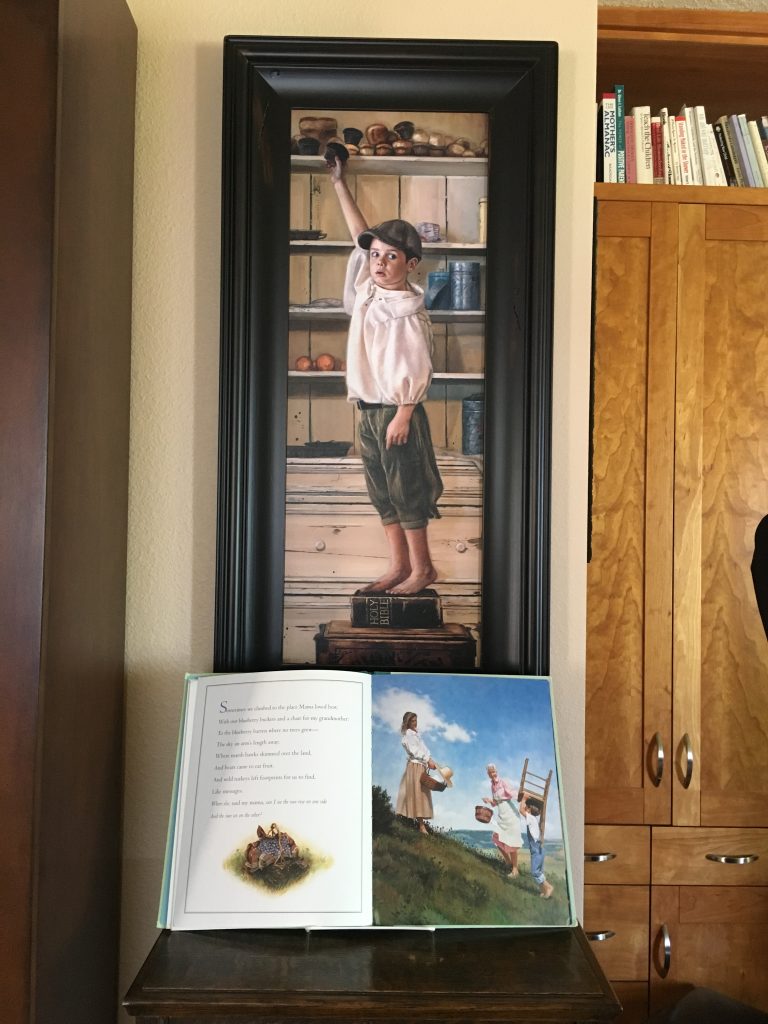 One good memory is what inspired the purchase some years ago of the painting in this photo. Peter, a young, treat-loving child, went to our next-door neighbor's home to climb up into their pantry to get a treat. Yep, when they weren't home! My neighbor walked in to see 3 year old Peter caught red-handed. She was so kind about it. (Embarrassing mom moment for me!) The story has always made us all laugh, and one year, when Lane and I went on a date and saw this painting, we both secretly bought it and gave it to each other for Christmas. Opening up the same present had us both laughing!
To read about most of the titles pictured above on our home library shelves, go here. Here are the titles shown above*:
Abuela by Arthur Dorros
A Baby for Frances by Russell and Lillian Hoban
Are You My Mother? by P.D. Eastman
The Birthday Queen by Audrey and Don Wood
The Book of Nurturing: Nine Natural Laws for Enriching Your Family Life by Linda and Richard Eyre
Everywhere Babies by Susan Meyers
Glimpses Into the Life and Heart of Marjorie Pay Hinckley by Virigina H. Pierce
Hush, Little Baby: A Folk Song with Pictures  illustrated by Marla Frazee
I Am a Mother by Jane Clayson Clawson
I Love You As Much by Laura Krauss Melmed
I Want to Be a Mommy by Judy Cooley
A Joyful Mother of Children by Linda Eyre
Love You Forever by Robert Munsch
Mailing May by MIchael O. Tunnell
Momma, Where Are You From? by Maria Bradby
Momma, Will You? by Dori Chaconas
Mrs. Biddlebox by Linda Smith
My Home Can Be a Holy Place by Kristen M. Oaks
Once There Was a Mom by Emily Watts
The Real Mother Goose illustrated by Blanche Fisher Wright
The Seven Silly Eaters by Mary Ann Hoberman
Sister Eternal by Dieter F. Uchtdorf
Thank You, Sarah by Laurie Halse Anderson
That Kookoory! by Margaret Walden Froehlich
Tikki Tikki Tembo by Arlene Mosel
When Mama Had a Quick Little Chat  by Amy Reichert
You Were the First by Patricia MacLachlan
*All titles linked to amazon.com are for readers' benefit only. I do not earn anything from purchases made from these links.
---
---