The Living Christ Memorization: Update (and 2 week review chart)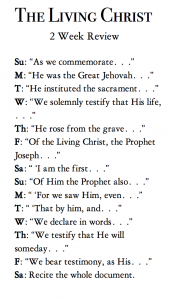 Our family finished memorizing "The Living Christ" document over fall break. Some of us are still getting the words in our heads, and so until December 25, we will be reviewing each paragraph–one paragraph per day–as well as reciting the entire document in 2 week cycles. Here's the little plan I made to stick on the side of the fridge to help us remember which paragraph we're reviewing that day. (We now do our morning scripture study during breakfast in the kitchen.)
It is interesting watching children learn the scriptures. Some want to memorize, others don't really, and so depending on their desire, they try or don't try to memorize it. That's OK with me. I'm not trying to force them to do it. I believe that there will be days in the future when the Holy Ghost will bring words and phrases to their remembrance to strengthen them and give them the opportunity to follow the Savior's example in a many different situation. And so it's like feeding them good food: I know it will bless them, even if they aren't super interested. It's just like any aspect of scripture study: we do it together because we know it's an inspired habit that will always bless our lives.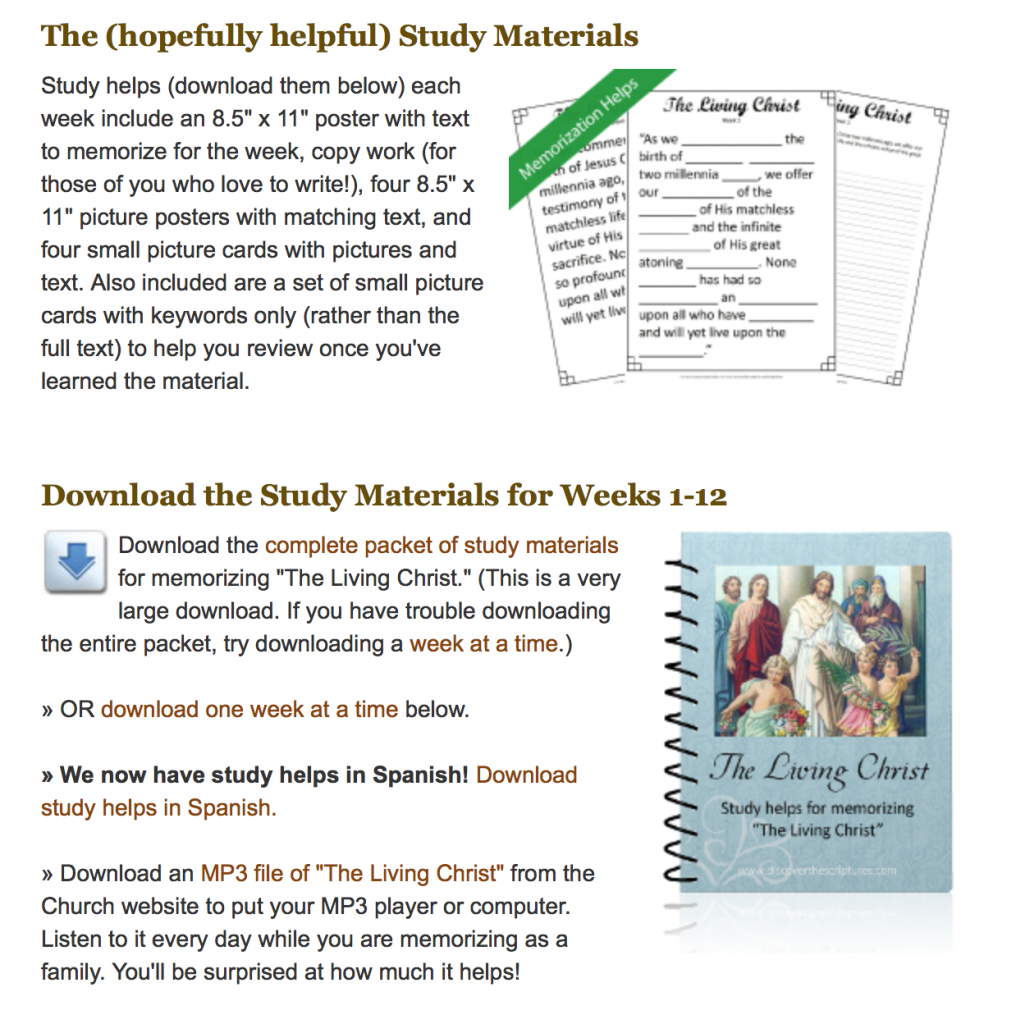 In googling the document this morning to make this little chart, I came across one family's website, Discover the Scriptures, that has some fabulous resources for helping someone memorize this document! Wow! Here is the link to their hard, generous work: http://www.bookofmormondiscovery.com/livingchrist.html. (Or click on the image above of the study materials to go there.) The download they have created is FREE!
I know personally that working every day with my family (and earlier in the year, individually) to memorize this document has been so rewarding. I love reciting together this beautiful description of the life of our Savior, the only perfect person to ever live on earth. His life is eternally inspirational. He is the Only Source of truth, life, light, and love, and it is by Him that we can return to live with our Heavenly Parents after this life. I feel so grateful!
---
---