The Rewards of Literacy Span Generations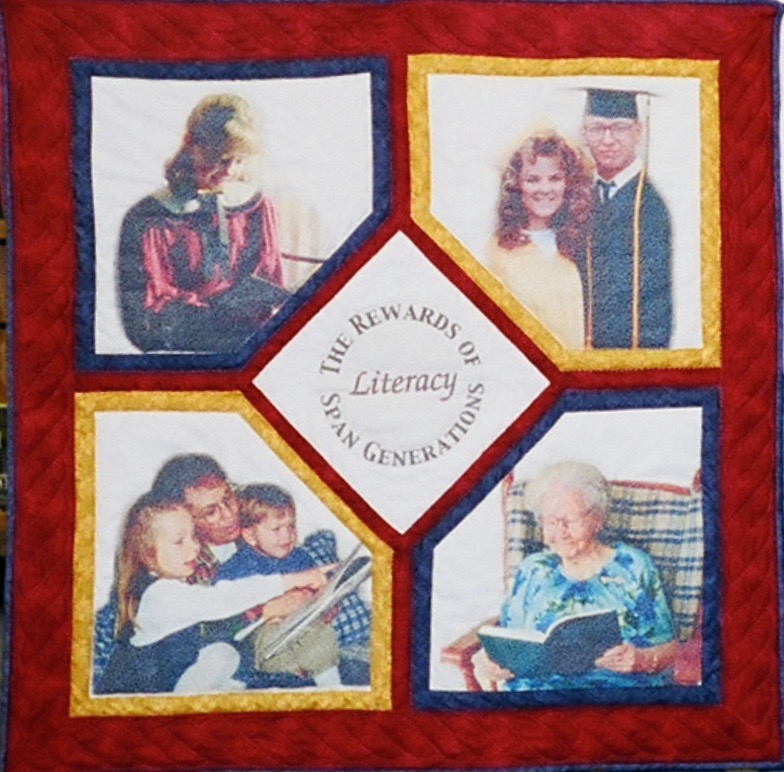 (This was a quilt that we made as a stake Relief Society for our new library in Riverton, Utah, about 20 years ago. In the bottom left-hand corner, my mom is reading to Sarah and Nathan.)
Literacy is the ability to read and write.
Those who care for newborns through children age three have an enormous, long-lasting impact on that child's brain development. Love, bonding, and healthy physical food aren't the only important aspects of parenting: "language nutrition"–or feeding the child's brain adequately–is critical to that child's future success.
Literacy matters. A lot.
I like the way one literacy program website put it: "Reading matters. It's an early gateway skill that paves the pathway for future success. Without it, kids are simply less likely to graduate high school, find employment, or successfully avoid other hardships like poverty, homelessness, hunger, and injustice" (https://smartreading.org/what-we-do/).
Yummy words
"Language nutrition" means the way you talk to, sing to, and read to your child–anything you do that is person-to-person verbal interaction with your child.
In a review of 103 studies on children's language outcomes, the researchers determined that what you say, how you say it, and how often you say it makes a big difference! (http://www.hanen.org/Helpful-Info/Articles/Making-Sure-Children-Get-Their-Daily-Dose-of-Langu.aspx).
Here are some good, proven ideas for what will help you feed your baby linguistically:
Talk to your baby. Use your best language. Using a "babytalk" voice with babies is great (it's helps them to pick out words from sentences and is called "parentese"–see the link in the paragraph below), but don't use "baby talk" with your child: you want to help your child's vocabulary grow! Children whose parents use better grammatical structures and richer vocabulary…you guessed it…also tend to use better grammar and vocabulary. (http://www.hanen.org/Helpful-Info/Articles/Making-Sure-Children-Get-Their-Daily-Dose-of-Langu.aspx. See also https://www.sciencedirect.com/science/article/pii/S0885200616300151#!).
Hey you!
Make conversation instead of giving commands. For example, it's better for your child's brain for you to say, "Guess what we are having for dinner? Here are some clues: It's red and white and warm and has tomatoes and mushrooms in it! And you really like it!" It uses more vocabulary, imagination, and keeps you on a friendlier plane than simply commanding, "Come to dinner now."
Change it up. Commands aren't quite as nice, right? Children don't like being ordered around all the time; adults don't like it, either. How many commands do you give in a day to your child? Could you change that up to invite conversation more than just giving orders? Kind works better from the get go. From birth through young adults, inviting conversation is a great relationship builder.
My husband is really good at this; I, on the other hand, could definitely improve!
Word count (as in 30 million)
Talk A LOT to your baby. The more you talk, the better. Let's go for 30 million words! Your socioeconomic status does NOT have to determine how many words your child hears from you! You can learn to speak kindly, wisely, and well no matter how much you make.
The term 30 million word gap (often shortened to just the word gap) was originally coined by Betty Hart and Todd R. Risley in their book Meaningful Differences in the Everyday Experience of Young American Children,[1] and subsequently reprinted in the article "The Early Catastrophe: The 30 Million Word Gap by Age 3".[2] Hart and Risley physically recorded an hours worth of language in each home once a month over 2.5 years. Families were classified by socioeconomic status (SES) into "high" (professional), "middle" (working class), and "low" (welfare) SES. They found that the average child in a professional family hears 2,153 words per waking hour, the average child in a working-class family hears 1,251 words per hour, and an average child in a welfare family only 616 words per hour. Extrapolating, they stated that, "in four years, an average child in a professional family would accumulate experience with almost 45 million words, an average child in a working-class family 26 million words, and an average child in a welfare family 13 million words.[2]

https://en.wikipedia.org/wiki/Word_gap
I'd like to point something out
Use gestures. Babies use gestures a lot. Name what your baby is pointing to. what your When you use gestures as well, you help them pick up language. It helps the child to focus on what you want to show or tell them. ((http://www.hanen.org/Helpful-Info/Articles/Making-Sure-Children-Get-Their-Daily-Dose-of-Langu.aspx).
When your child reaches for something—like a ball—what happens? You probably say something about it, like, "Ball? You want the ball? Yes, that's a blue ball. I can get you the blue ball. And look! This ball bounces! Look how high we can bounce the ball! Oh no, the blue ball just landed in the potty. Bye bye, blue ball!" So with one simple gesture toward an object, your child got you to talk (and talk and talk) to him about it. And hearing all those words was a boon to his language acquisition abilities.

Amber Ankowski, "Using Gestures to Boost Kids' Language Skills," 21 January 2016 (https://www.pbs.org/parents/thrive/using-gestures-to-boost-kids-language-skills)
Baby ASL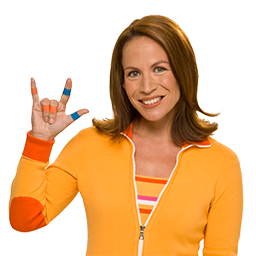 Signing Time is just one resource for helping children learn ASL. I loved being able to communicate with my children using signs during church or other quiet venues when I didn't want them to speak out loud! Baby Signing TIme is free on YouTube. When you watch it together, then you can practice together and acquire the skills together! Learning is the really fun parts of motherhood!
"A, You're Adorable, B, You're so beautiful" ♫
Sing to your baby. "C, You're a cutie full of charm." Singing is such a fun way to verbally interact with your child! Our oldest daughter's spoke her FIRST word one night when I was rocking her in the rocking chair and singing to her as I always did, night after night. I sang at least 2 songs to her every night: "I Am a Child of God" and "Families Can Be Together Forever." One night I started singing "I am a child of…" and she said, "God" before I did!
I was astonished!
Twenty-five years later, we still sing together. And when something funny happens that reminds us of a line from a song, we often quote that, too. Or a childhood book that we read over and over.
There are so many songs that have beautiful, varied vocabulary. Be sure to sing the BEST songs you can find that are appropriate for your young child.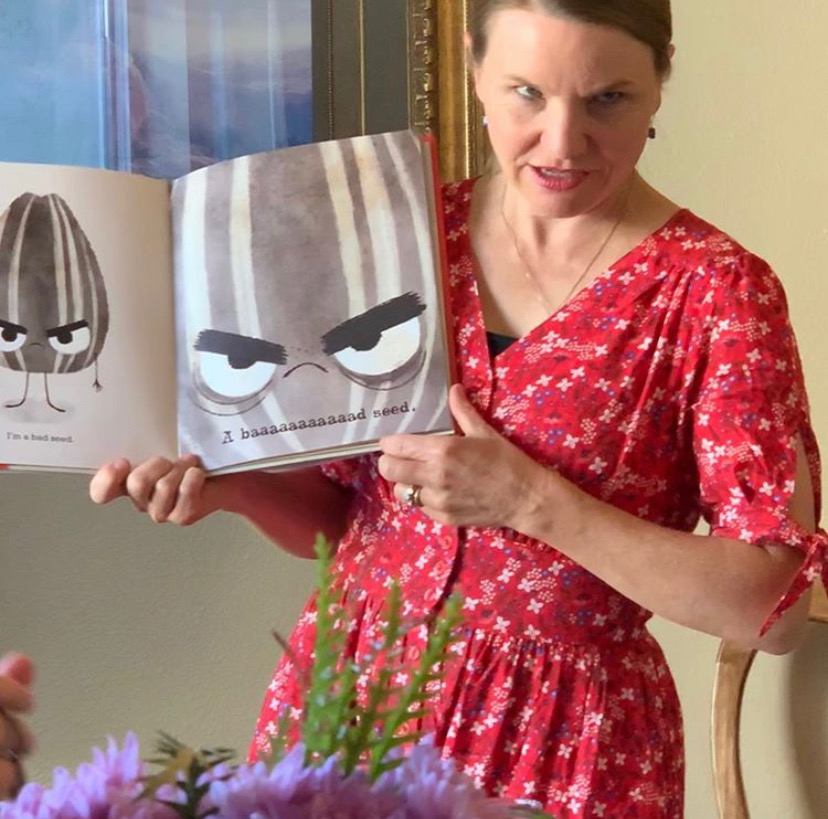 What shall we read today?
A landmark study about parents reading to children discovered that "children of mothers who read to them frequently have larger vocabularies than kids who aren't read to" (https://www.aecf.org/resources/the-30-million-word-gap/). That might sound really obvious, but the difference it makes to that child later in life is really big!
If you are reading to your child, you will both grow your vocabulary–if you select books that are interesting, varied, well-written, and non-fiction as well as fiction. (Check out @RACFLP on Instagram for ideas of books that I recommend!) You will both be better educated and have more fun. You will grow closer together. And you will help lay the foundation for success in your child's life.
"Turn off the TV and open a good book."
The video above from the University of Washington describes why TV is not an effective substitute for face-to-face interaction by a loving caregiver. In this video , early childhood language development expert Dr. Patricia Kuhl explains that infants who were exposed to very clear, recorded audio and video of the same live language sessions that other infants received, learned essentially the same amount as the control group (nothing). (The study linked above on hanen.org notes the same results in the review of 103 studies–that babies do not learn from TV and audio in the same way that they learn from live caregivers.)
If you want your baby's brain to develop well, talk to her. Read to him. Sing to them! Teach them nursery rhymes and fingerplays and patty cake clapping games.
One wise leader (a very well-spoken and highly educated man), Gordon B. Hinckley, said,
"If we could follow a slogan that says, 'Turn off the TV and open a good book,' we would do something of substance in strengthening another generation. Do not misunderstand: There are so very many things of value that come over television, but we must be selective and not be as dumb, driven slaves to the trash of many writers and producers.…
"These are vital issues concerning parents and children. Let us teach and learn goodness together, work together, read good books together, pray together. These things can be done notwithstanding the frenetic pressures of our lives. They can be done with children and particularly when children are small. Sometimes it may seem too late when they are in their teens. Yet, remember my thornless locust tree. Surgery and suffering brought about something beautiful, whose later life has provided welcome shade from the heat of the day." ("Four Simple Things to Help Our Families and Our Nations," September 1996 Ensign; adapted from a 5 March 1994 address given to the Washington, D.C., chapter of the Brigham Young University Management Society, emphasis added.)
That phrase, "Turn off the TV and open a good book," shaped my motherhood. It is, in part, why my children are the way they are.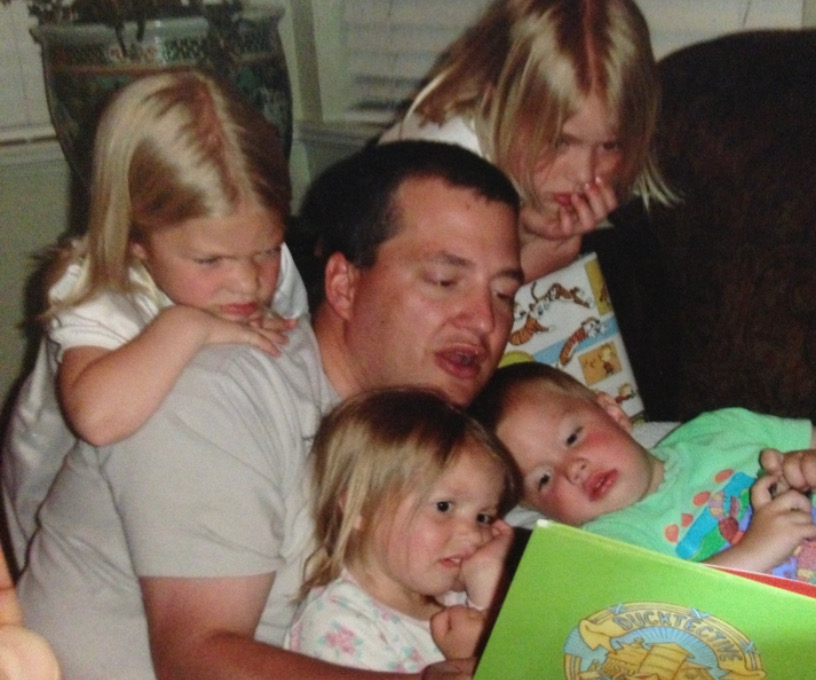 Will you read to me, Mom or Dad?
"The Reading Mother" by Strickland Gilliand used to be framed and perched on a shelf in our family library. We don't have to be wealthy to give our children a rich vocabulary and enchanting linguistic experience. Fathers are fabulous readers, too, of course! My father left an indelible impression upon my heart when it came to making read aloud time fun. I like to think I have some of him in me when it comes to wanting to make reading aloud as fun as possible.
I had a mother who read to me
Sagas of pirates who scoured the sea,
Cutlasses clenched in their yellow teeth,
"Blackbirds" stowed in the hold beneath.
I had a Mother who read me lays
Of ancient and gallant and golden days;
Stories of Marmion and Ivanhoe,
Which every boy has a right to know.
I had a Mother who read me tales
Of Gelert the hound of the hills of Wales,
True to his trust till his tragic death,
Faithfulness blent with his final breath.
I had a Mother who read me the things
That wholesome life to the boy heart brings–
Stories that stir with an upward touch,
Oh, that each mother of boys were such!
You may have tangible wealth untold;
Caskets of jewels and coffers of gold.
Richer than I you can never be–
I had a Mother who read to me.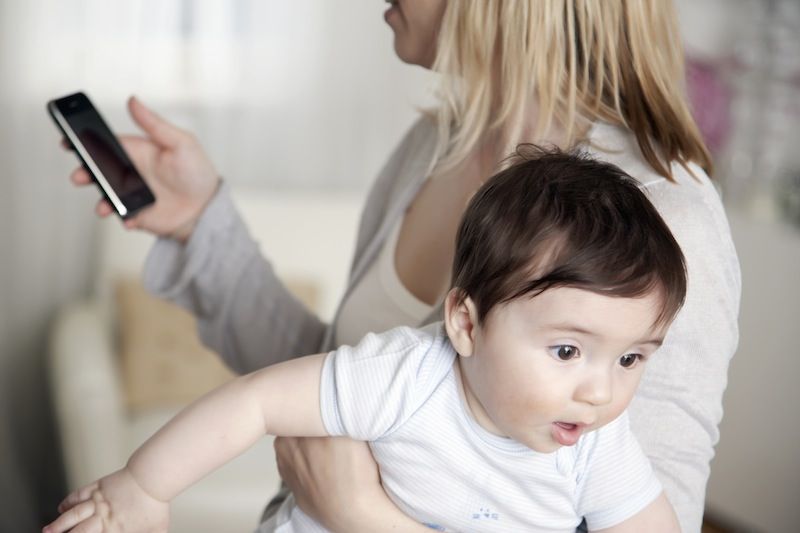 No phone zone
Cell phone usage by young mothers is also causing a decrease in brain development in children because they aren't getting as much face-to-face interaction as they need. The neglect inadvertantly caused by parents using their cell phones is also causing problems in social emotional development. Several recent studies reviewed in Psychology Today explain the importance of putting down our phones to be present as parents. I know my teenagers like it when I give them my full attention instead of spending time with them on my phone. (And I appreciate the same courtesy!)
Best friends
Emilie Poulsson (1853-1939) wrote books for children and gave lectures on parenting–all while being blind. This verse she penned has even more meaning knowing that she used her fingers to read Braille:
Books are keys to wisdom's treasure;
Books are gates to lands of pleasure;
Books are paths that upward lead;
Books are friends. Come, let us read.

Reading to our children doesn't end when they are 3…or 5…or 8…or 12. We can read together as families at the dinner table, in family book clubs. We can read books together and then go see their movies.
The books picture above are the books one of my daughters took with her to college that she couldn't leave behind: The Book Thief, Kisses for Katie, Little Women, The Hobbit, King Lear. (Her children's books are packed up in a box for another time.) I think each of my daughters brought Little Women with her when they left home. It's such a dear story! I bet they never cracked it open once while there, but "books are friends." It's comforting to have the ones you love not far from reach, right?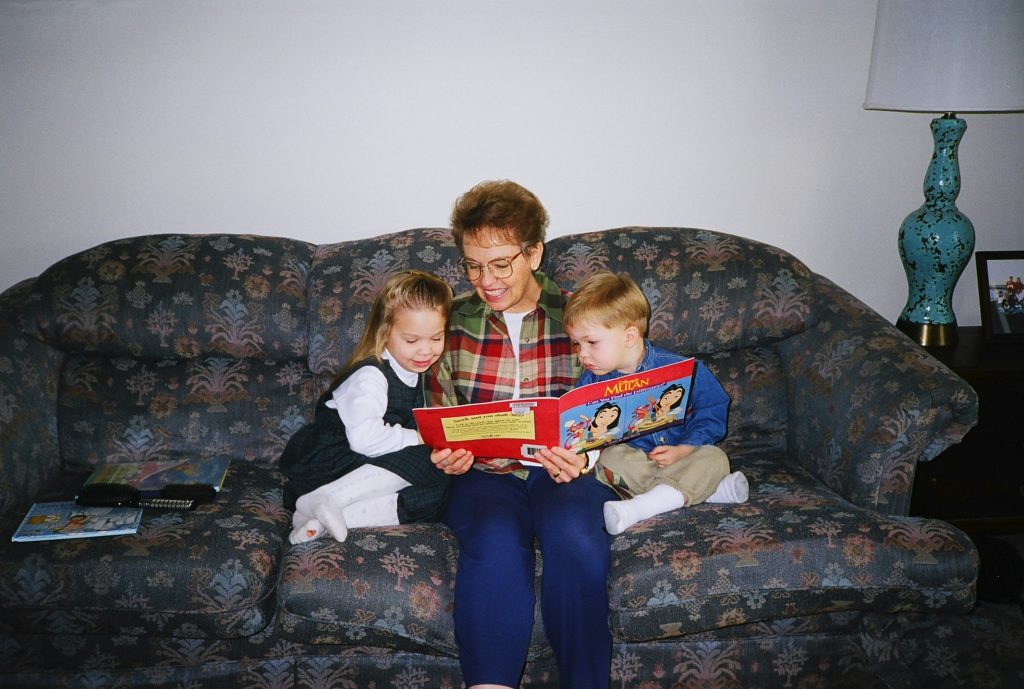 What we read to our children in childhood and what we provide for them to read as they grow into adults will stay with them forever. In turn, they will read to their children, who will read to their children. The reward of literacy will span generations to come, as long as the parents keep loving and talking to and reading to their children from the best books they can!
Long story short…
In summary, words matter. The way we speak to our children–from birth onward–matters. As the "30 Million Word Gap" report said,
"The ways in which parents and children interact at home shape early differences in literacy development. Parents can tailor their child's vocabulary development and critical thinking skills to prepare them for school by engaging in frequent conversations in academic English. As children mature, parents may increasingly use complex sentences, narrative structures and diverse vocabulary (Huttenlocher, et. al. 1991, Hoff-Ginsberg 1991, Hart & Risley 1992, Haden 1997, Weizman & Snow 2001; Goldberg 1989; Azevedo, et. al. 2007). Children who experience this kind of instruction at home have larger vocabularies and greater syntactic and narrative skills than do children whose parents do not enact such instruction. Differences in children's oral language skills emerge as crucial once children have mastered basic decoding and the focus shifts to reading comprehension around the 2nd and 3rd grades. (Raudenbush Proposal 2010)."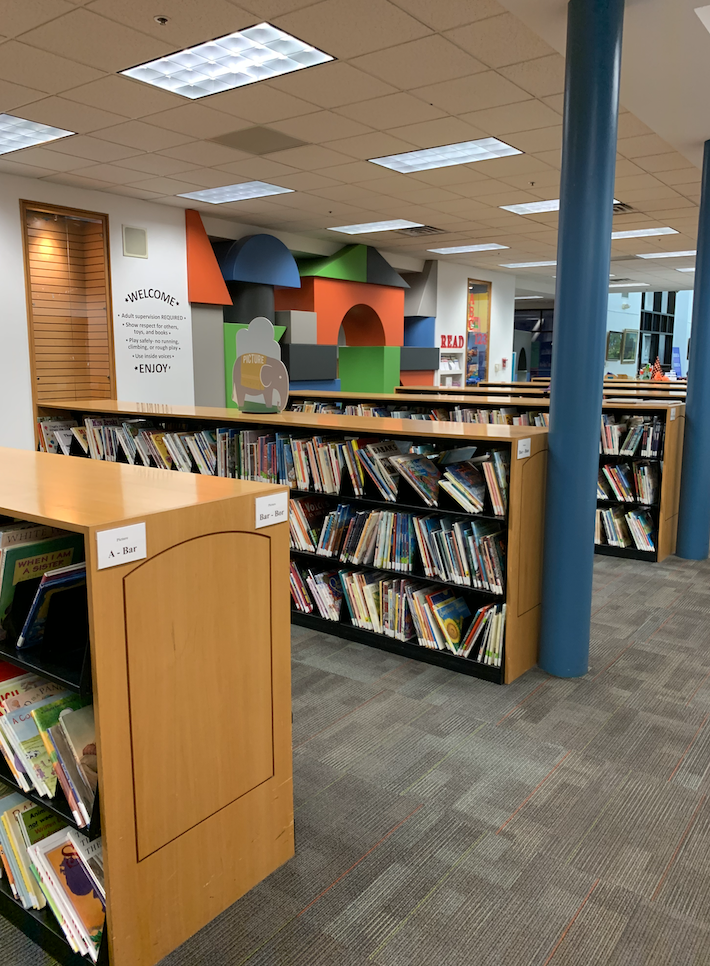 Local Resources
The Orem Public Library has story time, music and movement time, baby time–how much time would you like to go and learn how you can have fun with you baby and young children? Check out their calendar to see what works for you! They also have many other wonderful resources, such as chess club, that we went to years ago.
The United Way of Utah County can help you learn more about how to care for your baby and help you improve your parenting. Stephanie Anderson is a specialist there who would love to help you find any resources that you might need!
Just Serve can help you find opportunities to tutor young readers or serve your community in lots of other ways. Or if you need some help, they might be able to connect you to someone who can help you!
@RACFLP on instagram is my account for sharing tips on teaching literacy and nurturing children, families and communities. I give away and share about my favorite books on this account. My goal is to build a person-to-person circulating library of some of the best books ever! Need a book recommendation for a specific age, topic, or circumstance? Feel free to message me on that account!
The Orem City, United Way, and Just Serve's "Read Early Read Often" Book Drive will officially begin December 9, 2019. Links for more information or to donate money will soon be available on the United Way Utah County's website.
Project Read
Other helpful resources
"12 Things Not to Say to Young Readers" by Brad Wilcox (BYU Magazine, 2003 Issue)
Honey for a Child's Heart by Gladys Hunt and The Read Aloud Handbook by Jim Trelease are both highly recommended booklists for parents, litearcy volunteers and teachers who want to read aloud in their homes and classrooms.
There are so many resources! What do you want to learn? Message me on my Instagram account (@RACFLP), and I'll sdo my best to help you find the answer to your nurturing literacy questions.
---
---