The tidying FHE lesson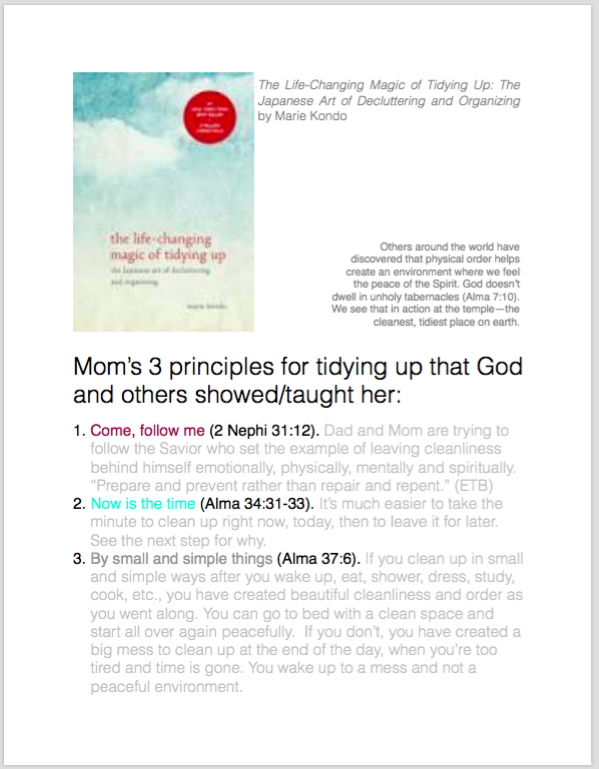 So I didn't mean to, but last night I ended up teaching an FHE lesson on the 3 principles I shared the other day. We were going to have a lesson on something else, but I started to bring up the fact that we needed to revisit our tidying efforts and asked if I could share the 3 principles briefly, without elaborating. Julia just suggested that be our lesson, and Lane seconded that suggestion. So that's what we did.
I also talked to them about the idea of how we are creating every day, and preparing to create greater things in the future. But for now, we are creating our own little universe in the space we are given, such as our bedroom, our locker, etc. As we grow older and God gives us/we choose more responsibility, such as a spouse, a child, a home, etc., our capacities can grow. "Improvement and progression are one eternal round" (from "If You Could Hie to Kolob," a hymn our family sings…often. Peter. Nate. Lane.). We start learning from the day we are born and our capacities are enlarged. When we learn to keep one space tidy, we can expand that capacity to greater spaces.  I mentioned how we are already creating "weather" around us by our temperament: we can be sunshiny or thunderstorming. We joked about being like Eeyore sometimes: "Today was a beautiful day…for some people."
I made this little reminder (HOME TIDYING UP 3 principles) today to stick up on the fridge for a few days. (Note: I actually don't prefer having anything on my fridge, but when I really want my family to think about something, I stick it on the fridge for a while. If we are doing something big, like a family summer reading program that I have made a poster to promote, well, then I leave it on the fridge for a lot longer.)
Although I have yet to read The Life-Changing Magic of Tidying Up, which is pictured on this visual, I mentioned it to my children because I want to read it (sigh! the list of books I want to read!) and to share how the Japanese have mastered the art of tidiness and exemplify the beauty of a tidy environment.
We'll see how the family responds. I noticed this morning that one child's side of the room was tidier than other days. Sweet.
---
---