Want dates? Have a slice of Grandma's recipe for love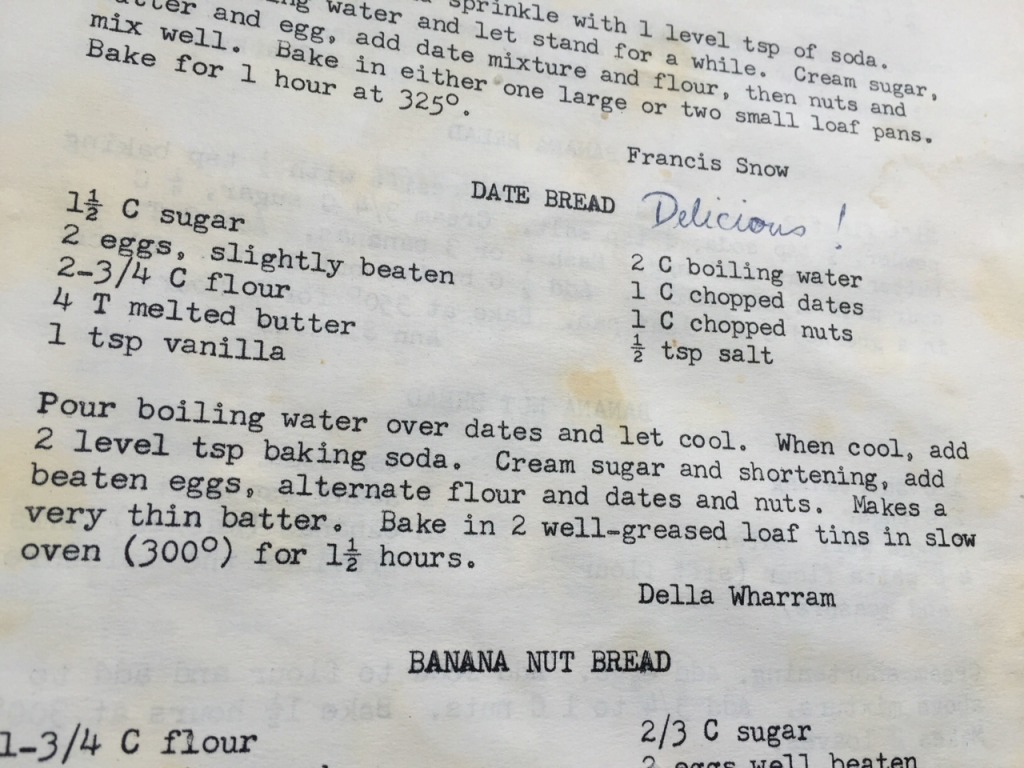 This post isn't about a dating service. It is about the month of May, my mom, and a slice of my grandmother's date bread.
You see, May is a CRAZY time of year for families. Teachers, coaches, directors all schedule their year-end recitals, concerts, performances, tests, races, field trips, tournaments during May. It is a beautiful month crammed as full as it can be.
It is almost enough to put a mother over the edge.
Not to mention my husband! And our children!
I keep wondering: some of these teachers, coaches and directors do have families, right? Do they remember what May feels like when they are scheduling events back in August? Could we not all schedule some of these events at other times of the year? Maybe not have a year-end concert after we just had one in March? Hmmm.
Moving beyond food for thought, my sweet mom stopped by on Sunday night with a glass dish of scalloped potatoes and a fresh loaf of date bread, made from her mom's recipe, because she'd been missing her mom that week. I love my mom! She is just like her mom: thoughtful and generous.
We ate the scalloped potatoes as our entrée last night before we hurried off to a recital. And we sliced up that date bread and enjoyed it for breakfast this morning as we rushed out the door. (With all of these end-of-year activities comes added fatigue, and we are all feeling it! It feels harder to get up each morning. Perhaps that is because we know the end is near, and we just can't wait to sleep in!)
I have to record this date bread recipe! It's like having my grandmother around. My mom's mom was always serving, whether it meant sewing for someone or inviting them over for dinner. By the time I came around, my grandmother seemed to have lost some of her famous cooking ability, but she never lost her desire to feed, clothe, and love. I still remember when I was close to having Anna (I think it was Anna), and Grandma was nearing the end of her life. She wasn't steady in balance or memory. Her "get-up-and-go" had been gone for a long time, as a comic on the side of her cupboard witnessed. She wouldn't be with us much longer, but her spirit shone brightly. She took my hand and said, "When that baby comes, you let me know so I can come help you!"
I wanted to cry, because I knew she wanted to, even if she couldn't carry out her heart's desire. I bet she has helped me many times since she went home, because I have felt her love on occasion.
And today I tasted her love, via my mom. Hopefully I can keep sharing that love with my children, now that I have the recipe.
---
---