Who God chooses to help lead children around the world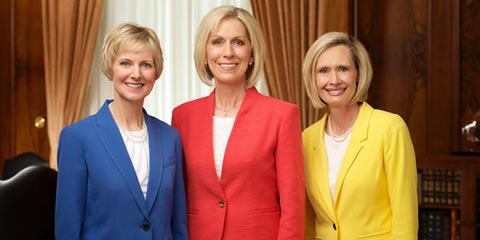 I just read the article about the new Primary general presidency of our church, The Church of Jesus Christ of Latter-Day Saints. These three women oversee a worldwide organization ("Primary") that includes children in more than 30,000 congregations. The church membership is now over 15 million and growing at a rate of about 1 million every 3 years.
That includes a lot of children.
Knowing that God cherishes each one of his children, it is significant who He selects to lead them in this organization. Of course, we know that parents are the most important leaders in the world for children. They are more important than teachers or leaders on any level. They have the most influence on children than anyone else in the world. These women help coordinate efforts to lead and teach children on a church organizational level and sit on councils that make decisions that affect children and their families.
What impresses me the most is that Heavenly Father chooses women with significant life experience. They have each served children and families for decades. They are not new to parenting. They each have grandchildren. They have seen something of family life, community life, even life on an international scale. So they have some really good experiences to bring to their assignments.
My takeaways are first, gratitude that they would serve in this unpaid capacity in ways that bless my own family. Considering how much work they put into their assignments and the sacrifices their families make to support them, it is a true gift of love to mankind. Second, I want to remember that wisdom comes with righteous living over time. We can gain great insight from those who have significant life experience–especially those who have lived faithful, productive, loving lives.
I was sitting next to my in-laws at our niece's wedding reception this week. I was sharing a concern that I had after my father–in-law asked me a question about work. My mother-in-law mentioned times when her husband's business ventures didn't go so well, and my father-in-law remembered aloud how President Hinckley would say to the Twelve, "Things will work out." I was grateful for their long view that was an expression of patience, faith, and optimism.
These women in the past have taught me lessons that have helped me be a better mother. I remember reading something one general Primary president wrote to the essence of how just as rhetorical seeds planted in childhood can grow into something beautiful, symbolic fires lit in childhood can burst into flame later in life. How we act as mothers–particularly in early childhood–makes a big difference in our relationships with our children down the road. We will reap what we sow.
I loved Sister Cheryl Esplin's talk just a few weeks ago in general conference about how the Savior wants us to be his hands.
I look up to these women. I'm grateful for these them and those in my life, men and women, those near and far, family members and friends, those I know and those I don't, who have been down the road of life and serve as examples to me to encourage me as I travel through life. Their goodness, service, and counsel increases my ability to nurture others.
---
---