Who loves you?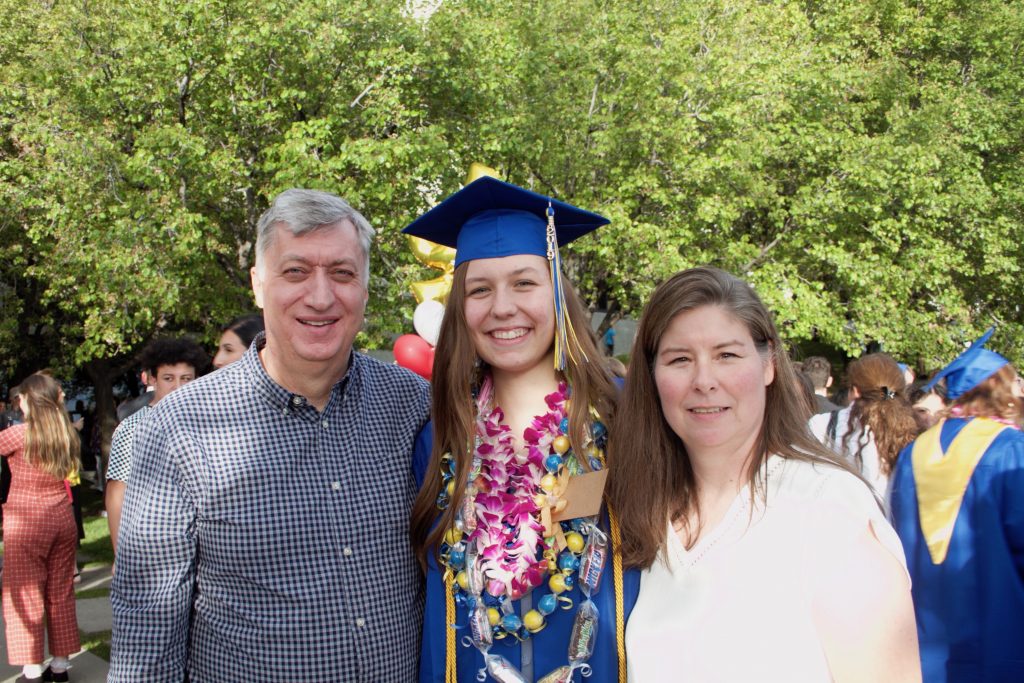 Last Sunday (26 May 2019), a young woman who was about to graduate from high school addressed our church congregation. Her talk was so beautiful and wise, I asked her permission to share it with you. I think it illustrates how such small and simple questions that we ask our children and principles that we teach them can have a very big impact in their lives for years to come.
My name is Hailey, and I am a graduating senior this year. It's hard to choose just one thing that I have learned throughout these 18 years, but one thing that I believe is important is something I want to talk about today: Who loves you? A possible simple question that I hope everyone here can have multiple answers to. But who truly loves you? Who loves you with an infinite and perfect love?

When I was young, I can remember fighting with a sibling (it was probably Natalie) and me crying and ending up in my dad's lap. He would then hug me and say, "Who loves you?" Being young, my response was of course, "You love me, Dad." There was no question or doubt ever in my mind that would make me question if my parents loved me. The question "Who loves you?" was the most asked question in my home and probably still is. I learned at a young age that my parents loved me. Every day I was told I was loved and especially when life was really hard.

It was a little bit later in life when I came to truly understand and comprehend the love that my Heavenly Father has for me and the love my Savior Jesus Christ has for me. It happened gradually and I can't tell you an exact day or time when I came to know that, but I know that today.

I want to share an experience with you that helped me come to know of this love. A lot of you know, but for those who don't, I have had the opportunity to play soccer since I was little. As I got older, I joined a club soccer team and loved playing with them. Each year we had tryouts, and it was something that came and went without a second thought until the end of my sophomore year of high school.

Normally, you get a call from the coach congratulating you on making the team and offering you a spot. But that phone call didn't go quite how I was expecting. My coach called me and offered me the 19th spot on an 18 spot roster–which meant I would practice and travel with the team but not play in any of the games. I hung up with that coach and cried. I didn't know what else to do. This sport that I loved felt like it was being ripped from my fingers. It wouldn't be the same as the eight years before with this team. I was frustrated and sad, and I didn't understand. I asked my Heavenly Father, "Why now?" Why was this thing I loved to do and my Heavenly Father knew I loved being taken from me? I didn't see the eternal perspective. But in the moment, I had a decision to make. Neither was wrong but which one was more right? I sat down with my dad a few days later, and I told him my fear of the answer that I had received. I felt like I should stop playing on this club team. But it scared me so much. I didn't want to be done, yet that was the answer I was receiving.

I decided to not continue playing with that team. Looking back on that experience, I can see why my Heavenly Father needed me to stop playing club soccer. I still got to play soccer with the high school team, but it opened new opportunities for me. I got to serve in church callings and fulfill my callings more than I could have if I were still playing club. I also started taking piano lessons again and have found a love of playing the piano again. This is just one experience that I have had that has shown the love Heavenly Father and Jesus Christ has for me.

President Ballard said, "Brothers and sisters, do the best you can do day after day, and before you know it, you will come to realize that your Heavenly Father knows you and that He loves you. And when you know that—really know it—your life will have real purpose and meaning and you will be filled with joy and peace" ("The True, Pure, and Simple Gospel of Jesus Christ," April 2019 general conference).

I found a purpose after I made the decision to stop playing club soccer. I tried my best to be who Heavenly Father needed me to be. As I mentioned before, I was able to participate in church callings I otherwise wouldn't have been able to. I was able to understand on a deeper level the love I felt.

I have come to know that my earthly father and mother love me with an unconditional love, and I am grateful for all of their support in everything I do. I also know that my Father in Heaven and His Son Jesus Christ truly love me. They can see the whole picture while I am sometimes just looking at a piece. And because of this love, Christ suffered for my sins and my mistakes in the Garden of Gethsemane. He died on the cross in Calvary and that is why He lives today. I hope that each of you come to truly know who loves you. In the name of Jesus Christ Amen.
---
---