Wishing for Tomorrow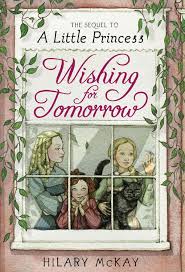 I picked up a book for myself at the library this week: Wishing for Tomorrow by Hilary McKay, and today when the car battery was dead so that we couldn't go to dance, and I felt exhausted, I went into my daughter's room (where she was working on a project and listening to music) and took a nap in her bed. She was so nice to not mind my company. After I took a nap, I started reading this sequel to A Little Princess.
It was lovely.
First, I must say that it is quite the task to try writing a sequel to the well-beloved classic. But I love why Hilary McKay wrote it: because her daughter wanted to know what happened to the other orphans. So why not? There are plenty of other books we know and love written by mothers for their children. So far I'm enjoying it. I am not even half way yet. Had to get up and get going on some other stuff again. But I'm looking forward to continuing my read. I'll let you know what I think!
(Postscript, after finishing the book: With all due respect to the author, this didn't end up being my favorite book. But I'll leave the post up just in case any of you Little Princess fans are curious and want to give it a peek!)
---
---