We've Got a Friend in Him
Saw this today.
Love it.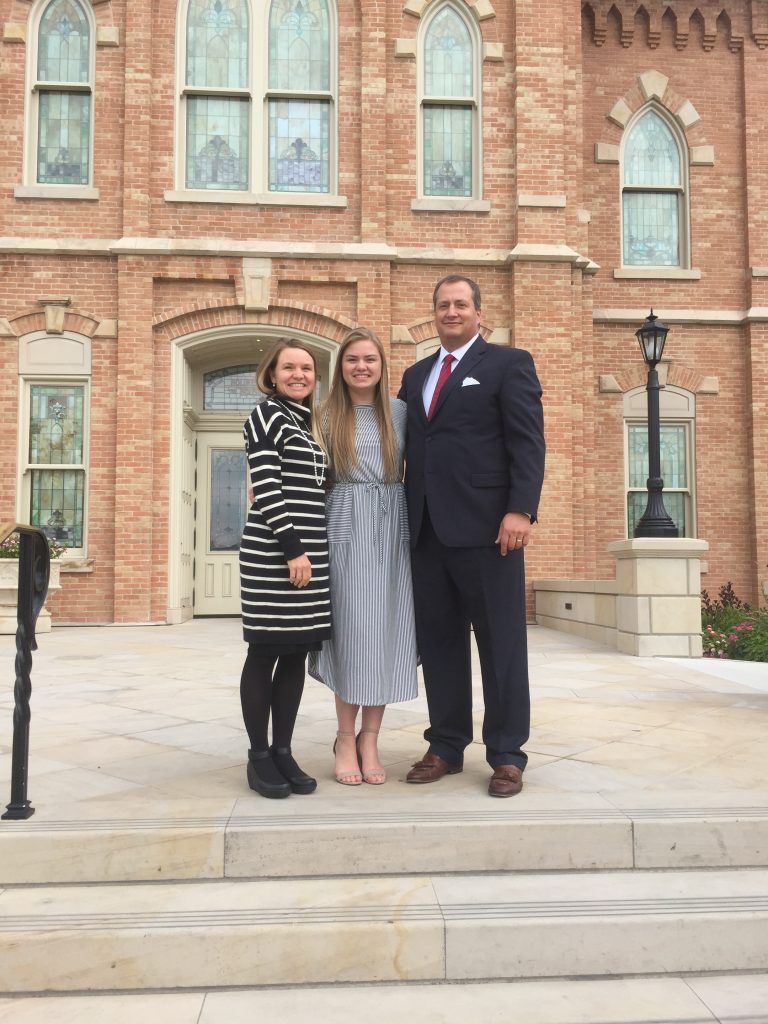 So grateful our daughters have a friend in their dad!
So grateful we have a friend in our Heavenly Father!
Saturday Julia went to the temple to receive her endowment before she goes on her mission. Julia and I had both caught a bad cold a day or two before, and we were supposed to be at the temple at 6:30 am. I had a difficult night, so it was hard to wake up. I hadn't felt well the day before and hadn't gotten her new temple dress hemmed. I hurried and grabbed the names I had prepared to take with me, and then the Ziploc bag that they were in slipped between the car seat and middle console, and I didn't realize I didn't have them until it was too late to run back out to the parking lot to get them. We ate our slices of bread on the fly as we hurried off to the temple in the dark morning.
I felt tired, sick, and unprepared when we got there. I wasn't unprepared in the important ways–Julia and I were both there, worthy, ready spiritually. But I was just not as well prepared as I wanted to be, with every i dotted and t crossed, so to speak, in the other, temporal details that I had tried to have ready. I had worked and prepared, but somethings just fell through.
But it didn't matter.
We rented a dress for Julia, and I didn't have to have the cards I had prepared. As the temple matron reminded us when we met with her later that morning, Heavenly Father always has a back-up plan to help us. We felt Heavenly Father's calming Spirit the whole time. His love. His comfort. His reassurance of eternal things that matter and temporal things that don't. Words can't describe the peace and happiness and being filled spiritually that I felt.
It is like Sister Neill A. Marriott said later that night at the general women's meeting that we watched all together (as mothers and daughters),
Some things matter; some things don't.
A few things last, but most things won't.5
The most wonderful part of that morning was that along with Lane being there, my mom, Sarah, Nate and Hunter were there. Once a long time ago at my sister-in-law's temple wedding, all of Lane's siblings and their spouses and his parents were all there, together in a circle. I felt so much longing for that same sweet experience to happen for my own family. And now it is beginning! It is such a tendermercy. My mind went back to my mission, when I went to the temple for the first time the day before I entered the MTC. I felt so overwhelmed with what lay ahead. I couldn't have ever imagined my life now! But there I was, in the temple, with my husband, my mother, and four of our children (which includes our newest daughter-in-law!). It is the best gift my Heavenly Father could even have given me, including each of those family members, who have prepared themselves and made covenants with Heavenly Father so they could be there.
I am so grateful for Heavenly Father, that He is my Friend, that He has a back-up plan for all of my mess-ups, and that I have a Friend in His Son, Jesus Christ as well, who makes it possible for us to look forward to being an eternal family forever and ever and ever.
---
---