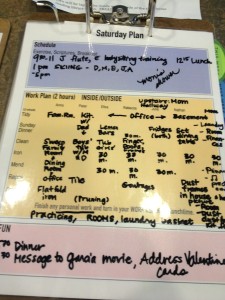 I don't think most children don't come to earth remembering how to organize their world. And since this is our first time through as parents, we also have to learn. So we have to learn and then show them by doing.
We organize our homes so that they can be cleaned up quickly, so we can find things easily, so that we can accomplish the purposes God and we have chosen for our family, and so that our children can learn how to use their time, talents, and energies to bring happiness into their lives and others' lives.
Organization begins with planning, and planning is based on priorities. Home, time, and resource organization is something that happens best when you have your priorities in place. If you put the Savior in the center of your life and focus your energies on understanding his will for you, the rest of life falls into place. Literally. Teaching order and organization follows naturally. The key is having the Savior at the heart of whatever you do.
Once Christ is at the center of your life, you plan how to organization each part of your home and family, one little part at a time. Your plan needs to be–
So simple even a child can understand;
Something that you currently do yourself;
Teachable;
Easily repeatable.
Certain seasons of the year require special planning. Summer, for example, has been one of those times for our family. Click on this link to see ideas for planning your family summer. Fall is another time when the schedule changes. Click here to read about fall planning.
Here are the posts I've written that I hope can share examples of what I'm talking about. I'm not perfect at any aspect of planning or organization, so keep that in mind as you read! God helps us adapt and learn the strengths and weaknesses in our plans after we have made them. Then we are able to adapt them even better as we go along. (TALK ABOUT RESEARCH AND DEVELOPMENT! That's why you will see different planning systems in place over time. And simpler plans. And trust me, this list isn't a TENTH of what we have tried over the years!😂)
4 steps to simplifying (Barbara from SimplifyDays.com)
Creating my day with Christ's help
My most simplified meal plan (so far)
It was the load (Summer family organization plan)
30-minute family council miracle
Planning with priorities (shorten the list)
A house of order and routines (first slice)
Prepping for fall (weekly family schedule planning)
Put the dishes where the children can reach them
My dry cleaning tracking system
Teaching children to plan (Family Council)