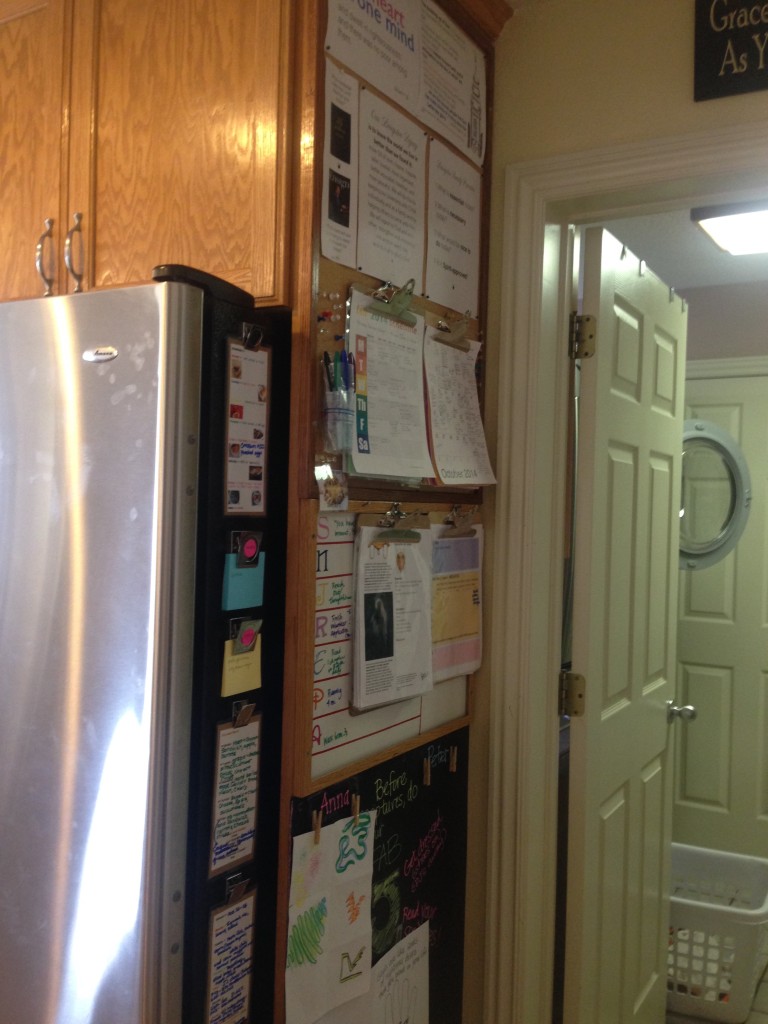 (This is the area where we have our family plans: menus, shopping lists, goals, family mission statement, Mom's calendar/school/extracurricular activity schedules clipboard, etc.)
Two things I've learned about planning are: 1. it makes a difference in our family's success, and 2: life changes our plans. The best overall plan is to put our faith in God, pray with gratitude for the help and guidance to meet each day's need, and go forward to meet whatever comes.
I love this quote from Elder Christofferson, who was addressing the young adults in a CES Fireside:
We older adults, including parents and Church leaders and professors and friends, often admonish you to plan for the future. We encourage you to pursue education and vocational training as preparation for life in the years ahead. We urge you to lay a foundation for marriage and family and to act on those plans. We caution you to think of possible consequences down the road when making decisions about what you do today (for example, what you put on the Internet). We counsel you to think about how you will measure success in your life and then to establish the patterns and practices that will lead to that success.
All of this expresses a wise and prudent course in life, and in what I say tonight, I do not minimize in any way the importance of thinking and planning ahead. Thoughtful planning and preparation are key to a rewarding future, but we do not live in the future—we live in the present. It is day by day that we work out our plans for the future; it is day by day that we achieve our goals. It is one day at a time that we raise and nurture our families. It is one day at a time that we overcome imperfections. We endure in faith to the end one day at a time. It is the accumulation of many days well-lived that adds up to a full life and a saintly person. And so I would like to talk to you about living well day by day. ("Give Us This Day Our Daily Bread," January 9, 2011)
And so we plan, and we adjust our plans as we go.
In our family, we plan use several activities to plan how to use our time and resources: executive council, family council, personal interviews, and personal planning.
Rank Advancements, Dinner Teams, Housecleaning Teams
Planning the fall family schedule