Last Stop on Market Street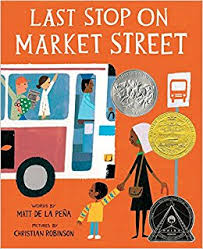 Last Stop on Market Street by Matt de la Peña. Illustrated by Christian Robinson.
CJ's grandma takes him two places on Sundays: to church and then to the soup kitchen. They ride the bus. CJ wants to know why they have to take the bus…why they don't have a car…why they have to go to the soup kitchen…why he doesn't have an mp3player/cell phone. Nana replies with the kind of wisdom, love, and gratitude that you wish you always could have in a moment like these. Nana is right, and CJ recognizes that.
This whole book just makes you want to be more Nana-like and see life through eyes of gratitude and love!
---
---