Her first clothing purchase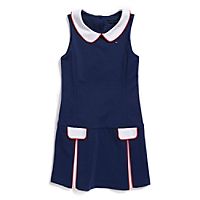 We were shopping for Easter dresses the week before last when Anna spied this dress at the outlet store where we were. "Please, Mom, please!" she pled.
"You already have your Easter dress!" I reminded her.
"What if I pay for it myself?" she implored.
We checked how much the dress would be with the sale price and the coupon. It was just the right price, and she had saved enough in her bank account to pay for it.
She could not be happier! She wore the dress at least half of Spring break, and she looks totally adorable in it, with her cute white cap sleeve shirt under.
I am reminded of a certain child a couple of decades ago who saved her babysitting dollars for fabric to sew dresses and to purchase that first pair of jeans from a little boutique on University Avenue–a strange new brand from Paris called "Guess"– pegged jeans with zippers at the ankles that cost an outrageous amount. I was determined to buy them. And wear them on the first day of seventh grade in my new hometown with my little polo shirt, navy blue cardi, and a narrow satin ribbon tied on top of my head.
Guess the apple doesn't fall far from the tree.  Oh dear.
---
---