January 2020 Books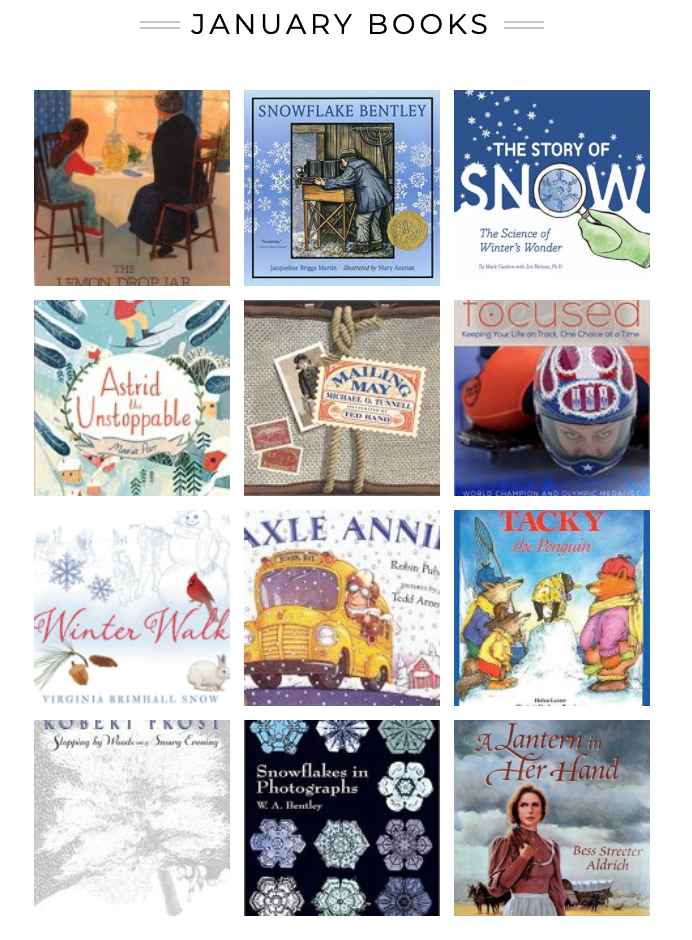 It's the evening of January 31, and I wanted to record the books that I shared during this past month before moving on to February. I LOVED getting to share these books. There are some remarkable stories here–especially that of Wilson "Snowflake" Bentley, whose parents invested their farm-earned life savings to buy a camera for their son Willie in 1885. He took photographs of snowflakes so that he could see what they looked like before they melted. He spent his life photographing snowflakes, and it is because of his dedication and his parents' sacrifice that we know so much about what we know today about how every snowflake is completely unique– just like every child!
Snowflake Bentley by Jacqueline Briggs Martin recounts the story of Willie's life with incredible woodcut illustrations by Mary Azarian. You can't help but feel reverence for the gift that he gave the world and awe at how he accomplished his mission on earth. The book Snowflakes in Photograph by Wilson Bentley contains no text–only some of the 5000 photographs that he took.
Here are the other books I enjoyed sharing in January:
Winter Walk by Virginia Brimhall Snow
The Lemon Drop Jar by Christine Widman
Stopping by Woods on a Snowy Evening by Robert Frost, illustrated by Susan Jeffers
A Lantern in Her Hand by Bess Streeter Aldrich
Astrid the Unstoppable by Maria Parr
Axle Annie by Robin Pulver
Tacky the Penguin by Helen Lester
The Story of Snow: The Science of Winter's Wonder by Mark Cassion with Jon Nelson, Ph.D.
Mailing May by Michael O. Tunnell
Focused: Keeping Your Life on Track, One Choice at a Time by Noelle PIkus-Pace
---
---