Rank advancements at our house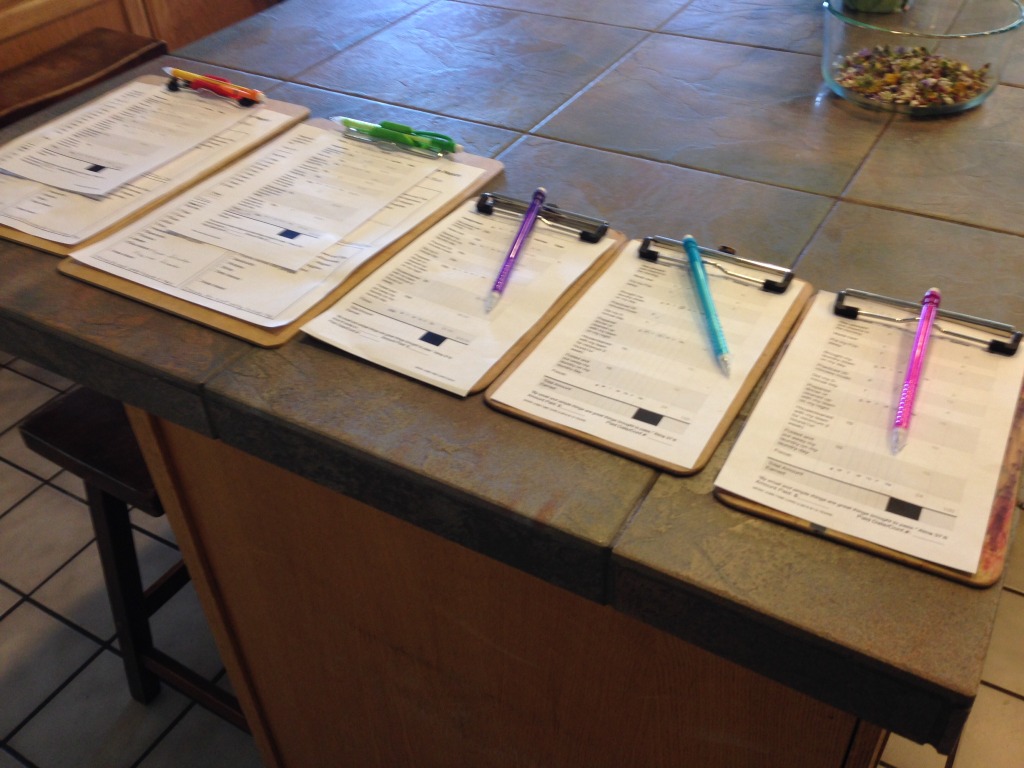 "Twelve years old is a rank advancement at our house!" Peter noted cheerfully this morning.
This made me laugh. I saw that he was looking at the little clipboards with job chart time cards on them on the counter.
He continued. "You get money instead of points. You get more play time."
"More play time?" I questioned.
"Yeah. You said my bedtime would be changed to 10:15 pm when I turned 12!"
"Um, you mean 9:30?"
"You said 10 pm on Friday nights."
I noticed that the 10:15 was instantly reversed to 10 pm. Hearty internal chuckle there.
Ever since our most recent stake conference when we were counseled to hold family councils, and we got going again holding family councils. We decided to revamp our family housework plan. And start doing dinner prep and clean up in teams!
We changed to doing the Saturday housework as teams, dividing the home up into floors, with one team per floor. Sarah is her own team, since her schedule is the hardest to work with. We chose team leaders, and I created a new chart and "key indicators" for them. We planned to hold one FHE a month to talk about what we're learning and get any additional training on job doing that I feel is needed.
These changes have brought blessings. But more about that another day!
You know how much I love creating charts. No, seriously, it's one of my passions in life. Just ask my family. They will wearily agree.
So a new housework plan meant a change in the individual, weekly job expectations, which in turn meant tweaking the time card that the older children turn in to earn their clothing money. (Our older children have to earn the money for their clothing once they turn 12: Pete's aforementioned rank advancement.) Since I had been re-inventing the younger children's job chart, I made it similar to the older children's time card and put them all on clipboards.
Funny, I knew we had clipboards somewhere in the office. I spent an hour looking through piles of music program and family history drawers and boxes to see if I could find them. Bravo! I did! Prayer answered. (I didn't want to go spend money on clipboards when I already owned some, somewhere!)
And so begins another go at teaching children to learn teamwork, responsibility and self-reliance in our household. I'm excited about the good things that I have seen them do already! The counsel we got in stake conference was inspired. ☺
Note: Why have job charts or time cards at all? We do it based on this truth: "When performance is measured, performance improves. When performance is measured and reported, the rate of improvement accelerates" (see Thomas S. Monson, in Conference Report, Oct. 1970, 107).
---
---