RTW: Enter to learn, go forth to serve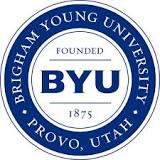 This week I picked Sarah up from BYU campus, and we both noticed and commented on the beauty of the flowers in the median strip/island at one of the campus stoplights. (Seriously! Gorgeous flowers in a median strip!) We talked about what a beautiful campus it is,  how there is such a special spirit about the campus, and how blessed I was and she is to be a student there.
My thoughts this morning remind me of BYU's motto: "Enter to learn, go forth to serve."
I hope that's what our children feel about our home!
After watching "Living Proof" last night and reading my scriptures this morning, I'm considering how education both at home and at the university, coupled with a willingness to work hard and serve unselfishly, can make us valuable instruments for good in the world.
My reading in the Book of Mormon and the sweet children's voices I hear this morning reminded me of a quote that was on the wall of my mission home. I searched for the mission home phone number online and came across a blog in which a recent mission president and his wife post about what they are doing now, post-mission. A year ago, the husband is a professor at a university in Michigan, teaching 16-year olds in Sunday School, and serving on the university board of another university. He was going to speak in Oxford and invited any missionaries living in the UK to join them for dinner when they were there. The wife is "a committed grandmother, spending time with our grandchildren born this year. She is on a church missionary mental health group and working to help missionaries manage stress, both in the field and when they return. She will have an Ensign article in July 2014 about parenting young adults." She also speaks in "Time Out for Women" gatherings around the country and published a book, Habits of Happiness." 
Talk about going about doing good!
Lest we get discouraged if our lists don't look like this mission president and his wife, I think we only need to turn to the scriptures. I was reading in 1 Nephi 11 in which Nephi saw Mary, the mother of the Savior of the world. She didn't travel to distant lands or go on speaking tours or publish books (not to our knowledge, at least). She nurtured the Savior. Think of what she accomplished in her life by doing that. Talk about impact. It's not about numbers. It's about doing what we are sent to do. Doing our part, fulfilling our mission, the best we can.
So when I think of what we can accomplish for good in our lives, I see that the more we learn how to rely on God, follow Him, learn all we can, and hone our skills, He will use us to spread light and good cheer to many in our circles. It begins with ourselves, then our spouse, then our children, and then our communities. We can be instruments for good, to lift, strengthen, teach, and comfort many within the span of our lives!
That is such a happy thought!
My goal (along with my husband) is to first be that kind of a person: who is constantly learning, constantly work for good, trying to make a difference for others. Hopefully I can be an example that way to my children. And then I want to teach and nurture those habits and skills that will allow my children to do the same. I really do awe at the millions of different ways people contribute in this world, so I know it won't matter what talents my children have. We just get to help them discover them and develop them the best we can, and inspire them to "take it from there" when they leave home. I simply want to help light and fan the fire in their hearts that will give them the desire to work hard on behalf of others.
Then they will be happy.
(Are you thinking The Giving Tree right now, too?) 🙂
Happy Learning, Working, Teaching, and Serving,
Liz 🙂
---
---