It was the load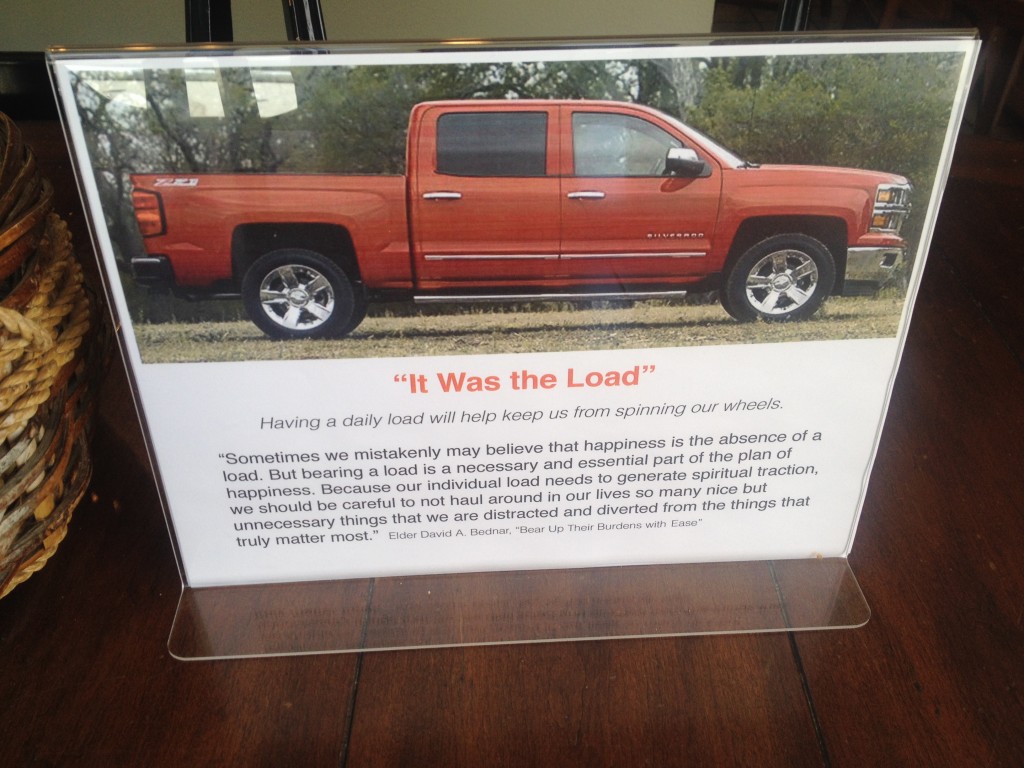 This is the theme of our family summer: the load.
Last Sunday at family council, I shared the story from Elder Bednar's talk about the young dad who wanted a new 4-wheel drive truck, just in case his family needed milk in a winter storm! His wife joked that they wouldn't have money for milk if they bought a new truck. When there was a snow storm, he went to chop some wood for their family and got stuck in the snow. The truck didn't perform the way he had dreamed. Instead of just sitting there, he got out and chopped wood, filling the rear of the truck. Once his job was complete, he got in and the wheels no longer spun. He was able to return home.
Elder Bednar pointed out that it was the load that generated the traction he needed to move forward, and that the absence of a load does not necessarily equate happiness.
I shared with my children how summer is such a fabulous opportunity to develop the habits and skills that will bring us greater happiness than sleeping in every day, watching movies all day, and otherwise just filling days with idleness.
I had asked Lane to cut up a bunch of branches we had into wooden rounds. I selected 10 things that I hoped my children would do each day and wrote down one on each round. Then I invited them to do the same.
We labeled each jar with each child's initial, and each morning they moved a wooden round from the jar to the basket when they have completed that habit or skill.
I really wanted to find a remote-control truck that we could stick the rounds into the back, but the only one I could find locally was $35, which was out of my price range. And there weren't any at two D.I.'s I visited. The basket works great.
After one week, my children have been really positive about it. I like it because it's more fun than checking off a list, and I don't have to nag them all day. Also, if we head out to a lesson or a job, we can come back and see where we left off. When all the jars are empty, we know we're ready to play together. (Or an individual child can go play.)
Every summer I try something different. I was really happy for Elder Bednar's help this year, and I'm looking forward to seeing how things shake out as the days progress.
Happy Nurturing Good Habits,
Liz 🙂
P.S. We have fun built into our days, too, and a reward at the end of week for doing the load each day. But those are posts for another day. 🙂
---
---