RTW: Something to look forward to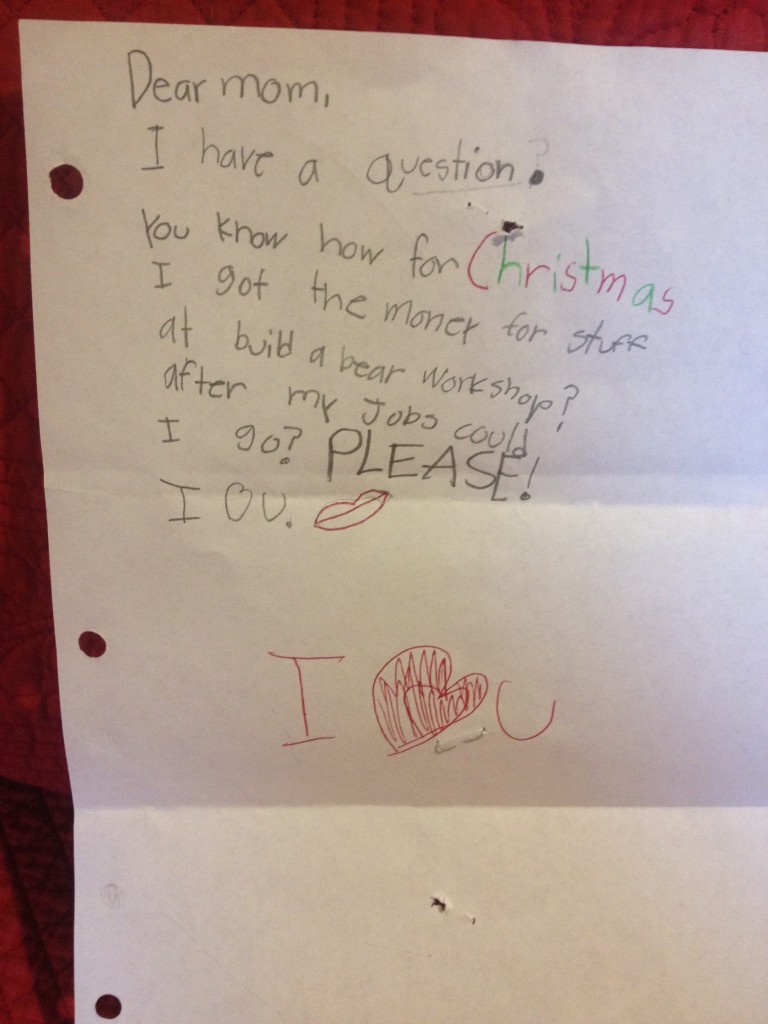 Doing Saturday jobs can be hard work for everyone: children AND parents, but not necessarily because the work itself is hard. It's simply the idea of having to do work that most of the time feels harder than it really is. Helping a child look forward to Saturday work can be a challenge for that reason alone! I LOVE it when a child feels motivated on their own! But often they are not, to begin with. One thing that I have found that motivates our family to get the work done is having something to look forward to doing when the work is done.
I loved getting this letter the other day because it reminded me of that. Rewards make a difference! Knowing that you get to do something you want to do, after finishing something you have to do, really helps.
I know that on many days when I would wake up feeling depressed, Lane would ask me, "What are you excited to do today?" And I would begin thinking about what I could look forward to that day. It is a skill we can learn: choosing something that we can do each day that is enjoyable. It works for individuals and for groups. I know I look forward to a date with Lane sometime during the weekend. Or going to the temple during the month. Or having a quiet moment to read something I want to read. Or writing on my blog! On Saturdays for me, it's simply having the jobs done that we have chosen to do so we can get onto more fun activities 🙂
So a good question we can ask before beginning something like Saturday jobs is, "What do you want to do after the jobs are done?" The answer doesn't have to involve money (or sugar). (Those rewards aren't inherently bad; I just have noticed that rewards can simply can be doing something that the child or the family thinks is fun.)
Having something to look forward to afterwards is so helpful. God gives us rewards everyday. I read this scripture again this week: "For I will afulfil my bpromises which I have made unto the children of men, that I will do unto them while they are in the flesh—." I also love these verses: "For I am persuaded, that neither death, nor life, nor angels, nor principalities, nor powers, nor things present, nor things to come,/Nor height, nor depth, nor any other creature, shall be able toaseparate us from the blove of God, which is in Christ Jesus our Lord."
Happy Rewarding,
Liz 🙂
---
---