Training Children to Do Good: Part 2
(This post is a continuation of two posts: Training Children to Do Good Part 1 and yesterday's post about job charts.)
Once you have taught a child the basics of personal hygiene and how to get dressed appropriately, and they have demonstrated that they can do so independently, you can start having them do those things for themselves. This will be different for every child. Some will be really fast, independent learners; others will want to have you do it for them as long as you'll do it. Some children with different disabilities need support for extended periods of time. This provides an opportunity for others to learn service, which is such a blessing. Children with disabilities may provide some extra challenges but they are not a burden; they provide us with the chance to learn essential lessons on earth.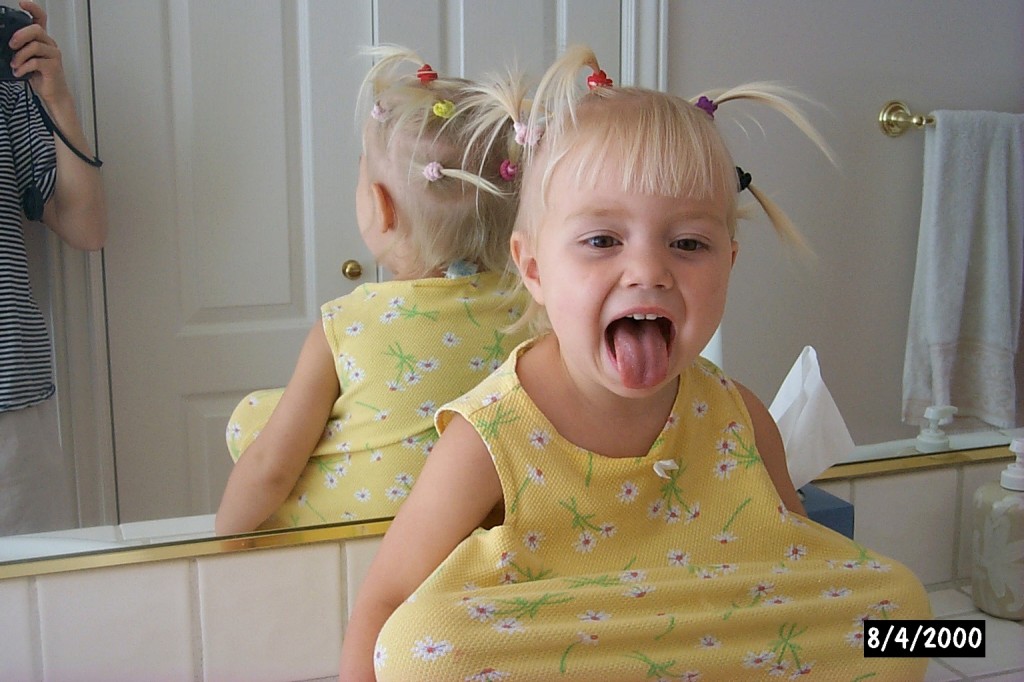 (Learning to get ready can be fun…ny.) So once you have established this baseline, you can have help the child learn a routine of what to do in the morning before school. This prepares them for the rest of their lives, during missionary service, college education, work, service at home and service in their community.
In our home it looks and sounds a little like this: The children know they are supposed to get up (some get up on their own, some still require waking), make their bed, say their prayers, get dressed, put their pjs away, and come downstairs for breakfast and scriptures. To help them remember what they are supposed to do, I have tried lots of different teaching angles: visual aids, charts, music prompts. Currently I use a little couplet with the younger ones that goes like this:
Make your bed,
Say your prayers,
Get clothes on, and
Come downstairs.
I need to make that into a song. That will drive them crazy for SURE!
We have a set time for breakfast and scriptures, one for the older children (whose school begins earlier) and one for the elementary-age children, so they could get more sleep. But because the elementary age children are getting older and it is getting lighter in the mornings, the younger children are getting up earlier and starting to join us for the earlier time. (Next fall I'm hoping to meld the two times into one.)
After breakfast, scriptures, and family prayer, the older children head off to school and I repeat the program with the younger ones. Then the younger ones do their practicing and their housecleaning job.
Each child has one housecleaning job all year that they are responsible to do Monday and Friday. They are also responsible to keep their room clean, their dirty laundry in their basket in their room, bring down their laundry on their assigned day, sort it and start the loads, and fold the clean loads when they get home from school. They are supposed to put their laundry away after folding it and bring their clean laundry basket back to the mud room. The older children each have a week in which they do the dinner dishes, and they each have a night that they can be called upon to help with dinner preparation. On Saturday they are to do two hours of work that does not include their normal routine.
Summer is an opportunity for additional work and learning. We always have a garden and plenty of yard work to do.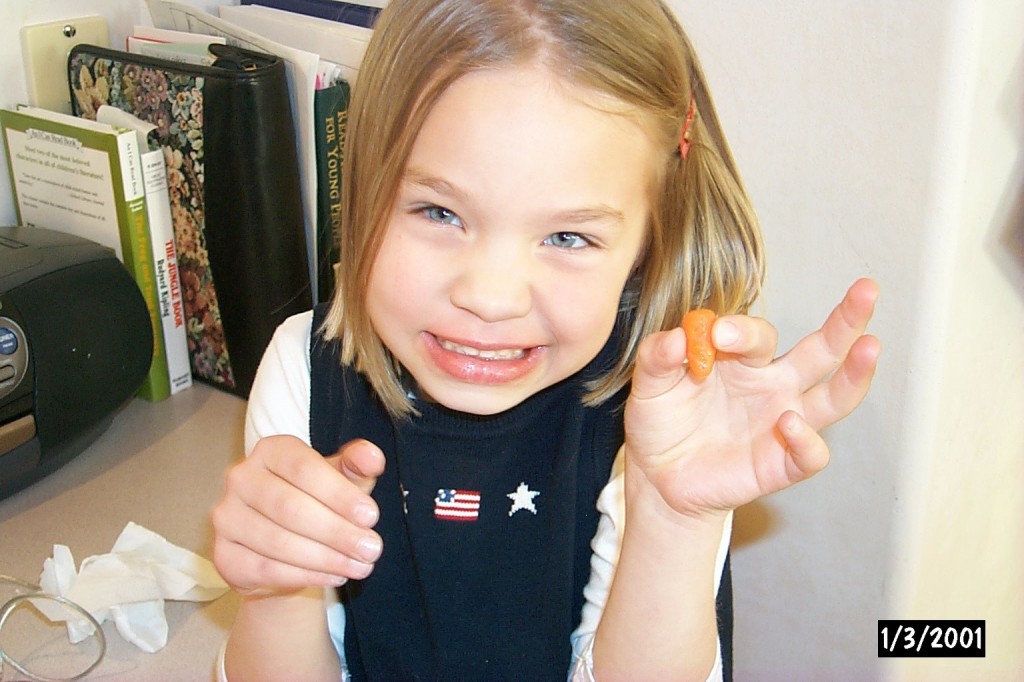 (Homegrown veggies are the best!) In order to decide what we should put on the job chart for summer, I will counsel with my husband. That often begins with a prayer. We might counsel together on a walk, during our date, or–in his dreams of bliss!–while I am giving him a back massage. (Don't worry. Not TMI here. I'm just talking a back massage. He would vouch for that.)
When figuring out how to accomplish things, my husband and I are sometimes on opposite sides of the spectrum. He is on the side I would call "simpler or more minimal effort" and I am on the side I would call "more complicated/maximum effort." Since we have been married almost 20 years, I think we would agree that we are both moving towards the middle, and that the journey has been helpful to both of us! 🙂  We agree much more about what we can expect of ourselves and our children than ever before. Joy and rejoicing!
After talking with my husband, and once we have agreed upon what would be appropriate, I will sit down and prepare the chart.
Then we'll have a family council in which I'll present the plan for the summer (or school year) and the chart.
We use a "Family Time Card*"  as our accounting process. This year, only children who were 12 and older were able to do job charts because when you turn 12 in our family you get a debit card and you are eligible to receive a clothing allowance. You only receive that allowance if you do your jobs and fill out a time card. Time cards are turned in before dinner on Friday nights.
Why do we have time cards? This is to prepare them for real life after they leave home. The clothing allowance covers all clothing purchases. The only clothing I buy for children 12 and older is clothing for gifts (Christmas, Easter, birthday) or a special occasion (performance, date dance). Time cards also grew out of a quote from Thomas S. Monson that got my attention as a missionary:
"When performance is measured, performance improves. When performance is measured and reported, the rate of performance accelerates."
In researching this quote online, I came across a treasure trove! I went to the .pdf version of the last Improvement Era magazine printed before the Ensign, New Era, and Friend magazines were printed. This contains the conference report and the talk in which this quote is embedded. During this talk, Elder Monson (of the Council of the Twelve Apostles) introduces these new magazines AND the teacher development program. Next to his article and throughout the magazine are PAID ADVERTISEMENTS for things like Conoco gas, LeVoy's nightgowns, and Deseret Book publications. Wow! I was cracking up! Since we don't have paid ads in current church magazines, and since I was just a baby when these changes took place, I didn't know that this ever existed. What a riot! (To see his talk in this magazine, you need to scroll down to page 99).
I also found another quote in his talk at the end that fits in with this topic of training children just perfectly:
I hear and I forget;
I see and I remember;
I do and I learn.
So we don't just tell our children what we want them to do, and we don't just show them with our example, we also do it alongside them until they understand and can do it for themselves.
One thing that I have decided about job charts and time cards and routines is that if I won't do it myself consistently (this doesn't equate perfectly, just trying to do it consistently), I should not ask it of my children. That makes me stretch to be able to do what I'm hoping they will learn. My husband and I make our bed each morning, usually right after getting up, like we ask our children. And we typically get dressed before coming down to make breakfast. That way we try to lead by example as well as precept.
(To be continued…)
Happy Training,
Liz 🙂
P.S. *You will notice on our family time card the labels "Happy Housekeeper" and "Mormon Musician." I put "Happy Housekeeper" on there because I want our children to learn to be pleasant about having to help with clean up wherever they are: work, in an apartment with roommates, at the church. Nothing is less fun than working with a complaining person or living with someone that won't do their part. I put "Mormon Musician" on there because my main purpose for them learning to make music, aside from learning a personal work ethic and self-discipline, is to be able to make music with their family at home and to help out when needed at church or in their community. These are very satisfying places for using music. I don't have any other goal for them beyond that unless they decide their passion in music and want to pursue it more than that.
---
---