What was good about your day? A new approach to job accountability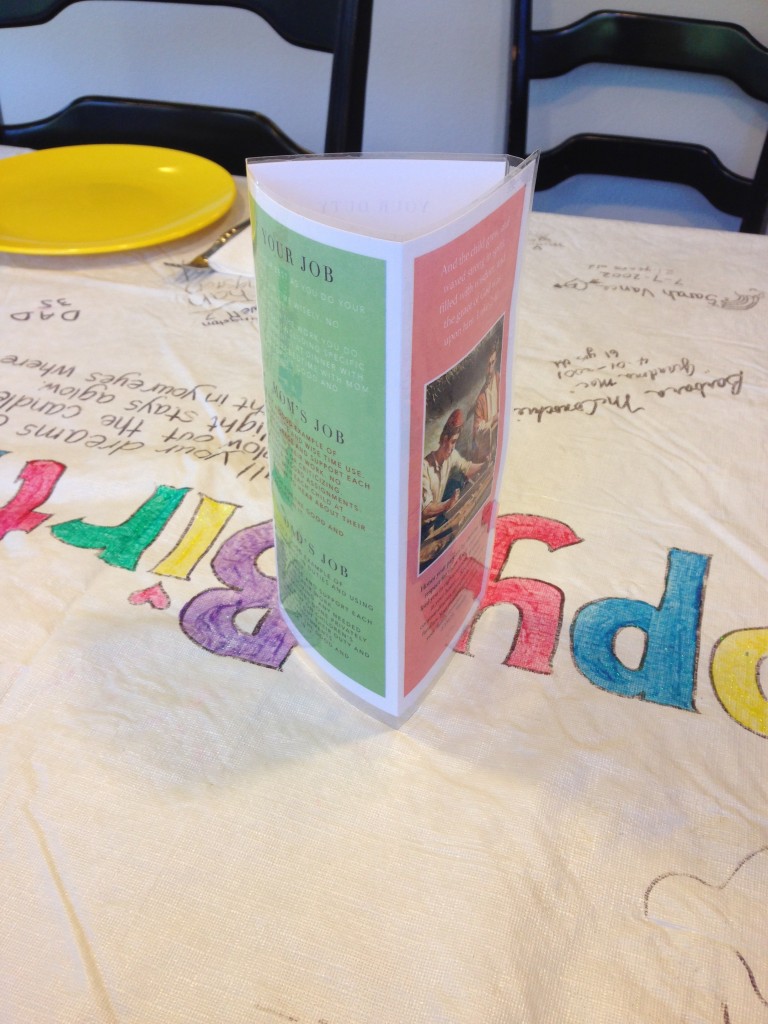 On Sunday we met at Family Council to discuss a change in the way we account on our daily load (jobs/home responsibilities). I announced that we will NO LONGER use job charts (cheers!). I won't be paying them for each little job they do to earn the money for their clothes. The only reminder they would get, in fact, for what they are supposed to be doing is this little laminated table top tri-fold, that they see at meals (or in between, if they want help remembering. They still can use their load jars or job charts for reminders or tools if they want, but I'm not going to be checking those tools).
We still expect them to do all of their load every day (M-Sat).
We also expect them to do anything in addition to the load that we ask.
So how are we having our children account for their assignments?
We explained that they will get to account (out loud) to Dad each night at dinner. (If Dad's not home, they will account to Mom or to Dad over the phone.) If they need correction, he will discuss that privately with the child after dinner or some other time. I will go visit each child before bed for a little "It was good" chat (Moses 2:31) to allow them to share what they felt they did that was good that day, and I can share something(s) that I saw that they did that were good that day.
It was really great to be able to discuss these changes, answer questions and concerns, and generally discuss what we expect and why we have chosen each part of "the load." Everyone seemed to be OK with the new plan.
After only 3 days, things feel better in our home–at least to me. (I'll get some more feedback next Sunday.) I feel better about what my children are doing, and from what I can see, they seem to be more motivated and willing to report. I am excited to see what fruits this change brings. I'll try to remember to let you know!
---
---