Happy Valentine's Day! Scriptures for memorizing on love ❤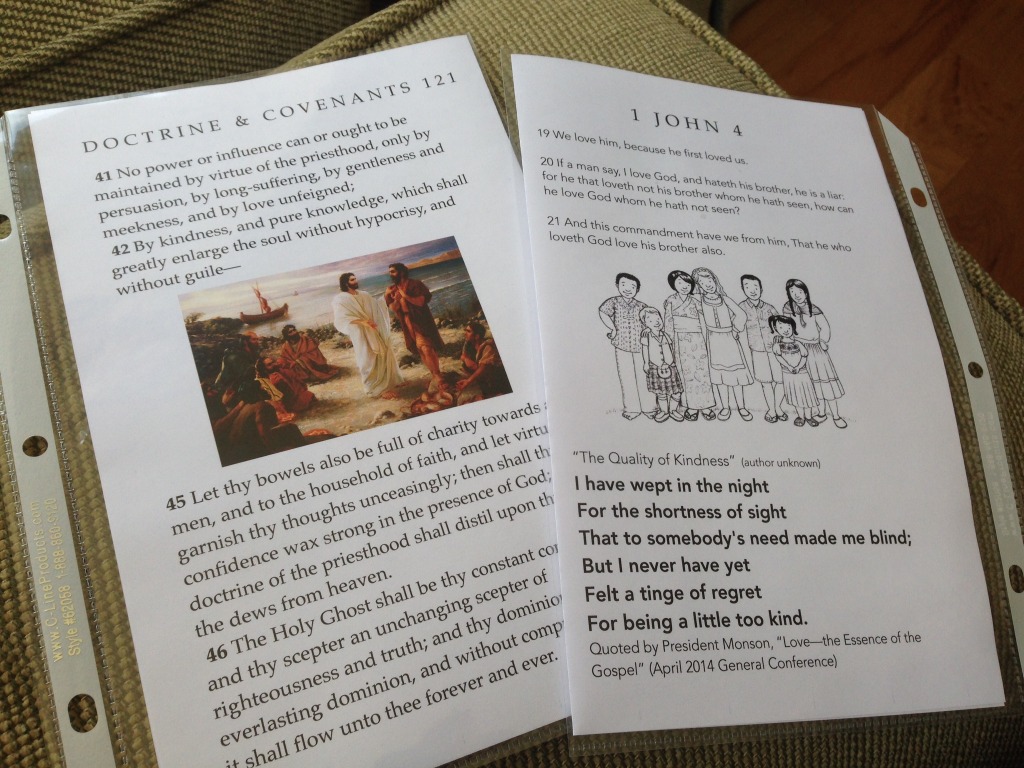 This morning, before we were going to go walking, Lane told the children that if they would jump out of bed and get their Saturday jobs done quickly, we'd all go to Magleby's for French toast. WOW! That's a special occasion around her (eating out and Magleby's breakfast). The work got done in record time! (Wish we could see that every week!) What a great beginning to Valentine's Day! Awesome gift, especially after the house was looking really shabby from the week. You know, when you have a child home sick all week, somehow the rest of the routine gets sidestepped, and all the household seems to get so messy. Anna and I had some good times together while she was home, and the house got cleaned up when "many hands [made] light work."
When we got back, we sat down to do scripture study. This year, Lane and I decided to have each child select a conference talk in an area that they feel they could improve to share on the first Monday of the month in FHE. They get to pick the scriptures and quote that we memorize that are from or related to that conference talk. Then we work on memorizing those scriptures, one day at a time, during the month.
In January we introduced our theme for the year, which is "Lord, is it I?" from President Uchtdorf's talk.  We worked on memorizing our family mission statement, Matthew 26-21-22 , and Matt.7:3, 5. For February we reviewed President Eyring's talk on personal revelation, and we're working on memorizing D&C 121:41-42, 45-46, 1 John 4-19-21 and Quality of Kindness poem. (All 3 of those on an 8.5×1″ page here.) (The poem was from President Monson's talk on love that we reviewed during our scripture study today, since it was Valentine's Day.)
The way we memorize scriptures is by spending the first couple minutes of scripture study memorizing 1-3 phrases, 1 phrase at a time, and then adding it onto the phrases we learned the day(s) before. By the end of the week, or goal is to have the whole verse or quote memorized. Sometimes it takes more than one week, and sometimes we don't have it perfectly memorized, but hopefully we have the words and references in our heads for future use.
I try to prepare some visuals to help us in our memorization, which I hand out at the beginning to help those of us who are more visual learners. I also print a larger version of the visual, stick it in a plastic page protector, and hang it on the bathroom door.
Why am I sharing all this? I hope that some mom somewhere can benefit from the work I spend making these visuals, to teach her family or church class, even if I'm not a graphic designer. 🙂 I sure love the beautiful free stuff I find online that people with far more talent than I have make and share. Studying and memorizing scriptures has its benefits, and its really worth teaching them to our children.
---
---