Honoring President Packer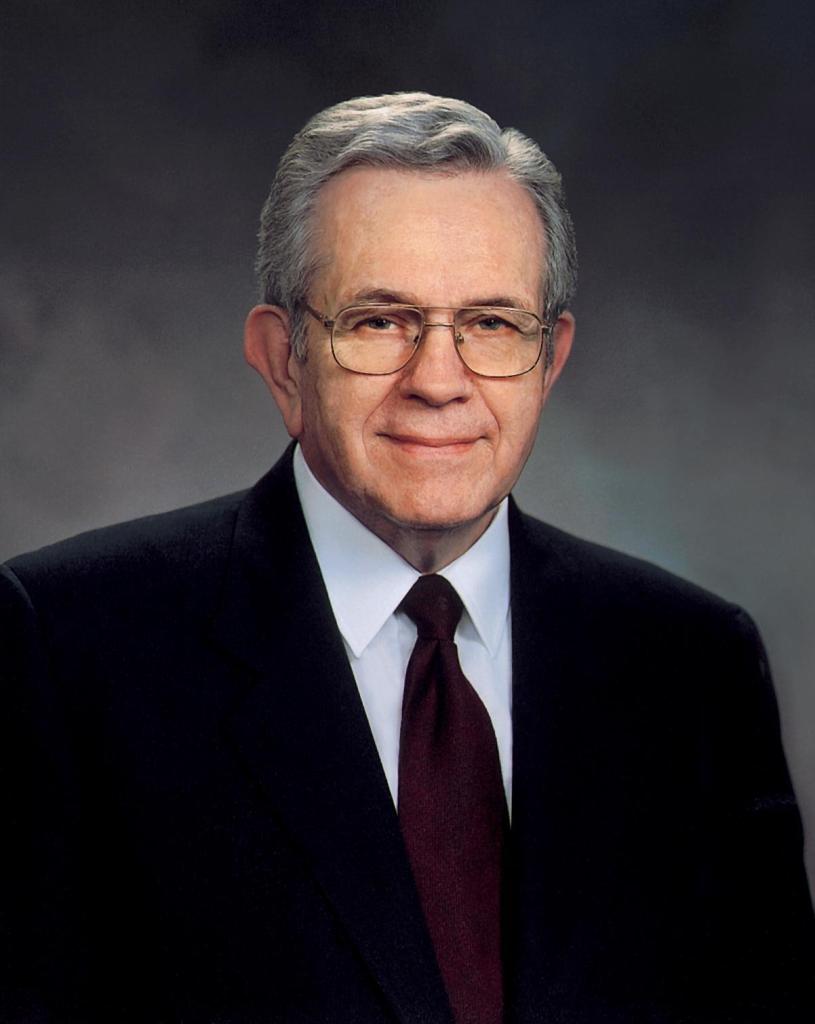 (Photo from Mormon Newsroom.)
I wanted to mention the passing of President Boyd K. Packer yesterday and honor him. Considering that the pen is more powerful than the sword, has had a tremendous influence on my life.  I carry many of his words with me in my heart and mind that have influenced my decisions. Here are four that I have remembered since I first heard (or read) them:
❤ As a parent, I can create a shield of faith at home, individually tailored to each of my children:
The ministry of the prophets and apostles leads them ever and always to the home and the family. That shield of faith is not produced in a factory but at home in a cottage industry.
The ultimate purpose of all we teach is to unite parents and children in faith in the Lord Jesus Christ, that they are happy at home, sealed in an eternal marriage, linked to their generations, and assured of exaltation in the presence of our Heavenly Father.
Lest parents and children be "tossed to and fro," and misled by "cunning craftiness" of men who "lie in wait to deceive" (Eph. 4:14), our Father's plan requires that, like the generation of life itself, the shield of faith is to be made and fitted in the family. No two can be exactly alike. Each must be handcrafted to individual specifications.
The plan designed by the Father contemplates that man and woman, husband and wife, working together, fit each child individually with a shield of faith made to buckle on so firmly that it can neither be pulled off nor penetrated by those fiery darts.
It takes the steady strength of a father to hammer out the metal of it and the tender hands of a mother to polish and fit it on. Sometimes one parent is left to do it alone. It is difficult, but it can be done. 
In the Church we can teach about the materials from which a shield of faith is made: reverence, courage, chastity, repentance, forgiveness, compassion. In church we can learn how to assemble and fit them together. But the actual making of and fitting on of the shield of faith belongs in the family circle. Otherwise it may loosen and come off in a crisis. ("The Shield of Faith," April 1995 General Conference)
 ❤ Studying God's words will help me become better faster than studying behavior:
True doctrine, understood, changes attitudes and behavior.
The study of the doctrines of the gospel will improve behavior quicker than a study of behavior will improve behavior. Preoccupation with unworthy behavior can lead to unworthy behavior. That is why we stress so forcefully the study of the doctrines of the gospel. ("Little Children," October 1986)
❤ Music is powerful. Music teachers matter. Listening to–or simply thinking of–good music can help us control our thoughts. Our mind is like a stage. We can kick unsalient actors (thoughts) off by putting uplifting ones on.
Music can, by its tempo, by its beat, by its intensity, dull the spiritual sensitivity of men….
There is so much wonderful, uplifting music available that we can experience to our advantage. Our people ought to be surrounded by good music of all kinds.
Parents ought to foster good music in the home and cultivate a desire to have their children learn the hymns of inspiration.
The time for music lessons seems to come along when there are so many other expenses for the family with little children. But we encourage parents to include musical training in the lives of their children….
How wonderful is the music instructor who will teach children and youth to play and will acquaint them with good music in their formative years, including the music of worship. To have such music as a part of one's life is a great blessing….
I had been told a hundred times or more as I grew up that thoughts must be controlled. But no one told me how.
I want to tell you young people about one way you can learn to control your thoughts, and it has to do with music.
The mind is like a stage. Except when we are asleep the curtain is always up. There is always some act being performed on that stage. It may be a comedy, a tragedy, interesting or dull, good or bad; but always there is some act playing on the stage of the mind.
Have you noticed that without any real intent on your part, in the middle of almost any performance, a shady little thought may creep in from the wings and attract your attention? These delinquent thoughts will try to upstage everybody.
If you permit them to go on, all thoughts of any virtue will leave the stage. You will be left, because you consented to it, to the influence of unrighteous thoughts.
If you yield to them, they will enact for you on the stage of your mind anything to the limits of your toleration. They may enact a theme of bitterness, jealousy, or hatred. It may be vulgar, immoral, even depraved.
When they have the stage, if you let them, they will devise the most clever persuasions to hold your attention. They can make it interesting all right, even convince you that it is innocent—for they are but thoughts.
What do you do at a time like that, when the stage of your mind is commandeered by the imps of unclean thinking?—whether they be the gray ones that seem almost clean or the filthy ones which leave no room for doubt.
If you can control your thoughts, you can overcome habits, even degrading personal habits. If you can learn to master them you will have a happy life.
This is what I would teach you. Choose from among the sacred music of the Church a favorite hymn, one with words that are uplifting and music that is reverent, one that makes you feel something akin to inspiration. Remember President Lee's counsel; perhaps "I Am A Child of God" would do. Go over it in your mind carefully. Memorize it. Even though you have had no musical training, you can think through a hymn.
Now, use this hymn as the place for your thoughts to go. Make it your emergency channel. Whenever you find these shady actors have slipped from the sidelines of your thinking onto the stage of your mind, put on this record, as it were.
As the music begins and as the words form in your thoughts, the unworthy ones will slip shamefully away. It will change the whole mood on the stage of your mind. Because it is uplifting and clean, the baser thoughts will disappear. For while virtue, by choice, will not associate with filth, evil cannot tolerate the presence of light.
In due time you will find yourself, on occasion, humming the music inwardly. As you retrace your thoughts, you discover some influence from the world about you encouraged an unworthy thought to move on stage in your mind, and the music almost automatically began.
"Music," said Gladstone, "is one of the most forceful instruments for governing the mind and spirit of man."
I am so grateful for music that is worthy and uplifting and inspiring.
Once you learn to clear the stage of your mind from unworthy thoughts, keep it busy with learning worthwhile things. Change your environment so that you have things about you that will inspire good and uplifting thoughts. Keep busy with things that are righteous.
Young people, you cannot afford to fill your mind with the unworthy hard music of our day. It is not harmless. ("Inspiring Music–Worthy Thoughts," October 1973)
❤ A testimony is to be found in the bearing of it.
Oh, if I could teach you this one principle. A testimony is to be found in the bearing of it! Somewhere in your quest for spiritual knowledge, there is that "leap of faith," as the philosophers call it. It is the moment when you have gone to the edge of the light and stepped into the darkness to discover that the way is lighted ahead for just a footstep or two. "The spirit of man," is as the scripture says, indeed "is the candle of the Lord." (Prov. 20:27.)
It is one thing to receive a witness from what you have read or what another has said; and that is a necessary beginning. It is quite another to have the Spirit confirm to you in your bosom that what you have testified is true. Can you not see that it will be supplied as you share it? As you give that which you have, there is a replacement, with increase! ("The Candle of the Lord," January 1983).
Tags:
armor of God
,
Christlike leadership
,
clean thoughts
,
controlling thoughts
,
great quotes
,
happy family
,
happy homes
,
how to gain a testimony
,
impact of studying God's word on human behavior
,
learning from leaders
,
little children
,
living prophets
,
making a shield of faith a cottage industry
,
missionary work
,
modern apostles
,
music lessons
,
positivity
,
power of music teachers
,
power of the word
,
power of words
,
President Boyd K. Packer
,
shield of faith
,
should I teach my child music?
,
single mothers
,
The Church of Jesus Christ of Latter-Day Saints
,
What is a shield of faith made of?
---
---