Oh, how I want to be…
Here are my feelings/ideas/quotes* from general conference this morning:
President Monson: He is looking older and more frail, but his spirit is absolutely not. Boy, I love this incredible man!! He is tall in stature but HUGE in spirit! I wish I could be like him! The story about the missionary who didn't want to go back to his mission: I can relate. Not because of my mission, but the feelings of frustration with others. It is somehow one of my failings. I can relate to the story about the other missionary he didn't know who came to answer the prayer that he offered in the temple–WHILE he was praying! I remember how my first trip to the temple was similar, when my prayer was answered by the temple president coming into the celestial room to be the answer to my prayer, in the exact moment I needed it.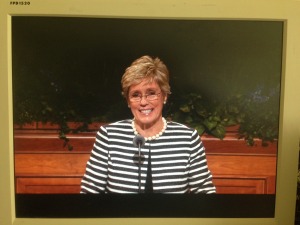 Sister Rosemary Wixom: We all will have experiences like the young mother in Sister Wixom's talk had. I know that I have. The feeling I had during this talk was one of great understanding from heaven for how we feel during those times of doubt and trying to understand our challenges and navigate our way to finding the Savior during them. Sister Wixom's words resonated SO strongly in my heart: "Oh, how I want to be like those surrounding this young mother."
Elder José A. Teixeira: Good guidelines for online use are definitely helpful for me! I can feel the drag of spending too much time on the computer some days. I've been trying to figure out the balance. These tips will be helpful: Checking the church website, joining the church social media updates for reminders of what really matters, and taking some time away from mobile devices.
Elder Gérald Caussé: I want to take our children to see the beautiful places in Utah that we haven't yet visited! If we don't, it will be like living in Paris for 22 years and never visiting the Eiffel Tower! I especially want to visit each of the temples. I especially want my children to be able to sense that the Savior stands beside me daily because they feel the Spirit when they are with me, just like the talk from yesterday that talked about teaching our children to be able to hear the music in their minds, not just the steps of the dance. I think fasting like President Eyring described yesterday morning can help me get there. Lane and the children and God can help us figure out some fun vacation trips to beautiful Utah destinations.
Having new eyes while reading the scriptures: "The real — of the journey is not in seeking new destinations, but in having new eyes."   "The gospel is a fountain of knowledge that never runs dry."
Our amazement should be rooted in the plain, simple doctrines.
CHERISH the gift of the Holy Ghost: Having the Spirit each day nourish my spirit is like watering my flower garden. Without it, my testimony can wither and die.
"Oh, it is wonderful, wonderful to me!" Amen.
Elder Brent Nielson: How to respond to those who have lost their way: His sister, Susan, gave her permission for sharing her story of abandoning her faith. What a loving, brave thing to do, particularly when millions of people are listening. Thank you, Susan! They figuratively "let her go" and never stopped loving her. They reached out in genuine love to her and her children and grandchildren. This talk made me weep. "We watch, we pray, and we wait for the Lord's hand to be revealed." Hearing the parable of the prodigal son in a new way. I have had that experience. I am frequently lost and need to be found. I'm grateful that the Lord has helped me recognize this on a number of occasions, particularly with regards to how I have treated unkindly my own immediate and extended family. Lane said to me, "I'll always be there to love watch and wait with you." I'm so grateful for my husband.
Elder Jeffrey R. Holland: Rock climbing in the canyon. Cramping muscles and feelings of panic. Trying to jump vertically (!!!) to grab the overhanging ledge.
"Then I leapt." "Hanging there with nothing to hang onto." Feeling his hands slip! "then suddenly, like a lightning strike in a summer storm, two hands shot out above the cliff…My faithful little brother had not gone looking for the tree branch…He had never moved an inch. He had simply waited, silently, almost breathlessly….When I did, he grabbed me. He held me, and he refused to let me fall. Those strong brotherly arms saved my life that day as I dangled helplessly above what surely would have been certain death."
Easter Sunday: For special remembrance of brotherly hands and arms that reached into the abyss of death to save us from our sins.
Weeping again. I have felt the Lord's outreach to me when I felt like I would fall and could not see the bottom of the pit to which I thought I was headed.
"We cannot fully comprehend the atonement of Christ." There is no way to truly celebrate Christmas or Easter without understanding the fall of Adam and Eve.
I love that he said he doesn't understand what happened on this earth before the garden of Eden and the creation of Adam and Eve. This reminds me of the struggle that many Godly members have had to try to understand the connection between evolution and creation in trying to understand how those pieces fit together.
"The entire human race in freefall….Is that what life was meant to be? Is this the grand finale of human existence?" THIS ENTIRE QUOTE! I can't wait to reread this words! To memorize it!
Oh, I wish we didn't have streaming pauses. I mean, we're so blessed to have these live internet streams, but I wish there were never any interruptions! Missed all the rest of Elder Holland's talk when the streaming stopped and wouldn't refresh despite reloading the page a couple times, etc. Opposition in all things!
President Dieter F. Uchtdorf: "God loves us perfectly." I love the scripture he quoted! in Romans about the height and depth of the love of Christ. One of my favorites. Gotta have my family memorize it.
"Grace unlocks the gates of heaven." I love the doctrine of grace! I need it everyday! "We cannot earn our way into heaven." "We need more than an unlocked gate. We need to enter through this gate." Change of heart: born of God, becoming his sons and daughters.
"Grace opens the windows of heaven." God pours out blessings of power and strength "It is by God's amazing grace that His children can overcome the undercurrents and quicksand of the deceiver." "Indeed, it is by the grace of God…that weak things can become strong." Grace bestows temporal blessings. "His grace refines us. His grace helps us become our best selves." Simon was a good man: did the checklist (paid tithing, went to synagogue). Simon didn't like the sinner woman's washing the Lord's feet with her tears. Jesus asked Simon, "Which of them [the debtors] will love him most?" "To whom little is forgiven loveth little." Which of these two people are we like? Both! But definitely MORE like Simon.
When we pray, is it to confess our faults, plead for God's mercy, and shed tears of gratitude for the amazing grace we receive.
"Salvation cannot be bought with the currency of obedience." Analogy of buying an airline ticket and then thinking we own the airline. Love the airplane analogy. He got it in. ☺
Shall we continue in sin, that grace may abound? GOD FORBID. "Brothers and sisters, we obey the commandments of God out of love for Him."
WOW.
Obedience comes as a natural outgrowth for the goodness of God. This gratitude will merge our good works with God's grace.
We are not saved BECAUSE of all that we can do. Do any of us do ALL that we can do? Does God wait for us to bless us until we have done ALL that we can do?  This is a clarifying section here. I want to go back and study to remember.
"When I think of what Jesus did" to provide grace to us so that we can return to His presence, I feel like shouting praises! Amen.
I pray that we will show our gratitude for the infinite grace by our obedience.
MoTab Choir:  "Christ the Lord is Risen Today." Love it, love it, love it.
This morning's session was all about CHRIST, his saving power, and how we can reach out to love and lift others. I felt the calm, peaceful reassurance that what I heard is true. I have more to learn, to understand, and totally lots to learn to be and do.
*I'll need to go back to verify my quotes once the transcripts/video transcripts are out.☺
---
---