2014, The year of the family (my Christmas gift)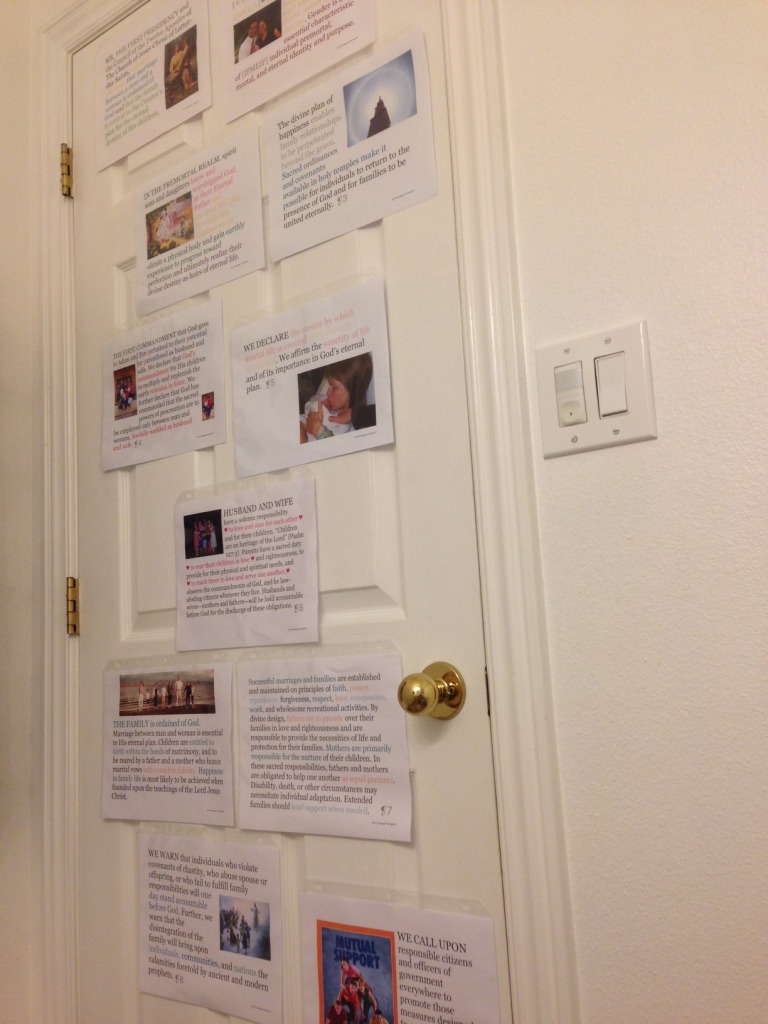 2014 will soon be over. Did you know that 2014 was 20th anniversary of the International Year of the Family? In our home, we marked this event by learning "The Family: A Proclamation to the World." This means that we began memorizing this declaration sentence by sentence back in January, and kept working on it through summer vacation and into the fall, until we culminated on December 26 with recording our recitation. (We reviewed the paragraphs as we learned them. Those visuals in the photo above were on our main floor bathroom door.)
Some of us were able to memorize it and recite it completely, while others of us need some prompting to make it all the way through. I am part of the latter group! I have the sentences in my head but need help to get them out continuously linked together. But the foundation is there. It is a wonderful gift.
I told our children back in January that this was what I wanted for Christmas: for them to memorize it and recite it on Christmas Day. (We would have done it on Christmas Day, but we waited because we need to get ready for Elder Livi's Skype call, and then we forgot until it was late. So we recorded it the next morning.) I love my Christmas gift:
2015 marks the 20th anniversary of this Proclamation. I still remember hearing this proclamation read by President Gordon B. Hinckley 20 years ago in the General Women's Meeting (a significant place and time for its inaugural reading). I felt ecstatic–literally!–when I heard the words of this document. I knew it was inspired. I knew it would be helpful.
How little I knew back then at how much we would need it!
While the family is falling apart at the seams today, we need these words like an iron rod to hang onto. I'm so grateful that these words are now in my mind and heart. I just need to keep trying to translate them into action day after day.
"Successful marriages and families are established and maintained…"
Happy New Year, and Happy Studying Great Truths with Your Family,
Liz 🙂
---
---