Joan of Arc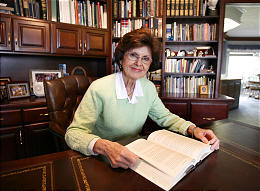 The other day, Lane was heading out the door for work when he asked me, "Who is your favorite example of integrity?"
I answered with two examples: Sir Thomas More and Jeanne d'Arc (better known as Joan of Arc–sorry, it's the French in me that knows her by her French name).
When I consider that question after the fact, I could have said so many more names! But these two names came to my name as favorites. I'll tell about Sir Thomas More another day, but today I wanted to say how I came to know Joan of Arc first.
When I was a young woman, our general young women president was Ardeth Kapp, a brilliant, adorable woman who, though having no children of her own, felt like a second mother to me.
I never met her personally.
I only heard her speak and felt her love through her words and actions.
She taught me about Joan of Arc in a talk she gave my sophomore year in high school. Sister Kapp gave this talk that I still remember today, and I printed it out for my daughters yesterday. I felt so deeply, when I heard her speak that day, that what she said was true, and that I had things that God wanted me to do on earth. I didn't know what they were per se, but I knew I had something to accomplish.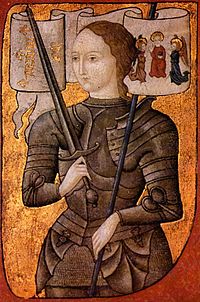 Here's what Sister Kapp said about Joan of Arc:
"Who will fight to guard the home and keep it a safe place for you and your brothers and sisters? Who will protect them and you from the insidious, satanic subtleties the adversary flaunts on the video, TV, and movie screen that come like enemy spies, creeping into our camp, destroying our resources and ammunition, leaving us spiritually weak, wounded, and wanting? Who will stand up and lead out for others who would follow if someone would show the way? The power is within you. You can be an influence to save others. Will you take a stand? Your youthfulness is not a disadvantage to your strength. In fact, it may be a tremendous advantage.
"Joan of Arc was born in 1412 in the little hamlet of Domrémy in northeast France. As we learn of her, we are first of all impressed with her undying faith in the mission she believed she must fulfill. Her whole soul seemed to yearn towards God and her country. This young girl became the heroine of France. Joan of Arc at the age of 19 was burned at the stake. From the play Joan of Lorraine, by Maxwell Anderson, her words serve as a reminder of a young woman committed to her values: 'I know this too now: Every man gives his life for what he believes. Every woman gives her life for what she believes. Sometimes people believe in little or nothing, nevertheless they give up their lives to that little or nothing. One life is all we have, and we live it as we believe in living it, and then it's gone. But to surrender what you are, and live without belief—that's more terrible than dying—more terrible than dying young' (act 2, interlude 3).
"At a tender age, she committed to stand up and lead out. You are old enough to understand what the Savior meant when he said we should not be ashamed of him (see Matt. 8:38). When we consider his great love and sacrifice for us, can we declare our allegiance to him by the choices we make each day?" ("Stand Up, Lead Out," November 1985)
Sister Kapp could easily be one of my favorite examples of integrity, since she taught me that standing up for the Lord "requires sorting through our life and establishing our values, setting goals, and then actually working toward salvation. It means making conscious, deliberate choices, daily and hourly, and having the moral courage to make our actions consistent with the path the Savior has shown us."
I could have also said that my mom is my favorite example of integrity. She told me how at a student body election in which she was participating, there was another young woman who was also running for a student body office. A young man gave a speech on her behalf, saying that she was the kind of girl who would, when driving, stop at a stop sign, even if no was else was there. That story inspired me and made me want to be that kind of girl, too. And on observing my mom, I have noticed that she is that kind of a woman. I believe she always has been!
The Savior, of course, is the best example of integrity. He went through with the Atonement even when He didn't want to. "Not my will, but Thine, be done," he said when he wanted to quit.
I loved it when one of my daughters said to me, after reading Sister Kapp's talk, "Mom, the talk you gave me is really good!"
I am SO grateful for the examples of integrity that have shaped my desires, and I'm so grateful to get to pass them on to my children.
Happy Passing the Torch,
Liz 🙂
---
---