SOS: Learning to yell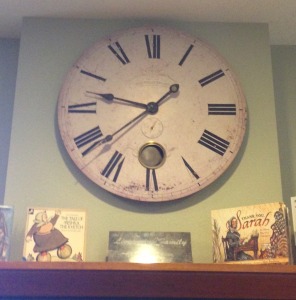 Daylight savings.
Two words that evoke a whole slough of negative thoughts, words, and emotions.
The thought alone makes me want to yell.
I woke up just after 4 am (the new time) this morning, grateful to have slept through the night (almost 6 hours!), yet wishing that on this one day of the year when I "get an extra hour of sleep" that my body would cooperate and let it stretch to 7 hours or…gasp!..8 beautiful, connected hours.
You might think that after you move past the baby stage, when children's bodies wake up to their internal clocks and not the government's, you would get to sleep during that "extra hour."
I DID sleep entirely THROUGH. THE. NIGHT! the night before last–as in almost 8 hours–which was AWESOME. For those of you who don't have sleep issues, this is just such a gift.
It was probably because I worked the entire night through, the night previous, sewing Anna's Halloween costume. Went to bed at 4:50 am (Lane's alarm went off at 5) and went back to sleep at 6 something after a child came to ask me a question, and then went back to sleep at 7:30 am after my alarm went off, so that I could text and say I wouldn't be making it to orchestra that day.
At 8:20, I knew I couldn't postpone the inevitable any longer.
Ironically, I had a great day with enough energy to do just fine. And then I slept through the night!
But this morning I woke up heavy-headed, sniffly and wishing I could keep on sleeping.
So I did the usual: studied and then opened my computer to write and wade through email.
My emails led me to a blog post written by one of my favorite people, Kylie. It's called "Learning to Yell."
Kylie is one of my favorite people on earth. She is beautiful, brilliant, and funny. She has had the most incredibly hard decade of anyone I know. And she continues to smile and love people like me who tend to whimper about things that don't even matter. Being around her lifts me up and reminds me of what really matters.
And her honesty and courage inspire me to want to be more. More courageous, more cheerful, more authentic!
Reading a slice of Kylie's thoughts made me weep for and with her, as I consider the smaller magnitude versions of that trial/lesson pattern that I see my own life. I'm not enrolled in "Overcoming Blindness and Deafness 602" like she is (I'm retaking 101. Not ready.), but I want to learn from her, so that when I'm ready, I might remember her faith.
God knows so well how to "turn life upside down" and shake up our little personal water globe of experience and perspective. (Here are some other examples that I read this morning of how that can happen: 5 children in 2 years! and being basically broke.) Life is simply not tidily lived with tucked in corners, like a nurse-made bed. Not for anyone. Not for me.
I don't have Kylie's gift for prose, but this post about yelling really made me want to share in perhaps a more balanced way. Perhaps I can share a little bit more about some of the challenges I face without bringing others down?
Happy Learning Not to Yell and to Yell,
Liz 🙂
P.S. The clock over our mantle is a pain to change every 6 months, so I just don't change it. It's my little form of rebellion against Daylight Savings. 🙂
---
---