SOS: Seminary Graduation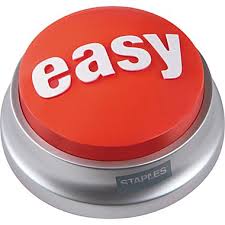 I have been procrastinating signing my teens up for seminary, not because I don't love seminary or recognize how important it is, but because I'm not sure why. Opposition? I just kept moving it down my to do list as a less important item. But today, I determined to do it and not procrastinate any longer.
It took me like 15 seconds to register. I just had to sign in on my lds.org user (on the registration page), check to make sure the info was up to date, and click a button.
Seriously?
The Staples' slogan, "That was easy!" came to mind.
Happy Registering,
Liz 🙂
P.S. I feel so grateful for having had the chance to go to seminary as a young woman! I had the most awesome Old Testament teacher, a woman who poured heart and soul into helping us understand those stories. I think I love the Old Testament because of her. I still remember the scriptures, such as "It is better to obey than sacrifice, and to hearken than the fat of rams" (1 Sam. 15:22), or "Trust in the Lord with all thine heart…" (Prov.3:5-6). I wish I could remember her name so I could honor her! (I do not always have a great memory for names.) But my heart remembers her and feels much gratitude.
I also love that because of seminary, I developed the habit of getting up early to study my scriptures and pray before starting my day and being at a class at 6:00 am to learn God's word. It helped my testimony of God and my relationship with Him grow in ways it just wouldn't have otherwise. I really loved getting to know the words of the scriptures. I even enjoyed the filmstrips. (Some teens today have no idea what that even is.) I apologize to my teachers for those mornings I feel asleep on my desk. (One teacher had such a mellow, soft voice, it was an uphill battle.) I enjoyed carpooling with neighbors, even when it was freezing and I had to wear that too-short polyester cheerleading skirt and nylons. LOL. I remember blowing my breath in the car and making fog, some mornings were cold. And this was only Northern California! I think of my son Nate driving the Suburban with the heater broken and keeping a blanket in the car to wear after he had scraped the snow off the windshield. He was not a whiner. Way to go, Nate!
---
---