SOS: The best storyteller I know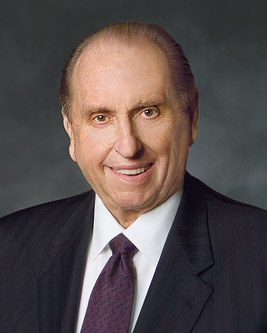 This morning, President Monson, an incredible prophet and also the best storyteller I know, shared this poem that he has shared before:
I have wept in the night
For the shortness of sight
That to somebody's need made me blind;
But I never have yet
Felt a tinge of regret
For being a little too kind.
(Anonymous, quoted in Richard L. Evans, "The Quality of Kindness,"Improvement Era, May 1960, 340.)
And he shared this quote, which he has shared on several occasions:
"Of all sad words of tongue or pen, the saddest are these: 'It might have been!" (John Greenleaf Whittier)
I wanted to remember these, and I want to teach these words to my children. So I posted them here.
What an incredible talk on love he gave. I have changes to make.
I love President Monson. I know he is a prophet of God and the servant the Lord has chosen to direct us as his children on the earth today. I want to follow Christ better because of President Monson's loving and selfless service.
Happy Conference Listening,
Liz 🙂
---
---