SOS: The glorious discovery of our amazing part
We got back from driving home from Phoenix (AZ) tonight and were sitting in the kitchen eating some mac and cheese while watching cover videos of the song "Glorious."  I love how David Archuleta invited anyone to sing along with him, because now there are tons of very cool videos made by people from all over the world singing these awesome words.
And they are beautiful!
It reminded me that there are thousands upon thousands of people with beautiful voices eager to share their affirmation that everyone matters, and that everyone plays a part in the symphony of making the world a better place.
It was the perfect culmination for some thoughts I'd had this weekend about beauty and talent and nurturing children.
On Thursday, after eating a fabulous Thanksgiving dinner that my mom and sisters and our husbands and children all pitched in to help make, we sat down on the couch, full and tired.
What did we do? We opened up our laptops and started shopping online. Just for the fun of it. Sarah went to the Anthropologie website, and my sister and mom and I started to look at some of the clothing, saying which ones we liked and which ones would never look good on us because our bodies never will look like the models who were shown wearing them.
After doing this for about an hour—which included making fun of our bodies—we went to do other things. I felt pretty bad  about my body. No matter how thin I could get, or how fit I try to be, or how disciplined I am in my eating, my body will never look like those models. Never. I will always be short, pale skinned, have fine hair, a round face, and a stocky build.
Comparing myself to someone else can make me feel pretty rotten. Especially if I think that person is beautiful.  Naturally, in comparison, because I am not those things, I tell myself that I am not.
A little later that night, I went to work on a Christmas present that required me to browse for several hours through tons of family photos on Lane's computer. While I did this, I decided to watch the Lindsey Stirling interview on Facebook.
Listening to Lindsey was a totally opposite experience from how I felt joking about our bodies. She talked about her path to overcoming anorexia, accepting her body, and retraining her mind to think positively.
She told a story about her sister looking in the mirror one morning when her hair was all a mess after just waking up. Her sister said to herself, when seeing your reflection, "What a great face!" She wasn't being sarcastic. How awesome! I thought. She knows who she is and is reminding herself of that. I realized that that night, I hadn't meant to, but I had gotten off track mentally, saying things that weren't true to myself. I wasn't being kind to myself at all.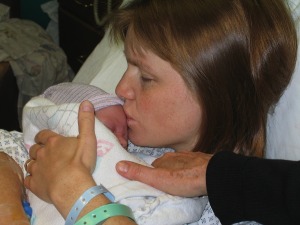 When I looked at the photos of my children, I contemplated how I could help them know that they are of worth? I want to  nurture them so that when they look in the mirror, they will know to say, "What a great face!"
How can I help my children understand that it isn't what they do or how they look that determines their worth? Their worth was determined even before they came to earth. They are of inestimable worth simply as children of a Heavenly Father who loves them. The Savior would have come to earth even if it had only been them! His love for them is unfathomable! And Lane and I love them simply because they are our children.
Which brings me back to my body. I was reminded of one of the reasons I am so grateful for my body. My body has done so many things for me in my life. I am SO grateful to have been able to co-create bodies for 7 amazing people that I love. Being a mother is simply an amazing experience, and I know that not everyone has that opportunity on earth. I'm grateful that God, for whatever reason, allowed me to have a body that would allow me to give birth to Sarah, Nathan, Julia, Rebecca, Eliza, Peter and Anna.
I have also learned that you don't have to look like a model for someone to fall in love with you and think you are beautiful. You don't have to have big eyes, a skinny waist, thin thighs, sun-kissed skin or thick, long hair to have a happy marriage. You don't have to be any outward anything to love your children and have them love you. Happy living isn't about what our body looks like! Living a healthy lifestyle feels really great–I can testify to that–but it's all about how we treat each other and take care of each other! It's how we think and talk to each other. It's about being a part of a family. That is what makes life so good!
(I want to remember that the next time I go shopping for a swimsuit.)
I think one of the best examples of the value of a person not being at all based on our appearance or even being alive would be in remembering how some friends of ours had an unexpected pregnancy later in life. They already had had six children, and then this pregnancy happened and suddenly they got really excited about having one more family member coming to join their family. Just weeks before delivery, the baby, which they discovered during the pregnancy had a genetic condition called trisomy, died in utero. Heartbroken, my friend had to deliver a stillborn baby.
Because of her genetic condition, their baby girl had some malformed facial characteristics. She did not look like their other children had, but that did not stop her family from loving her, from grieving their loss, from wishing so terribly she could have made it just long enough for her to open her eyes and look into their longing faces. To simply take one breath. For them to kiss her warm cheeks and spend a few minutes before she would have to return to that God who gave her life.
And what about the child who gets cancer and may not get to live to adulthood? That child also has an immeasurable impact on his family, his neighbors, his circle of friends and acquaintances, simply by being a part of their family, their circle. We each have incredible worth! We each have such a crucial part!
Worth is so far beyond our physical appearance. It is so beyond what talents we might have or develop or share. It is so beyond how long we live on earth or what we do with our time on earth. Our worth simply is. We are important, we are amazing, we are special and beautiful and valuable because we are children of God. And we get a taste of that whenever we welcome a child into the world or have to say goodbye to someone whose time is over.
Discovering for ourselves that we each individually have a unique part to play in the "symphony" of life is such an important part of each of our journeys on earth.
One of the great parts of raising amazing children is getting to learn about the worth of a child, which in turn helps you discover it for yourself.
I agree. It's glorious.
[Verse:]
There are times when you might feel aimless
You can't see the places where you belong
But you will find that there is a purpose
It's been there within you all along and when you're near it
You can almost hear it.
[Chorus:]
It's like a symphony just keep listening
And pretty soon you'll start to figure out your part
Everyone plays a piece in their own melodies
In each one of us, oh, it's glorious
[Verse 2:]
You will know how to let it ring out as you discover who you are
Others around you will start to wake up
To the sounds that are in their hearts
It's so amazing, what we're all creating
[Chorus:]
It's like a symphony just keep listening
And pretty soon you'll start to figure out your part
Everyone plays a piece in their own melodies
In each one of us, oh, it's glorious
[Bridge:]
And as you feel the notes build higher
You will see
[Chorus:]
It's like a symphony just keep listening
And pretty soon you'll start to figure out your part
Everyone plays a piece in their own melodies
In each one of us, oh, it's glorious
Happy Discovering Your Part,
Liz 🙂
---
---