SOS: The important game, Owen Hartle, and angels among us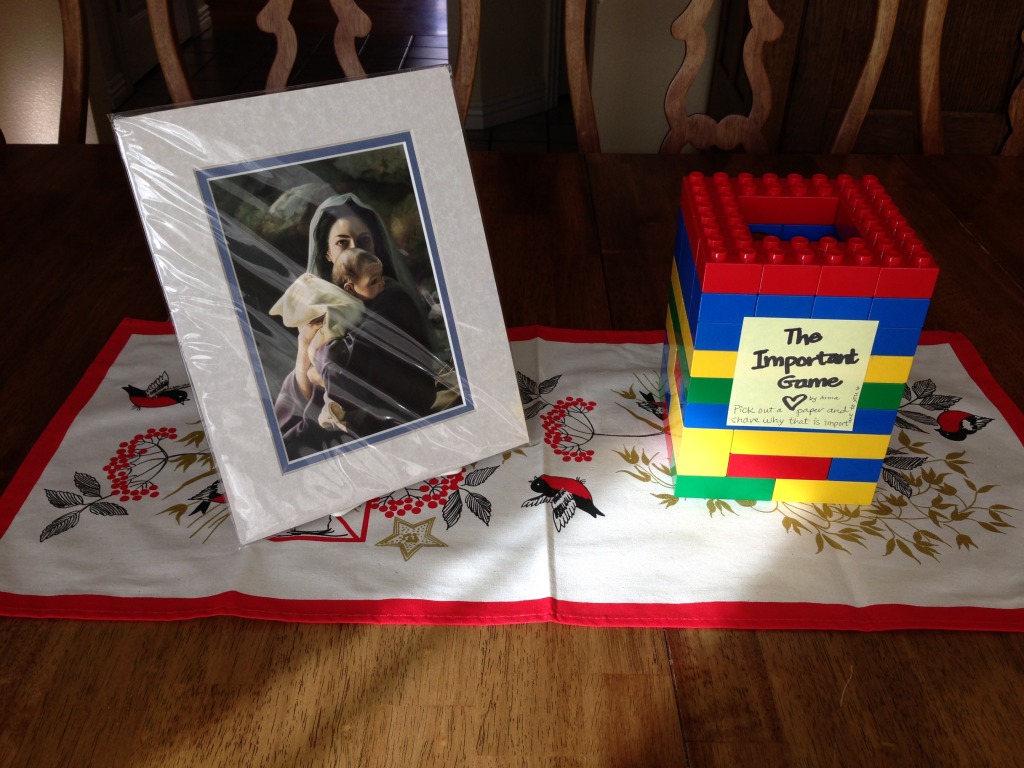 Last Sunday, Anna brought a Duplos box she had made to the kitchen counter. "I want to show you the game I made," she told me.
Curious, I watched as she pulled out one yellow sticky note after another, followed by an explanation of why the thing named on the note was important.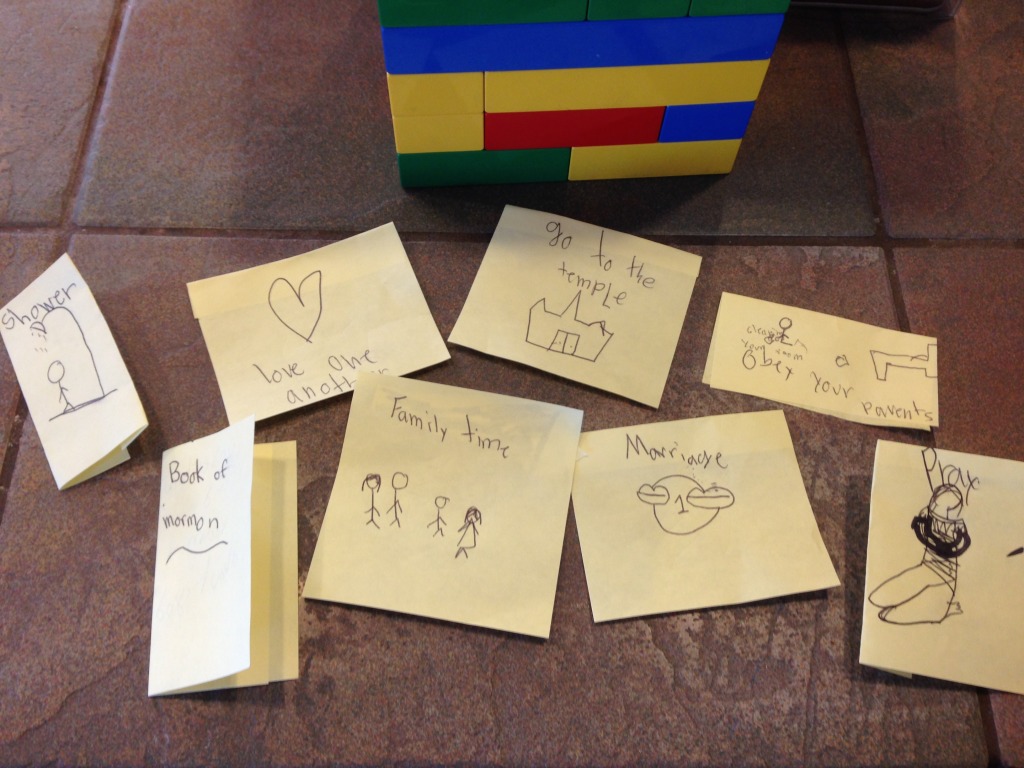 "'Family Time' is important because then we can bond together, and then we can be happy."
" 'Marriage' is important because we are bonded together and then you can live in heaven with each other together again."
" 'Loving one another' is important because then we can have the Spirit in our home."
" 'Going to the temple' is important because you can do lots of things there. You can do baptisms for the dead so people can live with their families again."
" 'Reading the Book of Mormon' is important because you can understand and learn about God and Jesus and their plan."
" 'Praying' is important because Heavenly Father wants to talk to you at the end of your day, and He's been waiting all day to hear from you."
" 'Obeying your parents' is important because it's important."
" 'Showering' is important because it cleans you, and you need to be clean spiritually, too, so you can live in Heaven."*
I sat and listened in awe.
(I decided I'd put The Important Game on the table all month to help me remember what is really important when things get a little crazy.)
Fast forward to last night. I had been a great but long day. I was really tired and not feeling so well, and with still so much left to do to prepare for our cousin dinner on Sunday, I was trying to hurry along the "tucking in" process with Anna. I was walking out of her room when she asked if I would sing to her.
I was about to say no when I remembered The Important Game and my visit with Owen Hartle, a 9-year old friend of Elder Livi's who had just passed away hours earlier yesterday. Owen had been battling cancer for so long. I remembered my visit with him last Monday when I got to sing the first verse of a lullaby to him. I couldn't sing the whole song: the Spirit was so strong, and my heart was too tender. I started to sing "There's one [angel] standing softly by your bed, and another one sits close with a hand on your head," which was exactly what his mother and sister were doing that minute. I couldn't sing it, so I told him I would sing the rest of the the next time I came to visit. But later in the week I started getting a cold (and Rebecca was already coughing so hard from hers), so I texted to say that I knew it wouldn't be good for me to come with fresh germs. But that was 3 days ago, and Owen returned home to heaven before I could finish singing.
Standing there in Anna's doorway, remembering that moment, I was reminded that life is short, and that some things are more important than others, so I went back to her bed and sang her a lullaby.
I'm grateful to Anna and Owen and the Holy Ghost for helping me learn what is important. They were angels in my life this week, and Owen's mom and sister were ministering angels to Owen and inspired me as I watched them cherish and care for him.
Life is short. I'm so grateful to the Hartles for letting me come share in their lives during the last most precious days and hours with their son.
I'm grateful for a voice to sing to children.
I'm grateful for Sundays to reflect again on what is important.
I'm grateful for birth and life and death and all the things we get to learn about on earth.
I'm most especially grateful for my testimony that this earth life is not the sum of our existence. I know in my soul that there is more, that we came from heaven and we will return to the presence of God after we finish our time here.
I love Alma 30 (one of my favorite chapters!) and this verse that I read just yesterday in my reading:
The scriptures are laid before thee, yea, and all things denote there is a God; yea, even the earth, and all things that are upon the face of it, yea, and its motion, yea, and also all the planets which move in their regular form do witness that there is a Supreme Creator.
I also love this verse from Alma 40:11 as well:
Now, concerning the state of the soul between death and the resurrection—Behold, it has been made known unto me by an angel, that the spirits of all men, as soon as they are departed from this mortal body, yea, the spirits of all men, whether they be good or evil, are taken home to that God who gave them life.
I know my step-dad and grandparents are alive still and somehow involved in my life. I have felt their help on occasion (after they passed away). I am so grateful for them.
Happy Knowing What is Important,
Liz 🙂
*I asked Anna to tell me each note again today since I didn't write it all down when she said it the first time. These answers are just like the ones she gave last week, although I think she asked me last week why showering was important, and we talked about how we need to be physically clean, and how that reminds us that we need to repent and be forgiven to be spiritually clean, too.
---
---