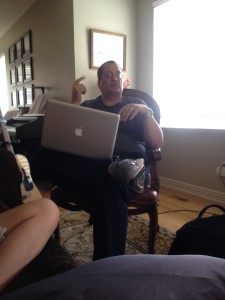 (Lane leading a Saturday morning family scripture study.)
Teaching is one of the best ways we nurture children. If we teach them true principles, they can learn to govern themselves. They can learn how to make decisions that will bring them peace and make their homes and communities safer, happier, lovelier places to be.
What do we teach? We teach them "to love and serve one another, observe the commandments of God, and be law-abiding citizens wherever they live" and "faith, prayer, repentance, forgiveness, respect, love, compassion, work, and wholesome recreational activities."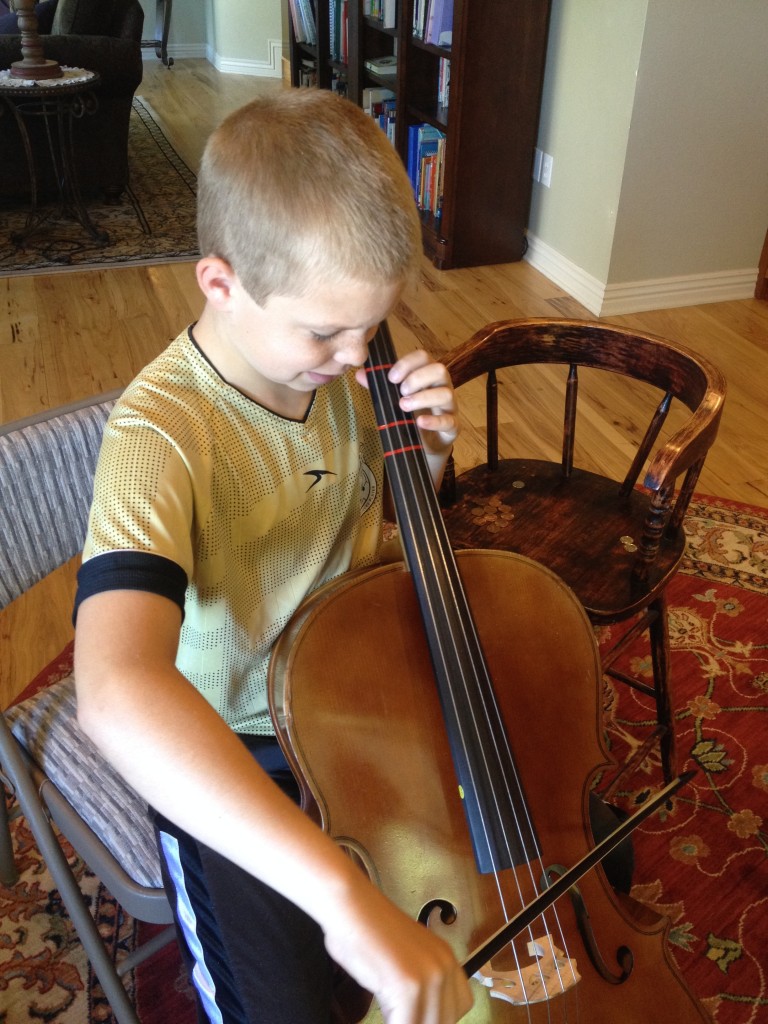 (Daily practicing is a great way to help a child learn self-discipline.)
There is so much we can teach a child. How do we know what is the most important? One way to look at it is that everything we teach could be grouped into 4 life essentialities: food, clothing, shelter and food. Remembering this can help us simplify if life gets too complicated. We can go back to basics and ask, 'What do I need to focus on right now? What needs aren't being met?"
When looking at how to teach something, it helps to evaluate routines. Whether or not we want to, we teach children routines. Discovering what your routines are can help you evaulate what you are teaching in your home. Routines are a powerful tool for teaching children good habits and self-discipline, as well as organizing time, resources, and people–depending on how we use the routines we create.
I've learned a few things about routines:
the simpler the routine, the better;
the older the child, the more they should contribute to the parameters of the routine;
find key routines that you can use over and over, season after season, with only minor adjustments to age and circumstances;
it helps to focus on learning one routine at a time;
variety within a routine is appreciated by everyone!
Most importantly, routines can never be more important than Christlike attributes.
You can use routines to teach a multitude of life skills, including financial self-reliance, cooking, good health, how to honor the divine roles of mother and father, service, listening, loving to learn, working hard, getting along, living virtuous lives, thinking for themselves, and having fun.
We also teach them how to learn: to read, to study, to write, and ponder, to remember, and to give thanks. And then, of course, we get to pass along the subject area-specific skills and knowledge that we have acquired ourselves (or provide opportunities for them to learn), such as how to memorize, music, sports, homemaking, foreign languages, art, sewing, woodworking, gardening, etc.
Teaching a child is so rewarding because we are not only helping to build the future, we are building a loving relationship with another child of God. And those loving relationships can last into eternity.
We are our children's best teachers. Like the Savior who said, "Come, follow me," we lead our children by our choices and actions. It is essential that we follow the Savior the best we can to model a disciple's life to our children and others.
If we want to teach well, we need to prepare. I am SO grateful for my dear parents and all the loving teachers and mentors I have had in my life who helped me prepare to nurture children!
Here are some posts I've written about creating and maintaining routines and teaching self-discipline:
 The Fab Five (Morning Routine)
Learning to Control Our Words and Voices
Click on these links to find more posts on teaching children:
To take care of their bodies (To be healthy, to make music, to be morally clean, to cook)
To get dressed (To dress modestly, to care for their clothes, to create clothing/sew, to manage their wardrobe, to share clothing)
To provide shelter (To do art, to get along, to honor motherhood and fatherhood, to lead, to listen, to organize, to serve)
To obtain fuel (To be financially self-reliant, to have fun, to honor motherhood and fatherhood, to love learning, to memorize, to read, to rely on Christ, to repent and forgive, to serve, to think for themselves, to work)