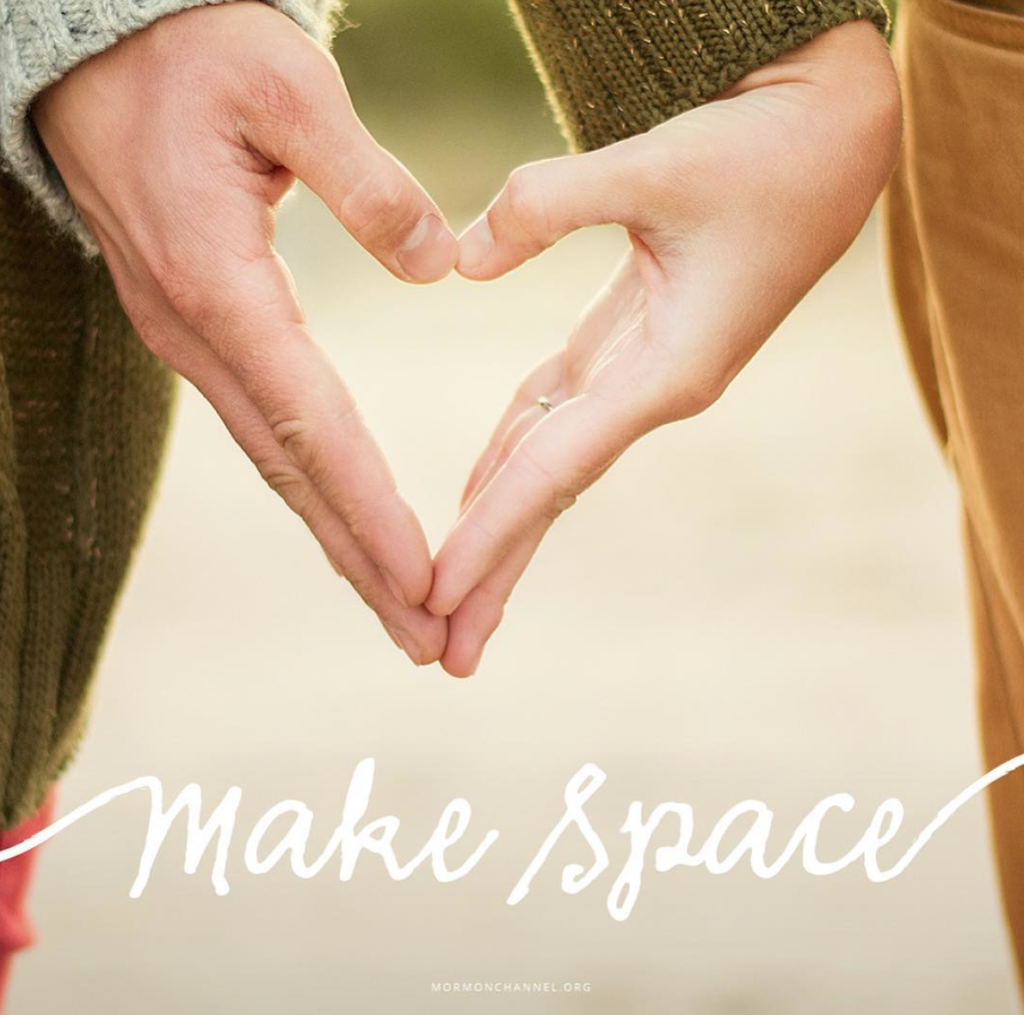 These are some of the quotes I love! They are quotes I have posted on my sidebar and others I have loved during my lifetime. One of the reasons I love quotes is that Connie Bennion, the mother of one my best friends from childhood, kept quotes displayed in her home. She shared them with her children. I loved the things she shared, and I wanted to be like her. Once she gave my friend a little plastic prescription bottle full of strips of paper with quotes on them. I copied those quotes down into a little book and have written the words of some of them on my heart.
Another reason I love quotes is that I have listened to general conference for my entire life. This habit began in my childhood. My parents would turn on the TV or radio and we would gather as a family and watch or listen. I love general conference! Sometimes the Holy Ghost witnesses of a particular thing that someone has said, and I want to remember those words. So I have tried to write them down.
And finally, I love to read and to gather great ideas. Powerful ideas. So I mark up the things I read, both with pen and pencil and digitally highlighting them. I want to remember great words! Here are some of the quotes I love, by topic:
Children:
The same God that placed that star in a precise orbit millennia before it appeared over Bethlehem in celebration of the birth of the Babe has given at least equal attention to placement of each of us in precise orbits so that we may, if we will, illuminate the landscape of our individual lives, so that our light may not only lead others but warm them as well. —Neal A. Maxwell
"We must be so careful in speaking to a child. What we say or don't say, how we say it and when is so very, very important in shaping a child's view of himself or herself. But it is even more important in shaping that child's faith in us and their faith in God. Be constructive in your comments to a child—always. Never tell them, even in whimsy, that they are fat or dumb or lazy or homely. You would never do that maliciously, but they remember and may struggle for years trying to forget—and to forgive. And try not to compare your children, even if you think you are skillful at it. You may say most positively that "Susan is pretty and Sandra is bright," but all Susan will remember is that she isn't bright and Sandra that she isn't pretty. Praise each child individually for what that child is, and help him or her escape our culture's obsession with comparing, competing, and never feeling we are 'enough.' " Elder Jeffrey R. Holland, "The Tongue of Angels"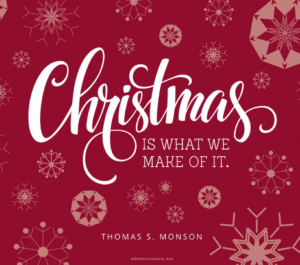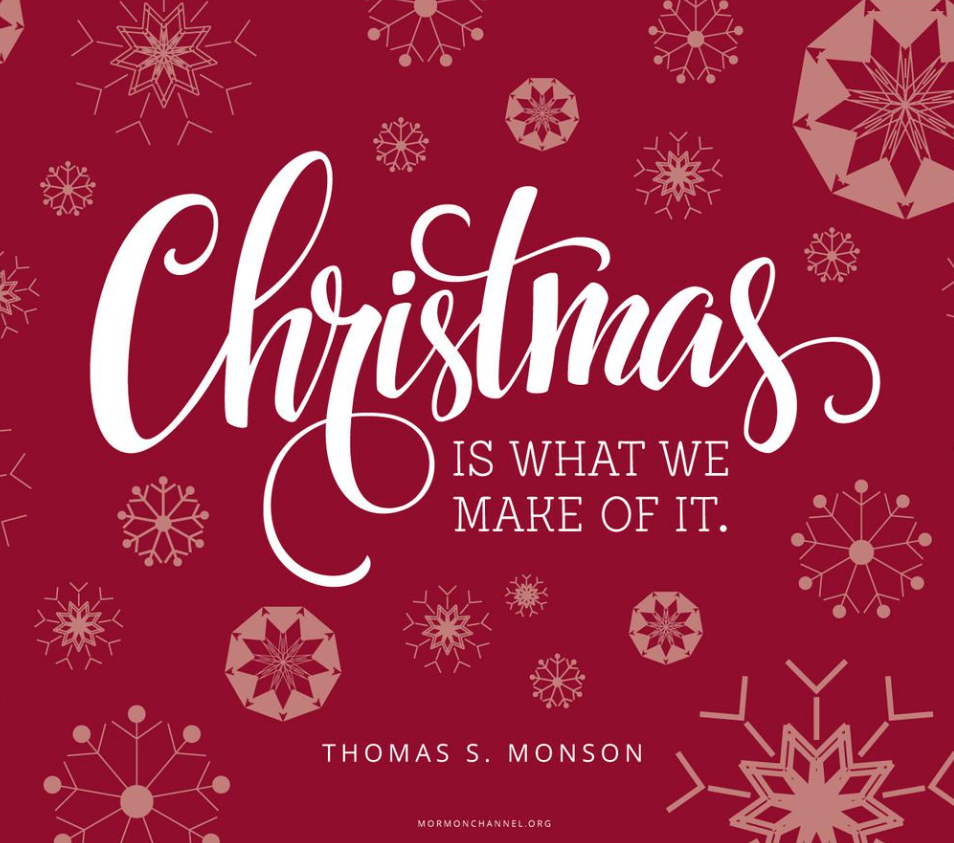 Christmas:
12/1/16: "Christmas is what we make of it." Thomas S. Monson ("Despite all the distractions, we can see to it that Christ is at the center of our celebration. If we have not already done so, we can establish Christmas traditions for ourselves and for our families which will help us capture and keep the spirit of Christmas.")
Home:
"Our homes must not only be sanctuaries but also places of preparation from which our youth can go forth confidently to lead and to face a turbulent world. We all know that what is learned at home has an amazing persistence; what is seen and experienced at home either helps or haunts our youth for years to come. Our homes could be models for all of mankind, but we will have to take much more seriously the counsel of Church leaders on this topic than we have done heretofore. This has always been a special challenge, but is made more so now because of the general decay in the homes of our time. Children can "feel and see" the gospel in action at home. They can see its rightness and power firsthand; they can see how it meets the needs of the individual."2
"Again and again has been repeated the statement that the home is the basis of a righteous life. … Both the revelations of God and the learning of men tell us how crucial the home is in shaping the individual's total life experience."3
Love:
"My dear sisters, your Heavenly Father loves you—each of you. That love never changes. It is not influenced by your appearance, by your possessions, or by the amount of money you have in your bank account. It is not changed by your talents and abilities. It is simply there. It is there for you when you are sad or happy, discouraged or hopeful. God's love is there for you whether or not you feel you deserve love. It is simply always there." —Thomas S. Monson
"Love is making space in your life for someone else." —Neill F. Marriott, "What Shall We Do?"
Motherhood:
"I'm glad Sister Nelson has not tried to be a 'supermom.' But she has been a 'soothing' mom. This she has done simply by being herself." Russell M. Nelson, "Lessons from Eve." (October 1987)
"You may at last, when old and feeble, learn that the greatest mission of all is to strengthen your own family and the families of others, to seal the generations. Boyd K. Packer, "The Golden Years" (April 2003)
"You have nothing in this world more precious than your children. When you grow old, when your hair turns white and your body grows weary, when you are prone to sit in a rocker and meditate on the things of your life, nothing will be so important as the question of how your children have turned out. It will not be the money you have made. It will not be the cars you have owned. It will not be the large house in which you live. The searing question that will cross your mind again and again will be, How well have my children done?
"If the answer is that they have done very well, then your happiness will be complete. If they have done less than well, then no other satisfaction can compensate for your loss." Gordon B. Hinckley, "Your Greatest Challenge, Mother" (October 200)
New Year:
1/1/17: "The time has now come to turn about and face the future. This is a season of a thousand opportunities. It is ours to grasp and move forward." Gordon B. Hinckley