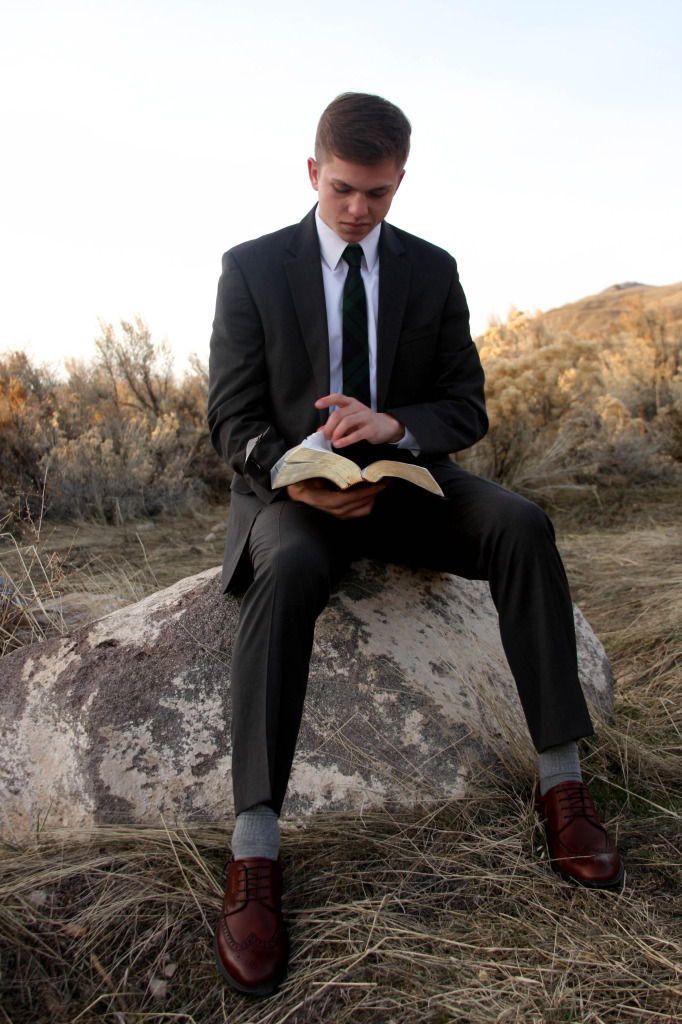 "I have a vision of thousands of missionaries going into the mission field with hundreds of passages memorized from the Book of Mormon so that they might feed the needs of a spiritually famished world." (President Ezra Taft Benson, October 1988, "Flooding the Earth with the Book of Mormon")
Great power can come from memorizing scriptures. To memorize a scripture is to forge a new friendship. It is like discovering a new individual who can help in time of need, give inspiration and comfort, and be a source of motivation for needed change." (Elder Richard G. Scott, October 2011, "The Power of Scripture")
I remembered those quotes back when we started working on scripture memorization systematically. I wanted to help bring them to pass in my family. This year, I changed the system a little to increase the number of scriptures we were memorizing. The year we started (late 2011), we recited one scripture each morning at scripture study. I noticed that we had memorized the verse long before the month was over, simply by reciting it each day. So last year we memorized two scriptures per month. It was easy. So this year, I decided to increase the challenge a little more.
This year my goal was to help our younger children learn all of the Articles of Faith solidly (we started that last year, so this year is solidification.) Then I wanted to help them memorize "The Family: A Proclamation to the World." I know that if we break it up in small enough parts and review it frequently enough, we will either have it completely memorized or be well on our way to doing so, and can finish up next year. But I'm hoping we can get it all done. That way any of my children who want to set that as a goal for their Faith in God, Young Women, or Duty to God goals can be supported just by coming to family scripture study.
I also wanted my children to memorize the Primary Sharing Time scriptures for 2014 and the words to the songs.  I also wanted to include a scripture each month that related to my teen's Come, Follow Me curriculum. Lastly, I wanted to include a verse from a Primary lesson each month for my Primary class, since I am having them participate in this challenge, too.
So with these objectives in mind, I prepared a system of which rotates through these sources and began creating our 2014 Memorization Schedule. The schedule isn't complete, yet; I work on it piece by piece. I'm putting forth this effort in order to create a database of scripture memorization cards for my own children, my grandchildren, and other families who might find it useful.
In 2015, we included the children in selecting the scriptures and quotes we memorize.
These are the cards I have prepared so far:
Old Testament
Exodus 20-12 (single card)   Exodus 20-12 (page of 4)
Joshua 1-9 (Single)  Joshua 1-9 (page of 4)
Malachi 3-10 (single card) Malachi 3-10 (page of 4) 
New Testament
1 John 4-19-21 and "Quality of Kindness" poem
Book of Mormon
Doctrine and Covenants
Doctrine and Covenants 88:76 (single)  Doctrine and Covenants 88:76 (page of 4)
Pearl of Great Price
Articles of Faith 1:1 (page of 4)
Articles of Faith 1:2 (page of 4)
Articles of Faith 1:3 (page of 4)
Articles of Faith 1:4 (page of 4)
Articles of Faith 1:5 (page of 4)
The Family: A Proclamation to the World
Children's Songbook
I Will Follow God's Plan (page of 4)
Another resource for memorizing scriptures is to use the LDS Church's scripture mastery webpages. I have also uploaded the scripture mastery app, but haven't used them much yet. (I don't spend much time on any apps except to read my scriptures, check my bank account balance, write notes, calendar, take photos, or communicate with people! )
Another way I have helped my children learn to memorize scriptures is by giving them a card with a scripture on it while they are having a time out. I found it really helped focus the child's attention on something productive. It really helped one particular child to change his/her thought focus (and hence mood) quickly. I had to, of course, watch myself so I stayed calm while helping the child (not something I always accomplished. Sometimes I need a time out, too.)
Here's a GREAT story about the value of memorizing the Articles of Faith from the life of Matt Richardson:
"Like many others, I rode the bus to junior high school. Each day I would walk to the bus stop and wait with my friends and other students for the bus to arrive. One particular morning, as I rounded the corner to get to the bus stop, I saw a group of my peers huddled together in a group talking. One of them noticed me walking towards them and said loud enough for me to hear as he pointed his finger at me, 'Here he comes!' As I drew closer to the group, I heard someone say, 'Oh, he'll show you, just you wait and see.'
"I nervously greeted everyone and asked what was going on. The group parted and there standing in the middle was a young man with a confident smirk on his face. Ronnie was fond of teasing and taunting the kids who were Latter-day Saints, and it looked as if he was at it again. One of my friends quickly explained. 'Ronnie said that we Mormons are nothing but a bunch of sheep.' Ronnie stood unmoved—smirking with assured bravado. My friend continued, 'He said that we didn't know the first thing about our church and that we just follow our parents around like a bunch of sheep!' Ronnie began bleating like a sheep. 'So,' another person said loudly in an attempt to drown out Ronnie's obnoxious imitation of a sheep, 'we told Ronnie that we weren't sheep at all and that we actually know quite a lot about the what the Church teaches.' She continued, 'So Ronnie told us to tell him what the Church believes, and we said, "Just you wait until Matt Richardson gets here. He will tell you all about the Church." ' I could feel my stomach drop as I heard the story unfold. Immediately my friends rallied together saying, 'So go ahead and tell Ronnie about the Church. Show him we aren't sheep!' Ronnie stood smirking and added, 'Go ahead, Mormon, tell me what your church believes in,' and then he started bleating again.
"As all eyes fell upon me, awaiting my response, and bleating filled my ears, I could hardly think. It was as if my mind had been erased. I quickly said a sincere prayer pleading for Heavenly Father to save me from this awful predicament. To my surprise—and to my great relief—the bus immediately arrived and students scrambled to get on. I felt relieved as I climbed up the bus steps and walked to my usual seat in the back of the bus. 'Saved by the bus,' I thought gratefully. It wasn't long after I sat down that bleating started up again. It grew more frequent and louder as Ronnie turned around to face me and said, 'Come on, Mormon, tell me one thing that your church believes.' He then started bleating again. It was hard to concentrate with the loud 'baaa, baaa' filling the air while at the same time my friends were rallying to offer words of encouragement. 'Come on, Matt,' they would say, 'tell him about the Church. Show him that we aren't sheep.'
" 'Well,' I paused, trying to gather my thoughts. 'We believe … we believe,' I stammered as my mind raced to think of something, anything, to say. 'We believe …' I said again very slowly, hoping something would happen. 'Can't think of anything?' Ronnie taunted. 'Just what I thought; you are a sheep!'
"And then it happened. It came to me in a flash. I sat upright, looked at Ronnie, and said, 'We believe in God, the Eternal Father, and in His Son, Jesus Christ, and in the Holy Ghost.' Ronnie couldn't hide the surprised and stunned look on his face. He quickly recovered and shot back, 'That doesn't count. Everyone believes in God, Jesus, and the Holy Ghost.' Back to his normal self, he sneered, 'Tell me something else, you sheep.'
"My friends quickly looked back at me, obviously wondering what would happen next. I calmly stated, 'We believe that men will be punished for their own sins, and not for Adam's transgression.' Hardly taking a breath, I launched into the third article of faith, followed by the fourth, fifth, and sixth. My friends enthusiastically joined in unison at the beginning of each new article of faith, saying, 'We believe' only to leave me to finish the rest alone. I recited all thirteen articles of faith. When I was finished, there wasn't a sheep-like sound to be heard.
"While I am unsure of the impact this event had on Ronnie or any other person, I know for a fact that one person on that bus was forever changed. That person was me! I left that bus realizing that I knew much more about the gospel and the Church than I thought I did. I also realized that I had a much stronger testimony of the gospel than I expected. I left that bus deeply grateful for my Primary experience and especially for the opportunity to memorize all thirteen Articles of Faith. It prepared me for an unexpected moment when it would really matter the most."