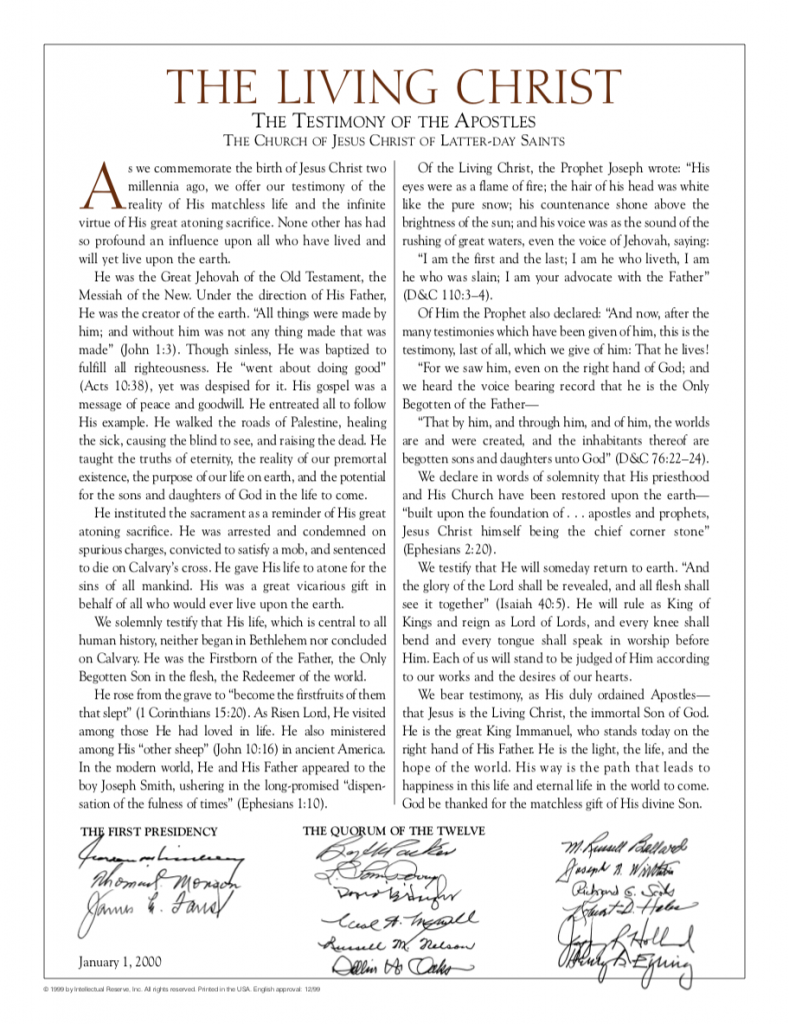 In 2018, I memorized "The Living Christ" as part of working on a 10-hour "personal progress" project in order to increase my faith in Jesus Christ. It was a wonderful experience! I felt the witness of the Holy Ghost as I have recited these beautiful, true words. I highly recommend this experience to anyone who wants to know our Savior better.
Our family has also been working on memorizing this document together in 2018. We learn a new sentence each Sunday at the start of our family scripture study. We repeat the new sentence 5 times. We add it on to what we have previously memorized and recite that 3x a week. We will have the entire document memorized by the end of the year. (See update on 11/2/18.)
In order to help others memorize this document, I have begun making recordings of each sentence and paragraph. This is one way that helped me to memorize the document: I tried to always begin with a prayer, asking for help to memorize the part for that day. Then I would repeat a phrase or sentence, depending on length, 5 times in a row. Once I had learned that phrase or sentence, I would learn the second one. Once I had learned the second phrase or sentence, I added it onto the first.
If you don't have someone that is practicing with you each day, I have made audio recordings to help you or someone you know who wants to do this!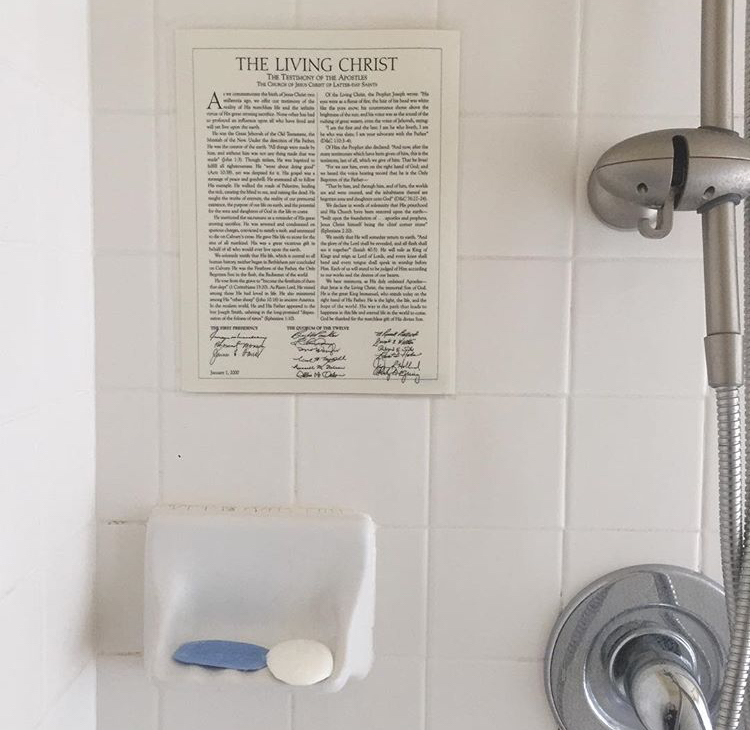 Another way I worked on the memorization was to print out the document, laminate it in plastic, and then stick it on my shower wall. I would practice my memorization as I showered each day! (And here is a link to a post with other resources on another website to help you memorize it.)
I am so grateful for answered prayers to be able to memorize "The Living Christ." I know Heavenly Father will also help you if you desire it and work hard on it.
Recordings
Entire document
To read along with the recording, click on this link to the PDF, then come back to this page, click play on the audio recording below, and go back to your PDF page. (Or simply scroll up and read along with the image at the top of the page.)
❡ 1
"As we commemorate the birth of Jesus Christ two millennia ago, we offer our testimony of the reality of His matchless life and the infinite virtue of His great atoning sacrifice. None other has had so profound an influence upon all who have lived and will yet live upon the earth."
Sentence 1: "As we commemorate the birth of Jesus Christ two millennia ago, we offer our testimony of the reality of His matchless life and the infinite virtue of His great atoning sacrifice."
Sentence 2: "None other has had so profound an influence upon all who have lived and will yet live upon the earth."
Entire paragraph: "As we commemorate the birth of Jesus Christ two millennia ago, we offer our testimony of the reality of His matchless life and the infinite virtue of His great atoning sacrifice. None other has had so profound an influence upon all who have lived and will yet live upon the earth."
❡ 2
"He was the Great Jehovah of the Old Testament, the Messiah of the New. Under the direction of His Father, He was the creator of the earth. "All things were made by him; and without him was not any thing made that was made" (John 1:3). Though sinless, He was baptized to fulfill all righteousness. He "went about doing good" (Acts 10:38), yet was despised for it. His gospel was a message of peace and goodwill. He entreated all to follow His example. He walked the roads of Palestine, healing the sick, causing the blind to see, and raising the dead. He taught the truths of eternity, the reality of our premortal existence, the purpose of our life on earth, and the potential for the sons and daughters of God in the life to come."
Sentence 1: "He was the Great Jehovah of the Old Testament, the Messiah of the New."
Sentence 2: "Under the direction of His Father, He was the creator of the earth."
Sentences 1&2: "He was the Great Jehovah of the Old Testament, the Messiah of the New. Under the direction of His Father, He was the creator of the earth."
Sentence 3: " 'All things were made by him; and without him was not any thing made that was made' (John 1:3)."
Sentence 4: "Though sinless, He was baptized to fulfill all righteousness."
Sentence 5: "He 'went about doing good' (Acts 10:38), yet was despised for it."
Sentence 6: "His gospel was a message of peace and goodwill."
Sentence 7: "He entreated all to follow His example."
Sentence 8: "He walked the roads of Palestine, healing the sick, causing the blind to see, and raising the dead."
Sentence 9: "He taught the truths of eternity, the reality of our premortal existence, the purpose of our life on earth, and the potential for the sons and daughters of God in the life to come."
❡ 3
Sentence 1: "He instituted the sacrament as a reminder of His great atoning sacrifice."
Sentence 2: "He was arrested and condemned on spurious charges, convicted to satisfy a mob, and sentenced to die on Calvary's cross."
Sentences 1&2: "He instituted the sacrament as a reminder of His great atoning sacrifice. He was arrested and condemned on spurious charges, convicted to satisfy a mob, and sentenced to die on Calvary's cross."
Sentence 3: "He gave His life to atone for the sins of all mankind."
Sentences 1, 2 & 3: "He instituted the sacrament as a reminder of His great atoning sacrifice. He was arrested and condemned on spurious charges, convicted to satisfy a mob, and sentenced to die on Calvary's cross. He gave His life to atone for the sins of all mankind."
Sentence 4: "His was a great vicarious gift in behalf of all who would ever live upon the earth."
Entire paragraph: "He instituted the sacrament as a reminder of His great atoning sacrifice. He was arrested and condemned on spurious charges, convicted to satisfy a mob, and sentenced to die on Calvary's cross. He gave His life to atone for the sins of all mankind. His was a great vicarious gift in behalf of all who would ever live upon the earth."
❡ 4
Entire paragraph:
❡ 5
Entire paragraph:
❡ 6
Entire paragraph:
❡ 7
Entire paragraph:
❡ 8
Entire paragraph:
❡ 9
Entire paragraph:
❡ 10
Entire paragraph:
❡ 11
Entire paragraph:
❡ 12
Entire paragraph:
Entire paragraph 5x:
❡ 13
Entire paragraph:
Entire paragraph 5x: